Pellegrini keeping Malaga focus at key time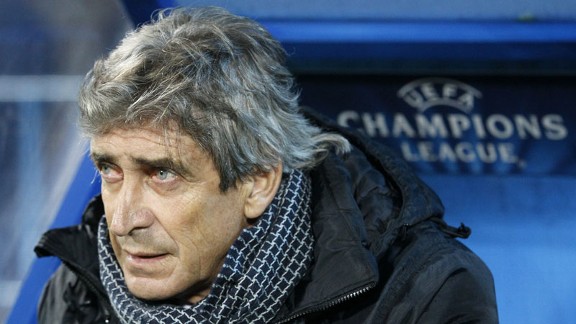 AssociatedManuel Pellegrini's side have performed admirably this season despite the off-field turmoil
Manuel Pellegrini is used to uncertainty at Malaga, be it around the future of his players, UEFA sanctions or financial upheaval. However, this time the spotlight has been shifted onto the Chilean's future just as he is about to take his team to Portugal for their biggest battle of this season against Porto in the Champions League.

The past 48 hours have been rife with speculation over his future, first with a story emerging from Chile about contact with Chelsea, and then with another line from Spain suggesting he was closer to Manchester City. It's not the first time, with Roma having sounded him out over the summer, but now there appears to be more weight behind a potential move.

Pellegrini, of course, refuses to be drawn on the speculation and insists on focusing on the task in hand, but the shadow of the riches that England, and the Premier League, offer looms ominously. The recent sale of Nacho Monreal to Arsenal might just have been the final straw for Pellegrini, who has worked admirably following the sales of key players in the summer.

Santi Cazorla was sold without a replacement arriving and, instead, Pellegrini opted to add an extra player to defensive midfield to give his side a more rigid shape. When top scorer Solomon Rondon was sold to Rubin Kazan, the coach was given veterans Roque Santa Cruz and Javier Saviola - both of whom, it must said, have contributed admirably. But just as he had got the team stable again, losing Monreal dealt another blow against his admirable work.

"His exit is a very sad moment for the team. It deprives us of a very important player who performed to the highest standards," he said when the deal was done.

The club responded by bringing in young full-back Antunes on loan and, typically of the coach, the young Portuguese has been integrated superbly, as illustrated by an impressive display against Athletic Bilbao at the weekend.

More players will leave Malaga, of course, the question is: will that be before Pellegrini goes himself?

One in particular, Isco, might even follow him to England. The midfield sensation has also been fending off questions about his own future this week. "If it is to help Malaga, I would not have a problem accepting a departure which would be good for everyone." he told AS on the eve of the Porto game.

If Pellegrini's own lists of suitors are long, Isco's are probably longer after his sensational performances for club and country. His performance against Zenit St Petersburg perhaps thrust Isco further into Europe's gaze as a whole, but it also nodded towards Pellegrini's own work. The financial might of the Russian club couldn't handle a swaggering, confident Malaga, perfectly organised by the unassuming coach.

Few expected such a performance from the Spanish club and even fewer expected a last-16 berth as they finished top of Group C, four points clear of seven-time champions Milan, as they played in the Champions League for the first time in their history.

The versatility of the performances showed Pellegrini's tactical acumen, from his rotation of players to gauging whether to lure opponents in and counter or to overload the flanks.

A win against Porto would almost certainly raise Pellegrini's value amongst Europe's elite, though his talents have been apparent for quite some time. He defied all expectations and took a then-unfashionable Villarreal team first to the Champions League semi-finals, and then to the quarter finals in the following season.

That was a silky, South American-infused team in comparison to the more disciplined, defensively aware one he manages now. On both occasions Villarreal were knocked out by Arsenal - perhaps another club who might wish to show interest in the Chilean should Arsene Wenger move on at the end of the current campaign.

For now, Pellegrini focuses on Malaga alone. He hasn't become one of the most respected and well-liked men in Spanish football for no reason; his attitude and personality are immensely likeable, while his teams play attractive, inventive football.

It would be out of character to show a lack of respect to his current employers and talk about others at one of the most important times of their season.

"He has been the most important for me," Isco said of Pellegrini on Monday, and the other 21 players travelling with him to Portugal think exactly the same - not to mention the 3,000 supporters making their way across the border. Everyone's marching to the beat of Pellegrini's drum; those who aren't would like him to join their band.

David Cartlidge is a freelance football writer who operates from Spain and the UK. He is currently the Mirror's Spanish football correspondent and contributes to a variety of other publications on a regular basis.