Saunders struggling to bring positive surge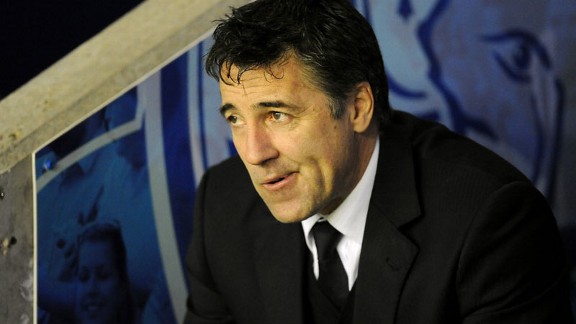 PA PhotosDean Saunders has not enjoyed a good start to life at Wolves
Mick McCarthy has achieved it at Ipswich, Sean O'Driscoll is doing it nicely at Bristol City and David Flitcroft is achieving it quite spectacularly at Barnsley.

This customary positive surge under new management is steadfastly refusing to happen for Dean Saunders at Molineux, though, and Wolverhampton Wanderers are facing the unthinkable prospect of a second successive relegation.

The Welshman is five matches into his tenure; five matches that have brought a modest upturn in performances but a meagre three points and the extension of a winless run that now stretches back nine matches to December 21. Dig a little deeper, remind yourself of the fact that Wolves lost in mid-season to Luton and made a right pig's ear of home games against Peterborough and Ipswich, and it's clear they are in quite a rut.

It's a strange one. Saunders was hardly the hot name on fans' lips when the club were seeking their fourth manager in less than a year last month, yet no-one in his company can fail to be lifted by his upbeat nature. Certainly, Wolves' owner Steve Morgan described the Sunday he spent interviewing the 48-year-old during FA Cup third-round weekend as one of the most entertaining days of his life.

Given that Stale Solbakken was reportedly unpopular with a squad he was trying to make a little less British in their style, you would have backed Saunders - the life and soul of dressing rooms from Swansea to Bradford in his playing day, with Aston Villa, Derby and Liverpool among them - to put a smile back on the players' faces and a win bonus or two back in their pay packets.

Whatever the arguments about his long-term suitability for the post, given his low-key past service at Wrexham and Doncaster, there seemed little reason to doubt that he would at least deliver a short-term shot in the arm.

But draws with Blackburn, Sheffield Wednesday and Leeds are as good as it has got for a club who are now out of the bottom three only on goal difference - and that thanks to Danny Batth's last-gasp equaliser in the latest of those three games.

A game at Derby awaits, then a prickly midweek assignment at Barnsley, before runaway leaders Cardiff provide the next opponents at Molineux. Fifteen games left or not, it isn't obliged to get any easier for a while.

A year and a week on from the sacking of McCarthy, Wolves have gone from losing and fighting relegation in the Premier League to losing and fighting relegation in the Championship. They have won only 14 of their last 70 League games, most of those victories coming amid the false dawn of a rise to third place in the Championship in October. So the losing culture is running deep.

Saunders was talking of promotion on his first day. He still is, although he has restricted such thoughts to next season rather than this and knows an alternative battle has to be won first.

"I have to rejevunate the whole thing and those who want to be part of it better stand up now and show me they want to be part of it," he was quoted as saying on the club's official website. "I don't want them to tell me. I want them to show me and get the club into a reasonable position in the League. Then in the summer we're going for it.

"Because we've slipped to where we are, my job is a lot more difficult and it's more difficult to concentrate on recruitment and working out who wants to be here and who can do the job for me next season. Now, my focus is on getting us higher up the league."

He talks also of 'fresh ideas and a fresh mentality with people who have done well with other clubs' - a clear hint that some of the stalwarts from the relatively successful McCarthy era are on borrowed time.

This is underachievement on a scale that even Wolves, with all their years of missed promotion opportunities in the 1990s and early 2000s, are struggling to come to terms with. Aren't successive relegations just the stuff of clubs who drop from the Premier League with enormous financial problems?

There are none of those headaches at Molineux, where Morgan has already seen through Phase One of a spectacular stadium redevelopment and where the business appears to be utterly sound. Everyone thought Wolves would spend this season striving to climb out of the Championship, but to their utter embarrassment, they are now struggling just to stay in it.