Inter's high hopes for Mateo Kovacic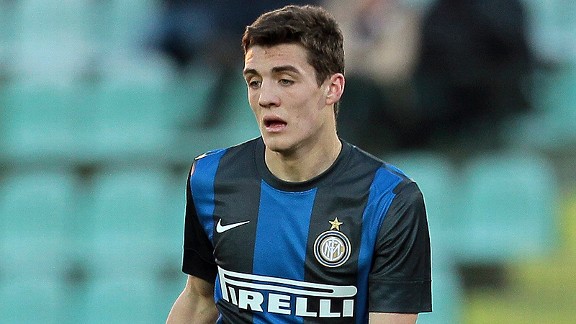 Gabriele Maltinti/Getty ImagesDespite losing several stars, Inter appears to have signed a rising one in Kovacic.
Just imagine for a moment that you're Mateo Kovacic.

One minute you're at a Dinamo Zagreb training camp in Bosnia preparing for a friendly with Zrinjski Mostar. The next, your coach Krunoslav Jurcic is telling you to pack a bag and catch a flight to Italy because the club have accepted a transfer offer from Inter Milan. "I said 'Seriously?' It was like a dream for me, and I can't really describe what I feel at the moment," Kovacic told reporters.

Let this be a reminder of just how quickly a person's life can change in football. All this happened to Kovacic on the day before the transfer window actually shut. Up until then there had been no reports of serious interest from Inter, and one got the impression from what he said and how he said it, smiling with a wide-eyed expression on his face, that it was a genuine surprise.

Blog: The Scout's Notebook
Paul: No issue between Balotelli, El Shaarawy
Whittaker: Icardi can be Inter's "vice Milito"

Everyone had thought that Inter were signing the much-higher-profile Paulinho from Corinthians instead. There had been long-standing interest and it was understood that the Copa Libertadores and Club World Cup winner was the player to take Inter in a different direction. Alas, it proved to be a dead end.

All of which left Inter in a difficult spot. They'd sold a star in Wesley Sneijder to Galatasaray and maybe one for the future in Philippe Coutinho to Liverpool, supposedly to raise funds for Paulinho. Supporters were OK with that as long as it went to plan. But it didn't. Corinthians, it turned out, were reluctant to sell, and if they were to do so it would be more costly and complicated than foreseen. Paulinho didn't want to leave either. At least not at that particular time.

Understandably, there was despair amid Nerazzurri fans. At this late stage, the only player Inter had brought in was a backup for Diego Milito, the veteran Lazio striker Tommaso Rocchi. To make matters worse, it was around this time that Milan were announcing they'd signed former Inter striker Mario Balotelli from Manchester City. The momentum, it seemed, was swinging their way, and it definitely felt like Inter were throwing away what initiative they'd had earlier in the season. Lest we forget, they had been 13 points ahead of Milan at the beginning of November. Now at the end of January their rivals were only three points behind and looked the more likely to qualify for the Champions League.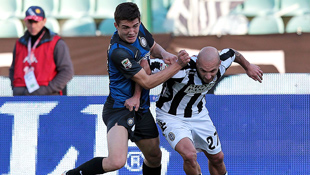 Gabriele Maltinti/Getty ImagesMany were surprised at Mateo Kovacic's sudden move to Inter but the youngster has proved early on that he is worth the move.

With little time to spare Inter needed to act and act fast if they were to restore confidence among their fans. They required a coup of their own, something to capture the imagination. And that's precisely where Kovacic came in.

It's fair to say that few Inter supporters had heard of the Dinamo Zagreb midfielder. Since he's not yet a household name, they were instead reliant on what they were told. This, to a certain extent, suited Inter's purposes because it meant they had greater control over the narrative and could present Kovacic as the next big thing. As an exercise in appeasement, it appears to have worked. Inter have sold the fans an idea, and it's one they have bought into.

But don't labour under the misapprehension that Inter have spent 11m euros just on an illusion. There's truth to Kovacic's talent. For quite some time now, he has been attracting the attention of Europe's biggest clubs, as Manchester United, Chelsea, Arsenal and Real Madrid were all said to have been closely monitoring his progress. That Inter beat the competition to his signature is on the one hand a measure of how highly they rate him, and on the other a statement of their intent to get serious about investing in young talent, both from within and from further afield as part of a transition from one generation of players to another.

Born in Austria, Kovacic first started kicking a ball around for LASK Linz. One of the many youth tournaments they participated in saw them play against Dinamo Zagreb, whose academy director and talent spotter Bozidar Sikic noticed Kovacic. It was at his recommendation that chief executive Zdravko Mamic got in touch with the player's family and offered their boy a place in the club's youth set-up.

From there, Kovacic rose precociously through the ranks. Handed his senior debut for Dinamo against Hrvatski Dragovoljac by Vahid Halilhodzic on November 20, 2010, it was a day to remember. At just 16 years and 198 days old, he became the youngest goal scorer in the history of Croatia's Prva Liga, an honour that would later be taken by his former teammate Alen Halilovic. He'd win the league and cup double that season and the next before appearing in front of a wider audience in the Champions League group stages in each of the past two years. It was Kovacic who gave Dinamo the lead in that much-talked-about 7-1 defeat to Lyon in 2011.

Relatively speaking, he's experienced a lot quite early, and that's one thing that appealed to Inter. "The numbers speak for themselves," coach Andrea Stramaccioni said. "He's already made 40 first-team appearances, including 12 in the Champions League. Serie A is tough of course, especially tactically for a young lad, but he's perfectly capable of playing anywhere in the middle -- in a two- or three-man midfield, or even sitting deep.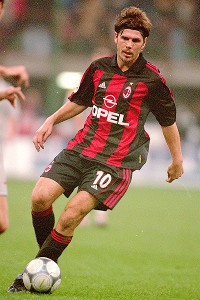 Claudio Villa/Getty ImagesKovacic has been compared to many Croatian legends including Luka Modric and Robert Prosinecki, but more apt might be ex-Milan playmaker Zvonimir Boban.

"But for the moment I need someone who shields the defence. Mateo's an extremely skilful player; he doesn't give you that protection in front of the backline but he can certainly float between those positions. He won't be playing in the hole as he did as a kid, but he didn't do that at Dinamo Zagreb either."

Coming on for Inter in the second half of a 3-1 defeat to Siena 10 days ago, Kovacic was used on the left of central midfield in a 4-3-2 following Cristian Chivu's red card. There was an elegant efficiency to his game. He didn't try to do too much. He just kept things simple, receiving the ball, then moving it on, looking to get a rhythm going in Inter's play.

Comparisons have been made with Luka Modric, though Kovacic also likes to take on players. He's more mobile and has a turn of pace that can send the opposition in tilt. A bit like Robert Prosinecki then? Well, no. In style, Kovacic appears to fall somewhere between the two. More Zvonimir Boban, some say.

"He has the potential to become better than me," Boban argues, which is certainly some claim. "He's a serious professional. He's not a born playmaker. He's not yet a complete player. He has to work but he has football in his blood. He is very fast ... quick. Inter have done well to sign him. He can play either on the left or right of central midfield in a 4-3-3 or a 3-5-2. He could also become a playmaker in a few years' time."

Boban's evolution was similar. At Milan, he played wide left in a 4-4-2 under Fabio Capello and Arrigo Sacchi and then at the tip of a midfield triangle in a 3-5-2 under Alberto Zaccheroni. It remains to be seen whether Kovacic follows the same progression at Inter. Rather than emulate anyone, however, he says "I like being myself."

Expectations are high. Perhaps too high. Inter's decision to give Kovacic the No. 10 shirt, worn of course in the past by the likes of Sandro Mazzola, Lothar Matthäus, Ronaldo, Roberto Baggio and more recently Wesley Sneijder, is quite the burden of history and responsibility for an 18-year-old to carry on his shoulders. Yet he doesn't seem overly fazed by it. "I'm honoured to wear the No. 10 shirt, but it's not about the number," Kovacic said. "I need to play well."

His attitude is encouraging, as is his maturity. He seems mentally strong, which is just as well. Because he'll need to be. "I know Italian football is tough but I'll get used to it," Kovacic promised.

Inter and their fans will have to be patient too. Some of the older players have vowed to take him under their wing. "You can tell instantly when someone has a big talent," Dejan Stankovic said. "I'll try and give him a hand. He reminds me of myself when I joined Lazio aged 19."

Reassuringly for Kovacic there's a coach on Inter's bench whose experience until a year ago was exclusively in youth football, nurturing talent. Stramaccioni, one would assume, will know how to handle his development.

"Kovacic has huge potential," president Massimo Moratti has claimed. One only hopes then that Inter give him the chance to realise it at San Siro.

James Horncastle is a European football writer who contributes to ESPN, BBC Sport, Guardian Football Weekly, FourFourTwo and The Blizzard. You can follow him on Twitter @JamesHorncastle.