The comeback of the new Ronaldinho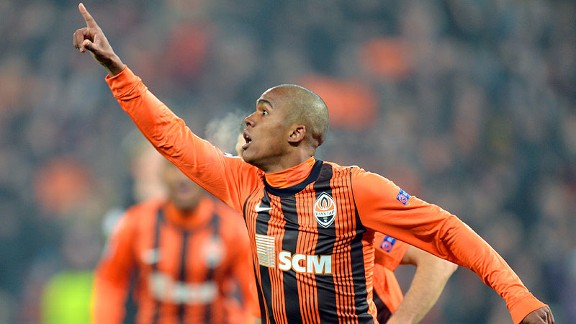 Sergei Supinsky/Getty ImagesDouglas Costa reacts after giving Shakhtar a short-lived second-half lead against Borussia Dortmund in the 2-2 first-leg Champions League draw.
In the summer of 2009, Douglas Costa was labelled the new Ronaldinho. He was brought up at the same club, Gremio, and quite a few top teams were apparently extremely interested in his services. The most persistent of all were Manchester United, and you will easily recall Sir Alex Ferguson missed out on Ronaldinho himself in 2003.

- Uersfeld: Reason to be happy for reborn Dortmund
- Report: Hummels leaves it late

He didn't get the modern version, either. Gremio firmly held out for an incredibly high fee of around £21 million for an 18-year-old kid, as United reportedly faced tough competition from Chelsea, Real Madrid and Barcelona. In theory, therefore, Douglas Costa could have played for either side when the Red Devils visited los Blancos at Santiago Bernabeu on Wednesday. Instead, he was at the evening's other Champions League fixture. On the bench.

That Douglas Costa ended up at Shakhtar Donetsk just a few months after the big headlines about him all around Europe is quite amazing. Even more amazing is the sum the Ukrainians paid for him - a mere €6 million. Even when taking into account that Gremio retained 20% of his value, and are bound to get 15% of the transfer when he is resold, it still doesn't make any sense when you know their demands from other suitors.

Douglas Costa himself didn't hide the fact he would have preferred to sign for Manchester United. "United made an offer to Gremio to take me on trial, but the club responded that there is no need for that, and I should be purchased without trials. That's what Shakhtar did," he explained in one of his first interviews in the Ukraine in 2010. Knowing how much scouting work United put into following him, that doesn't make any sense either. Some investigative journalism is needed to find the real reasons behind the proceedings, and to fully understand why Shakhtar are so good at playing the market in southern Brazil. It could be quite fascinating.

Anyway, Douglas Costa spent the last three years at Donbass Arena. The first few months after his arrival were sensational, as he found the net five times in only 13 games in the league, most as a substitute. Mircea Lucescu, the Romanian coach who has a keen eye for talent, said that his new star has greater potential than any other player in the team. Douglas Costa's first European season at Shakhtar was great as well, as he became an important part of the team that reached the Champions League quarterfinals in 2010-11. The future couldn't have looked brighter.

But then something happened. Douglas Costa got less playing time last season and, in 2012-13, even though still getting a decent slice of rotation in the local league, he didn't feature at all in Europe. His part in the group stages was limited to three worthless late substitute appearances, totalling 23 minutes combined.

New Armenian star Henrikh Mkhitaryan combined brilliantly with his Brazilian friends - Willian, Fernandinho and Alex Teixeira. Teixeira, having arrived around the same time as Douglas Costa in the beginning of 2010, was now clearly preferred by Lucescu.

That was not what the new Ronaldinho hoped for. His agent started getting tempting offers, most notably from Napoli, while Tottenham also took interest in the situation. Shakhtar, however, refused to sell their underused star for less than €20 million. Having agreed to his basic personal terms with the Italians, it's easy to understand what Douglas Costa thought about it.

Then the inevitable happened. Willian, long unsettled at Shakhtar, managed to get away when Anzhi Makhachkala activated his €35 million release clause last month. It would have been great news for Douglas Costa, if only Shakhtar president Rinat Akhmetov hadn't bought his replacement beforehand. Long-time Chelsea target Taison came from Metalist Kharkiv, and the competition for places hasn't become easier. Quite the contrary.

For Douglas Costa, this was close to personal tragedy. The club didn't intend to sell him but also didn't really want to use him. To make matters worse, Taison is a former star of Internacional, the bitter rivals of Gremio in Porto Alegre.

Ahead of Wednesday's game against Dortmund, there were plenty of discussions as to who would replace Willian in the starting line-up. Most pundits, including former star striker Viktor Grachov, tended to think Douglas Costa would be given the nod, as it would be too big a gamble to hand Taison his debut in such an important fixture. The pundits were wrong. The newly recruited star started on the left flank.

It was easy to feel Douglas Costa's frustration. It was also easy to see that he fully intended to use his emotion in the best possible way. He thrived to prove everyone wrong. He wanted to be the biggest Shakhtar prospect again. He was so composed when he entered the field, replacing Taison on 62 minutes. He immediately made a huge difference in midfield, as Dortmund's momentum at the start of the second half came to a halt.

Just six minutes after entering the pitch, Douglas Costa profited from Mats Hummels misjudgement of a long ball, easily got better of Marcel Schmeltzer, and scored a glorious goal. It was a stunning comeback. Even Ronaldinho would have been proud of the execution. It's a great pity for the Brazilian that Hummels made amends for his error with a late equaliser. The final result is far from positive, and the headlines were stolen from him. Still, he was the man of the evening for the hosts.

What now? That's the biggest dilemma Lucescu is facing ahead of the return leg in Germany. Will he get the message? Has Douglas Costa won his place back? After all, he is no longer a promising youngster. We are talking about a 22-year-old star who had high hopes of making Brazil's World Cup squad next year. In order to do so, he must play regularly at the highest level. Against Dortmund, he proved his worth to the team. Such a shame Fergie was watching a different game!