Who is the best big-game scorer?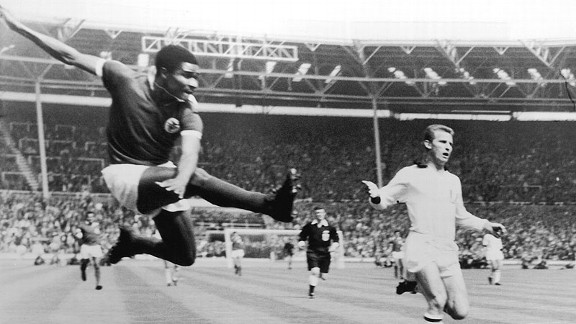 Central Press/Hulton Archive/Getty ImagesEusebio, left, can be considered the ultimate big-game player for the mere fact that he scored more often than not.
Editor's Note: This is an extended version of an article that appeared on Eircom SportsHub

You could have forgiven Eusebio if he felt a little overawed.

At just 20 years old, it was the Benfica forward's first European Cup final, and he was facing the mythic Real Madrid team of his idols: Alfredo Di Stefano and Ferenc Puskas.

Worse, the Hungarian Puskas had already scored a hat trick as the 1962 showpiece remained on a knife edge at 3-3.

A lot of players, particularly those at the beginning of their careers, would have slipped away or looked to someone else to carry them through. Not a bit of that with Eusebio. He just looked for the ball.

On 64 minutes, the young forward sized it up deep in his own half, raced past Di Stefano, surged into the Real box and panicked the defence into a foul. He picked himself up to score the penalty before then hitting the game's clincher three minutes later.

Far from feeling any awe, Eusebio was inspiring it. Despite his tender age, he was already setting a trend. "I had a strong mentality," Eusebio told FourFourTwo recently. "The more I played against the best, the more inspired I became, and I had an enormous will to show what I could do when I was on the same pitch as great players such as Alfredo Di Stefano and Puskas. I wasn't at all nervous. What I wanted to do was play and, if possible, to win."

More often than not, though, he would score. There is little doubt about it. Eusebio was the ultimate big-game player.

In fact, with the latter stages of the Champions League about to ramp up this season, the statistics here prove he is one of the greatest the competition has ever seen.

It's telling, though, how much doubt and debate the very issue causes for many players; how much they feel the need to properly answer that truly exacting question of whether they can apply their ability at the most demanding levels. In truth, it isn't so much an issue of talent. Rather, it's about character, mentality and personality.

Thierry Henry, for example, was clearly agitated after Arsenal drew 2-2 with Chelsea in December 2004.

It wasn't, however, because his two goals had failed to win the match or that Jose Mourinho's Chelsea had finally announced themselves as a superior team to the Arsenal "invincibles."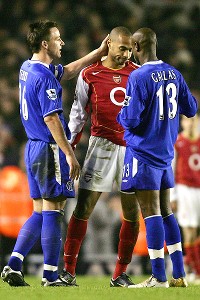 ADRIAN DENNIS/AFP/Getty ImagesDespite scoring twice in the contest, Thierry Henry couldn't escape questions about his mental makeup after Arsenal's 2004 draw with Chelsea.
It was because, in the buildup to the game, it had been continuously argued that Henry had a mental block when it came to such showdowns.

"I guess this isn't a big game, huh?" he asked the interviewer rather sniffily.

Depending on how you look at it, though, the question remains open. Henry, for example, scored only a single goal in several semifinals and finals of the World Cup, European Championships and Champions League.

In stark contrast, these were exactly the kinds of games in which Gerd Muller reveled. In 13 matches of such status for club and country between 1970 and 1976, the poacher supreme proved he could be prolific at any level by scoring 15 goals, six of them genuinely decisive -- not least the winners in the finals of the 1972 European Championship and the 1974 World Cup.

There was no doubt about his big-game record, and this in an era when the average number of goals per game was dramatically reduced from the days of Di Stefano and Puskas.

The wider issue with a lot of other players, however, is that "big games" aren't just dependent on stage or status. Context is also crucial. Take Arsenal in that record-setting 2003-04 season.

When they were on the ropes and drawing 2-2 at home to Liverpool, having just been eliminated from the FA and Champions League by other English teams in the previous week, invincibility wasn't at stake -- their entire season was.

Henry, however, stepped up. He hit the hat trick that brought a 4-2 victory as well as -- eventually -- the title and an unbeaten league season.

On a similar level, a supposedly routine away trip to either Siena or Real Sociedad takes on a completely different context if you need to win on the last day of the season.

As such, in order to try to investigate which modern and historic players have truly risen to the occasion, we looked at records in four main types of games: (1) international tournament knockout stages and group matches in which a result was essential; (2) semifinals and finals in domestic cup competitions; (3) any match against teams in the top three of a domestic league or against historically established rivals; (4) any league match or qualifiers in which, due to situation or objective, a result was essential.

There are, however, a few caveats. For one, in order to establish a baseline, only players who had actually appeared in at least 30 such games were included -- which eliminated a few current stars. Secondly, the research could go only as far as statistics were available. Starting lineups for older domestic games in Brazil, for example, proved difficult to acquire. That meant Jairzinho's record -- which was superb in the World Cup -- could not be fully analysed.

As also goes without saying, this analysis covers only scoring records and not general performance. It cannot legislate for the manner in which Roy Keane dominated Juventus in the 1999 Champions League semifinal, or the way in which Diego Maradona cut open the West German defence with one pass to win the 1986 World Cup. How, meanwhile, to quantify Johan Cruyff's complete control of the 1973 European Cup final?

As such, this list does not mean any of these were "better" big-game players; they just performed a much more quantifiable role.

And it was the likes of Pele, Leo Messi, the Brazilian Ronaldo and -- of course -- Eusebio and Di Stefano who performed it best.

The key list is first: most likely player to decide a big game.
Note: Only game-changing goals were included; those which definitely decided the final result and distribution of points, e.g., match-winner or final.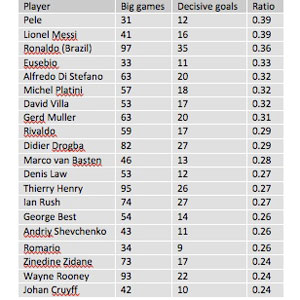 Miguel DelaneyThe key chart, above, shows that Pele comes out on top in "the big list."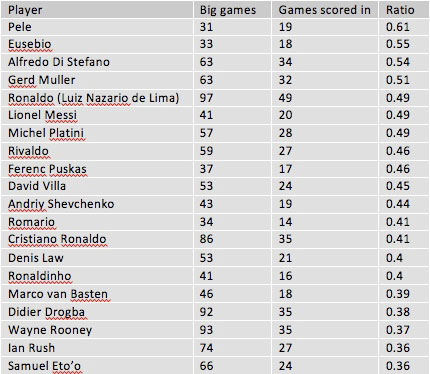 Miguel DelaneyThe above chart shows that Pele also leads in terms of players most likely to score in a big game.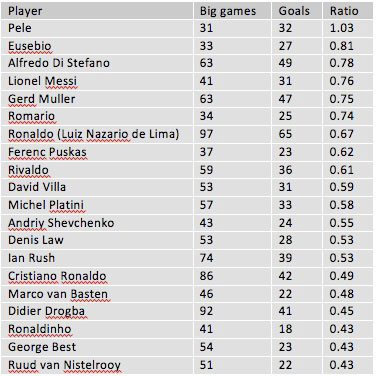 Miguel DelaneyIf it's quantity over quality you seek, Pele also leads the field in terms of most goals scored in big games, above.