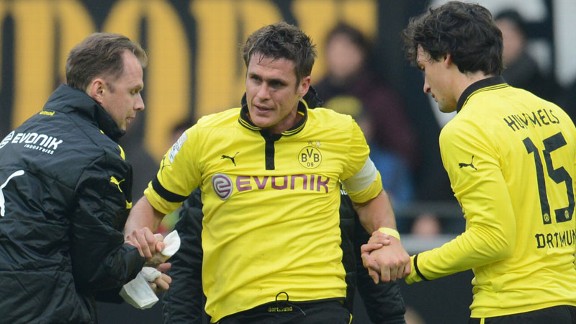 GettyImagesStephan Uersfeld finds out what makes Borussia Dortmund's Sebastian Kehl tick.
It's been 15 long years since Borussia Dortmund last featured in the Champions League knockout stages - 15 years since Real Madrid served up a heart-breaking defeat to the then-European champions in the semi-finals. Now finally the wait for knockout football is over, though, and ahead of Dortmund's last 16 first leg with Shakhtar Donetsk, captain Sebastian Kehl - who was just starting on his football journey as a fresh-faced youngster with Hannover back in 1998 - reflects on the club's journey back to join the continent's big boys.

You have been at Dortmund for a long time. Do the young players come up to you and ask about what it was like back in 2007, when the club was still fighting relegation deep into the season?

The lads all realise that things were not looking as good for Dortmund before they got here. But many of them were still playing at Under-14 level at that time. At this early age you don't think about it so much. I can size up the transition over the past ten years as it happened right before my eyes; I started with the high of winning a championship, nearly witnessed the BVB bankruptcy and now am able to celebrate great successes with the team. This development is unique in Bundesliga history.

In the public perception, winning the derby at Schalke in 2010 was seen as a turning point. What happened that evening?

I would not hang too much on that derby win. Of course, this was absolutely thrilling for the people here, but we had won many derbies, which were equally emotional before. I can clearly remember celebrating the derby with fans in the inner city's pubs the next year. The derby is always an important game. I believe we know how the supporters back us and the club and especially over the past few years we paid it back with our successes on the pitch. This makes us proud. The ties between fans and players have always been very good. Even when we were going through rough times on a sporting level we had a close and good rapport with the fans – we needed to have that.

After Jurgen Klopp took over the team in 2008, he managed to take Dortmund back to the top of the league fairly soon. What did he change?

He was able to instil a new spirit to the team and the club. We have created a new philosophy that at the beginning clearly was developed through economic means, but also out of the conviction of Jurgen Klopp. The work he did with the team in building a new system, his new way of playing football - it has inspired the people here. His way of understanding and teaching football, has brought fruitful results. Nearly from day one on we were successful, just missing UEFA Cup qualification. Altogether, Jurgen Klopp is a success story for Borussia.

We are all delighted about the development of the club, which has deserved after many years of barren times and of sacrifice to return to where it belongs - close to the top of Bundesliga on a sporting and economic level. But we all know it has been a tough battle. We have worked hard to achieve this, we did not get anything gifted to us and thus know where, in the end, the source of this success is.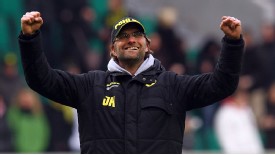 GettyImagesJurgen Klopp masterminded Dortmund's ascent back to the top of German football
What is Klopp like as a coach from day to day?

The coach has a clear idea of how he wants to play, how defence and attack have to work. Everybody knows what makes him tick and how he has to bring himself into the team. It was different with other coaches. I believe the partnership at Borussia Dortmund with Aki Watzke, Michael Zorc and Jurgen Klopp is superb. Hopefully it will last for a long time.

Dortmund's opponents in the Champions League last 16 are Shakhtar Donetsk. They have been described as one of the tournament's strongest teams but how do you rate them?

There are no easy opponents in the round of the last 16. It is the knockout stage of Champions League. This is a real challenge for us. But we have played very well in the Champions League this season so far. That it will be a difficult task is obvious. Shakhtar also played a very good group stage and left the title holders, Chelsea, behind. But if we play our football, we can cope with this challenge.

What is the difference between this season's Champions League team and last year's? Is it the experience?

It might be that we have shown more flexibility and more intelligence on one or two occasions this season. We have made the next step. You could also see that in our big games against Real Madrid and Manchester City. We have learnt from many things we did wrong last year. Although this does not mean it will always work that way, we need to continue to push on with this process. Last year we made many individual and tactical mistakes and were not ruthless with the chances we had in those games. I can remember matches where we were the superior side like against Marseille but in the end we received a 3-0 drubbing. We were too naive at times, now we are a step further.

With Bayern Munich marching far ahead in the Bundesliga, what are your goals for the remainder of the season?

The gap between us and Bayern is huge. They have been incredibly consistent and give the impression of being very focused. Right now, it does not look like they will give away their lead. We will not give up, though, and as we have said before the season we want to qualify for Europe and reach Champions League. That's huge for us, from a sporting and financial point of view. Bayern's success this year is also down to ours last year. But that is okay. After back to back championships, wanting to achieve the best possible result was obviously the aspiration but it was not expected.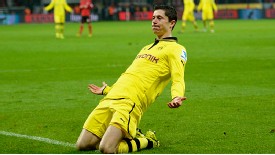 GettyImagesRobert Lewandowski's future has been the subject of much speculation in recent weeks
Are the ongoing rumours about the transfers of some players and also the coach an issue in the locker room?

It is not an issue that bothers us largely. Naturally, there will be jokes about it when a big paper once again has a new story. Overall something like this is normal in the business. We were very successful, have distinguished individual players and that other clubs become interested in those lads is a very normal process. But it is something that doesn't worry me - I see it as a proof of the outstanding work of the club and, of course, the outstanding work of the lads.

Right now the Robert Lewandowski to Bayern Munich issue is pretty concrete. Could Dortmund replace him?

Of course I am hoping Robert stays here beyond the summer and the club holds the cards. Robert is under contract until 2014. Naturally, his departure would be a loss for the team as he is an important player. He has said he will decide in the summer. We respect this decision.

And when will Borussia Dortmund have to replace captain Kehl?

They will have to do so at some point, that is obvious. I am 33 now, but still have a great mind to play football and I am fit. I feel comfortable here and I can clearly picture staying at Dortmund for a long time.

Three league titles, a cup win, captain of Dortmund - what is still missing in your career?

Essentially there have been many highs and many lows. The lows were mainly the injuries, the highs were the sporting successes, both with Borussia Dortmund and the national team, and I am looking forward to what is still to come. What is really missing? I will be able to judge that when I have hung the boots up for good but that time has not come yet.