Valencia still in it, but barely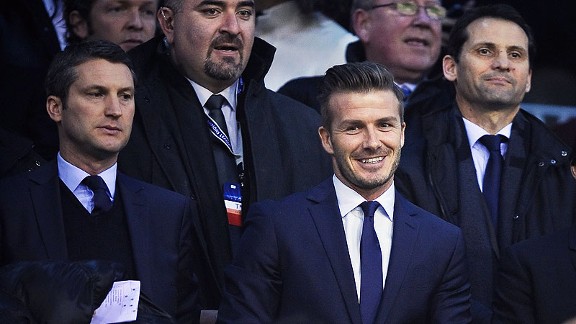 David Ramos/Getty ImagesDavid Beckham looked on as his Paris Saint-Germain escaped with a win in Valencia.
Football is full of understatements. Paris Saint-Germain manager Carlo Ancelotti gurgled out a huge one in broken English after his side's 2-1 Champions League win in Valencia on Tuesday:

"The end of the game was not good for us."

- Johnson: PSG do it the hard way

Valencia live to fight another day after the defeat. That day will be in the City of Light on March 6, and coach Ernesto Valverde will have many sleepless nights until then plotting how his side can score at least twice in the Parc des Princes.

At the same time, he'll have to figure out how stop the hugely talented, and expensive, French side from damaging 'Los Che' at the other end. His task is helped slightly by Zlatan Ibrahimovic and the impressive Italian youngster Marco Verratti not being available for the return.

PSG will be kicking themselves that there is not more distance between the two sides, while Ibrahimovic should himself be getting kicked by his boss for the ridiculous challenge he made in injury time that produced a direct red.

A minute earlier, Valencia grabbed the all-important goal that keeps the tie alive. For the first time all evening the PSG centre halfs, Sakho and Alex, had switched off, allowing Rami to connect with a high-spinning Tino Costa free kick.

Valverde afterward admitted his team will have to be sharper in the return leg and not give away as many balls as they did in the first half.

"It's complicated. We have to get two goals there, but we'll go for it," he said.

The task was made a little easier when Ibrahimovic strolled into the corner to run down the clock, and annoyed at a legitimate challenge by Dani Parejo turned into the next challenge on Andres Guardado with his studs up for a slightly early bath.

Before the final minutes of madness, the French side had been immaculate in everything they did, right down to the sight of David Beckham sitting next to the equally elegantly dressed sports director Leonardo in the stands.

The home side could not keep up with the French, who counter-attacked pretty much when they liked in the first period. Brazilian winger Lucas Moura lasted only 52 minutes on his first Champions League outing, but surely we'll see more of his pace and talent soon.

He had already hit the post with a thunderous drive when a quick exchange of passes between Argentine pair Javier Pastore and Ezequiel Lavezzi allowed the latter to hit home the first on 10 minutes.

That silenced the crowd. The second came when Moura showed Guardado why he is not a fullback before teeing up Pastore.

The highly rated Vicente Guaita in the Valencia goal could be forgiven for thinking he could have done better for both goals, but the truth is they were both superbly taken.

Moura, Pastore and Verrazzi have a combined age of 63 and showed all night how this PSG side is being built intelligently, as well as at great expense.

Lavezzi has been around a bit longer, but Valencia could not live with his movement all evening. And so how did Valencia reach the last minute of the game with a fighting chance?

The answer, in part, was down to PSG's wastefulness in front of goal, and the introduction at halftime of a player who was until not so long ago one of Spain's great young talents.

Sergio Canales turns 22 on Saturday and produced flashes of play that suggests his future could still be at the very top of the game. It would be hugely deserving if he does go on to have a glittering career after such bad luck with injuries so young.

Ever Banega and Jonas Goncalves, who were replaced, had been the biggest culprits in the first 45 minutes of wasteful play from 'Los Che' that had allowed the Parisians so much time and space to play in.

Canales and a much-improved Parejo, still only 23, gave Valencia more accuracy in the pass that gradually dragged their side slightly back into the game.

They still had to rely on Lavezzi missing twice when he only had Guaita to beat, but Valencia doggedly stuck to the task and an argument could be formed for finally deserving their late goal.

For PSG, it was the first time in the knockout stages of the Champions League since 1995, and that lack of experience may have told at the very end whether Valencia can get as lucky again next month in Paris only time will tell.

Valencia will need Jonas, Banega and Sofiane Feghouli to show more creativity than they did tonight and Roberto Soldado will have to prove why he has such a good Champions League goal record. All he appeared to do Tuesday was grow angrier at PSG's tight marking of him.

By then, Leonardo will have had time to show Becks the most elegant menswear outlets in Paris' well-heeled arrondissements, Ibrahimovic may well have taken a course in self-flagellation and Ancelotti should still have a young squad talented enough to see out the tie.