Student prepares to meet the master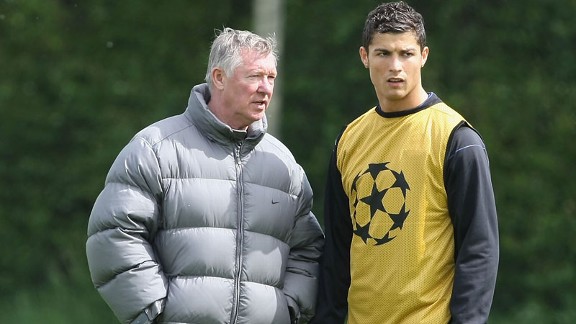 GettyImagesSir Alex Ferguson and Cristiano Ronaldo will be reunited in the Champions League
He is about to arrive back in Manchester as enemy in chief to the manager who helped to create his legend, yet could it be that Cristiano Ronaldo may one day be hailed as the greatest United player of the Sir Alex Ferguson era?

While Eric Cantona, Roy Keane, Ryan Giggs and Paul Scholes may be in contention for an accolade that will only be bestowed when Ferguson's iconic tenure as Old Trafford chief comes to an end, Ronaldo has genuine claims to be placed a step ahead of all his fellow modern day United greats.

Legends have been crowned time and again during Ferguson's 26-year reign, but if a contest to hail the player who boasted the most pure talent of them all over the past quarter of a century at United were held, Ronaldo is in a league all of his own.

Cantona and Keane were not present on a night when Ferguson landed Champions League glory and even though Giggs and Scholes are undoubtedly living legends, they have never taken the Premier League apart as Ronaldo did in his final three years at United.

Add to that the staggering scoring statistics Ronaldo has notched since his record-breaking £80 million move to Real Madrid nearly four years ago and you have the DNA of a football master of historic proportions.

Now, as Ronaldo prepares to share a football pitch with Manchester United players in a mouth-watering Champions League showdown at the Bernabeu on Wednesday night, the respect he is showing his former boss is admirable amid the media whirlwind surrounding this tie.

"It makes me proud when I hear Alex Ferguson say good things about me even that I am not his player anymore and hopefully he knows I have the same feelings towards him," said Ronaldo, ahead of a Champions League last-16 tie he hails as "something beautiful."

"Ferguson has been one of the most important people in my career, not only because of what I have learnt in sporting terms but also in human ones as well and he helped to put me in the position I am today.

"He taught me that being a great footballer was not just about scoring goals and winning matches. It was about so much more. It was about making the right decisions on the pitch as well, so when I hear Ferguson say I am a mature player who is making the most of his talent, I feel pride.

"It is my job to try and beat United in this match and I believe Real Madrid has he better team so I can be confident that we will win. The Champions League is the trophy you have to win at this club and the 10th European title for Real Madrid is something unique for us all to chase. This is our dream."

The comments Ronaldo referred to were delivered by Ferguson after he watched his former protégé in action against Manchester City in the group stages of the Champions League last November, when he hailed the 28-year-old as "a complete player" after watching him strut his stuff back in the city he used to call home.

Now Ferguson has backed up those compliments with more glowing words of praise for Ronaldo, as the United boss claims he is proud to have been a part of one of the modern game's great success stories.

"I always believed this boy had the potential to be the best player in the world and he has proved himself to be just that," said the United boss. "There was no bitterness when he left us because he gave us six wonderful years and left with our blessing.

"What he gave United was fantastic. He helped us win so many trophies and he deserves his place in the history of this great club. We are proud to have had him here and when you see what he achieved at Real Madrid, it really is quite incredible.

"He will get a great reception when he comes back to Old Trafford, no doubt about that. Ronaldo was a wonderful United player and while we appreciate he is a big threat to us in this tie, that doesn't take away from what he did for our club."

The judgement on whether Ronaldo can be hailed as Ferguson's greatest player can be put to one side for now as the protégé and his manager are reunited as rivals Wednesday night.

History has a habit of appreciating the purest of genius long after it has left the stage it illuminates and it may be that this wondrous footballer is forced to wait for the acclaim his remarkable talents merit.