The Champions League's frustrating glory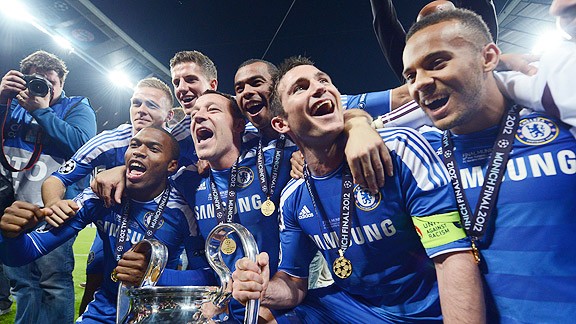 Adrian Dennis/AFP/GettyImagesThe lucre of the Champions League arguably outstrips the glory -- but to what extent?
In the eyes of many football fans, the knockout stages of the Champions League represent one of the more engaging and entertaining times of the year. The storylines rarely disappoint as the blend of stalwarts and upstarts enlivens proceedings until Barcelona -- or some other monied titan -- waltzes off with the cup, while it's also a fun way to catch many of the game's megastars in non-national team kit.

Yet there's a nagging sense that the Champions League's might and majesty comes at the expense of all those leagues that ultimately fuel its largesse. The combined forces of slow-drip drama -- a big club will play 13 extra, increasingly high-intensity games from group stage to final, albeit spread from mid-September to the end of May -- and obscene amounts of extra Euros often entice clubs to either outspend their means or mishandle domestic matters for a chance to grab Michel Platini's big silver jug.

- Bennett: Balance of power is shifting
- Michael Cox: Best Starting XI in Champions League
- Carlisle: Jermaine Jones at home in Europe
- Delaney: Continent divide
- Hunter: Real Madrid v Manchester United
- Video: Celtic Park showdown
- Video: Europe's No. 1

Though not purely tied to a CL pursuit, the bulk of the top European leagues are beset by hard financial questions. La Liga is tottering on yet another precipice, English clubs routinely hemorrhage money to the point that the EPL will now institute penalties for irresponsible outlay and Serie A isn't entirely sure-footed. Only the German Bundesliga deserves plaudits for its enviable prudence.

In spite of the scary economics and the reality that a Champions League is beyond the grasping reach of soccer's more plebeian sides, there should be plenty of fun for us in the upcoming round of 16 and beyond.

For starters, the knockout rounds invariably carry more tension and drama than the insipid group stages. Six half-paced encounters involving Big Team 1, Big Team 2, Up-And-Coming Eastern European Club and Minnow No One's Heard Of don't often get the blood flowing, although watching Celtic forcefully Glasgow Kiss Barcelona's precocious tiki-taka on the nose and Shakhtar Donetsk ruffle Chelsea's feathers at the Donbass Arena provided merciful exceptions this season.

Then there's the fact that the Champions League retains an element of mystery sadly lacking in the big five leagues. Manchester United, Barcelona and Bayern Munich each enjoy double-digit cushions from the chattel, while Juventus and PSG hold more precarious advantages of only five and six points respectively.

As such, European football should naturally hold us in greater thrall given that it's finally a proper cup competition -- win or go home -- and with many of the best clubs left in Europe competing. (Sorry, Chelsea.)

Potentially even more important is that the UCL is rapidly becoming the economic juggernaut for top teams, a force every bit as motivational as the chance to share a hastily erected plinth with Platini and lift some silver in the air while screaming like a maniac.

It's tough to find concrete data on revenue-sharing or merit payments in the top five European leagues but it's clear that when it comes to propping up clubs' dubious budgets, the Champions League is a money printing machine.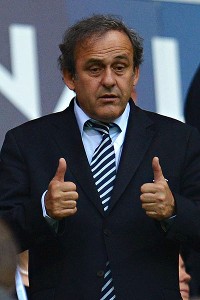 Lars Baron/Bongarts/Getty ImagesUEFA chief Michel Platini is presiding over a money-printing machine in the Champions League, one that destabilizes domestic leagues for our viewing pleasure.
This season is the fattest yet, so it's no wonder billionaires and offshore consortiums are desperate to buy in to the beautiful game. Teams will receive $11.5 million for simply being in the group stage, something that's not too difficult if you're a big club that finished in the top four in a reputable league.

There are hefty bonuses for group stage wins ($1.3 million) and draws ($669,000) along with further cash prizes for advancing through the competition. A spot in the last 16 is worth $4.7 million, a quarterfinal place another $5.2 million, a further $6.5 million for a semifinal berth plus an added $14.1 million purse for winning or $8.7 million consolation for the beaten finalist.

For Man City last season, the spoils for domestic success (a $20.2 million merit payment atop generous TV and overseas revenue share) were boosted significantly by those from continental humiliation; despite failing to advance from its group of death, an additional $13.4 million ended up in Sheikh Mansour's coffers. (He spent it on Samir Nasri, but nobody's perfect.) In 2010-11, Man United earned $65.7 million from the Champions League alone as runner-up, a stupendous return on only 13 extra games -- to compare, the 38 they played in the EPL were worth $94.5 million.

The math is Arsene Wenger-obvious: Clubs have mammoth incentives to care more about the UCL, which is why all you need in the Prem is a top-four finish to keep the money rolling in, a feat celebrated with as much vigor as an actual title. Just ask Chelsea, whose grim league form under Andre Villas-Boas meant the Prem (and AVB) got jettisoned in favor of Europe, ultimately reaping $74.8 million for lifting the Champions League title. It was enough for the financial windfall to become headline news before the final had even been played. Wilder yet, Chelsea, Bayern Munich and Barca earned almost as much from the CL combined in 2011-12 as the entire $183.5 million purse shared among the 56 clubs in the Europa League groups and knockout stages.

UEFA was all too giddy to pronounce last July that Champions League revenue -- and, one assumes, sharing among its participants -- was to rise 22% over the 2012-15 commercial cycle given the riches laid out to broadcast and sponsor the showpiece tournament.

Simply put, if a domestic season is going poorly (ahem, Chelsea in 2011-12, AC Milan in 2002-03, or arguably Real Madrid this year) as teams crack under the strain of fighting on too many fronts, then the chance to excel (and profit) from European football is even more vital.

The money trail is depressing, but it still makes for an exciting tournament... and isn't that the point?

We know that the sport is unfairly weighted to benefit the behemoths, those clubs that have threatened revolt and breakaways in the past decade or so -- most notably in 2006, forcing UEFA to sweeten the prize pot after demands for guaranteed CL participation were shouted down. (Yet another battle could come in 2014. What fun! Sports!)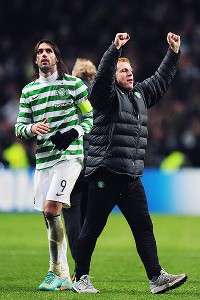 Stu Forster/Getty ImagesThe grit and gusto of Neil Lennon's Celtic makes them a team to admire in the final 16.

We also know that the allure of the Champions League has inspired several fringe teams to invest and improve accordingly; look no further than Zenit St. Petersburg (divisive for so ... many ... reasons ...) or Anzhi Makhachkala, the Dagestan-based club that spends an alleged $31.3 million a year on Samuel Eto'o wages despite an average salary of $383 and official unemployment underreported at 11.6% in the war-torn region. Though neither side is in the last 16 -- Anzhi faces Hannover 96 in the Europa League -- both have upped spending in recent seasons having seen the opportunities that lay ahead.

Because these imbalances will rarely change, we'll simply cling to the quality of football as a perverse form of justification. This year offers up a genuinely intriguing Sweet 16. You've got the usual suspects (Real, Barca, Milan, Man United, Bayern Munich, Arsenal), the plucky regulars (Schalke, Porto, Valencia) and Europe's emerging class (Juventus, Borussia Dortmund). There's the newly-minted (PSG, Malaga), the hard-to-hate (Celtic), the opportunistic (Galatasaray) and finally, our Eastern European hipster faves Shakhtar Donetsk (though sadly, without the just-sold Willian).

The matchups themselves resonate well beyond Cristiano Ronaldo's rendezvous with the team that arguably made him the star he is today. The wily Mircea Lucescu vs. Special-One-In-Waiting Jurgen Klopp. Wesley Sneijder and Didier Drogba in tandem, not in polar opposition, to take on Schalke. Celtic's much-lauded financial savvy pitted against Andrea Pirlo and the venerable Juventus. Bayern Munich's bid for vengeance following last season's CL final defeat on home turf. Milan's drastically rebuilt squad seeking vindication for tough, forward-looking moves.

We're left with a tasty menu of 16 teams and no clear consensus as to an outright favorite: that's your Champions League this year, an unpredictability that money still can't quite buy. Yet.

James Tyler is an editor for ESPNFC. He can be found on Twitter @JamesTylerESPN.