When the future meets the past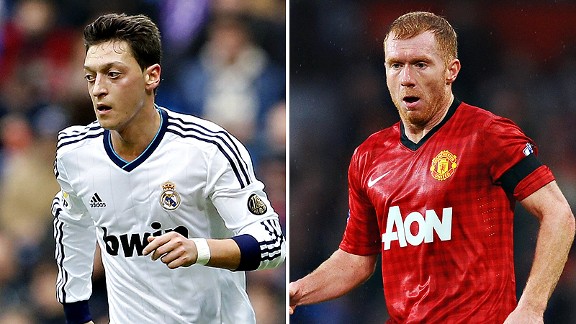 Getty ImagesAlthough separated by age, country and club, Mesut Ozil, left, and Paul Scholes, right, possess many of the same qualities on the pitch.
Danny Boyle might not be proven as the world's most astute football judge, but given that he has been responsible for bringing us sublime movies such as "Slumdog Millionaire" and "Trainspotting," plus the brilliant opening ceremony of the London Olympics, he knows a thing or two about putting on a five-star show that entertains millions.

Thus, there was a bit of lateral context when he stood up at the British Academy of Film and Television Arts (the BAFTAs are the UK's Academy Awards) on Sunday and stated that the FC Barcelona side of the past five years is probably the greatest in the history of football.

His point was not that of a cheerleader; Boyle wanted to point out that if you asked established legends such as Xavi or Andres Iniesta who they thought the greatest midfielder of their era was, they would say, or have said in the past, Paul Scholes.

It's something both of them have stated either to me or in my presence.

I watched the cavernous hurt and disappointment on Scholes' face during and after the 1999 Champions League final that his team famously won in extremis but that he and Roy Keane missed because of suspension. Thus when 2008 came around and John Terry fluffed that potentially tournament-winning penalty, there were many neutrals who were delighted that Scholes was in midfield and, thanks to Ryan Giggs' conversion, won the medal he'd been missing.

Fast-forward to today and to me it's literally incredible that a man who is 38 and who had actually retired is still an effective midfield force for United in a league where power, height and pace are often deified.

It's joyful too.

But in a week when United play Real Madrid, his position, seemingly irreplaceable and in need of eternal youth in order to keep his manager satisfied, reminds me of David Beckham's prime days.

In the latter few seasons before Sir Alex Ferguson tired of Beckham's lifestyle and pushed through a sale to Real Madrid, he often commented that he'd not sell Beckham until there was a better crosser of the ball from the right wing. I remember then being utterly sure that Luis Figo, then at Barcelona, was the man. Subsequent years proved that to be true.

Now, looking at the gap which Scholes is leaving, I see a comparable situation with Mesut Ozil.

Before any die-hard United fans get apoplectic, I'm not yet saying that the German international is as good as Scholes, and I have my doubts whether he'll finish up having scored as many as the United man who has over 150 club goals.

But the 24-year-old Madrid player has great chunks of Scholes' agility, vision, technique and creativity.

It has been interesting to hear many UK pundits, players and media over the past few days read out their tale of the tape.

The broad view is that Real Madrid are Cristiano Ronaldo and that if he's the best player on the pitch then United assuredly have at least the next best two in Wayne Rooney and Robin Van Persie.

Perhaps they are right, but what I hear in those words is a deep underestimation of Ozil. He's pivotal, literally, to Real Madrid in two senses.

Everyone knows that Jose Mourinho's team is set up to be the quickest, most ruthless and effective counterattacking side on the planet. When the attacking team's possession breaks down around Diego Lopez's penalty box, the best quality of the Madrid breakaway will occur when Ozil is the first man to receive the ball as it comes forward.

His timing, his choice of pass, his skill -- all of these help make Madrid deadly as white shirts rush upfield -- Ronaldo particularly enjoys linking with the German.

However some teams, surely United included, play it cannier at the Bernabeu.

The idea is to press Real Madrid in certain areas, to break more effectively than them and to try to punish their weakness at defending set plays.

But not to be caught in big numbers high upfield.

When the Spanish champions face such a test, then Ozil is one of those guys who can "abre la lata" -- open the tin can.
Time after time when the opposition offers a banked defence it will be down to Ozil's speed of mind, feet and vision to find space, to free Karim Benzema, Ronaldo or Gonzalo Higuain, or to send in a brilliant free kick such as the one via which Raphael Varane scored in the most recent Clasico.

On arrival at Madrid, Ozil, a relatively shy, quiet guy, took time to find his feet in what is, by anyone's estimation, a daunting environment. It's not simply that history whispers to you its doubts that you can possibly measure up, it's that the modern burden of pressure is voracious.

He wasn't a particularly athletic figure when he joined, prone to carrying a half a kilo or so of fat around his middle. That has changed now, in spades, and he's also capable of turning a man using newly earned upper-body muscle.

None of this -- not one iota -- will be news to Sir Alex. But there are some who patently don't understand what level of threat Ronaldo's main aide-de-camp carries.

How England's champions-elect deal with Ozil may be just about as important as how they deal with their Portuguese alumnus.

That's top of the current agenda.

But under the heading "Any Other Business" comes the topic of whether, one day, Ozil may be the prime candidate to fill the vacuum which Scholes will inevitably leave in the near future.