Shakhtar-Dortmund: Better than Mourinho vs. Ferguson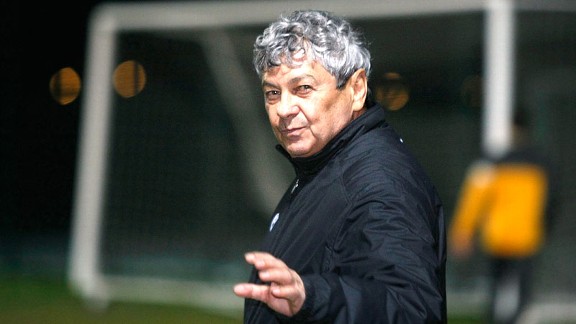 Alexander Khudoteply/Getty ImagesFans better buckle up as Mircea Lucescu's Shakhtar Donetsk and Borussia Dortmund are bound to put on a show in their Champions League fixture.
It is a bit weird to see Shakhtar Donetsk still being so massively underrated. They represent Ukraine, a "smaller" nation by European football standards, and thus each fixture against a team from a major league automatically sees them categorized as underdogs. That assumption was proved wrong on every occasion this season, and Borussia Dortmund coach Jurgen Klopp knows only too well his task at Donbass Arena is huge.

- Uersfeld: A tale of two Dortmunds

Let's take a look at the facts. Shakhtar were superior in every group stage match they took part in this season until their qualification was assured. They completely outplayed Juventus in Torino, enjoying 58 per cent of possession and wasting several great chances to take all three points, before finally settling for a 1-1 draw. Massimo Carrera, La Vecchia Signora's assistant coach who took charge in suspended Antonio Conte's absence, admitted his team was lucky to escape and stated: "They managed to stop Andrea Pirlo".

Three weeks later, Mircea Lucescu's side slaughtered Chelsea in Donetsk, having no less than 17 shots on target and forcing Petr Cech to produce a great performance. The Czech keeper's efforts were in vain, as Shakhtar won 2-1, and the result should have been much wider. In the return fixture at Stamford Bridge, the best Eastern European team arguably played even better. They took the game to their rivals, saw 57 per cent of the ball, had 15 shots on goal, and were hugely unlucky not to emerge victorious. Instead, Victor Moses scored a stunning late winner to make it 3-2 in one of the most vibrant games of the season so far, while Lucescu rightly admitted: "It's painful to lose, as we were the better team".

Now the veteran Romanian coach is preparing to take on the German opposition, and it should be noted that Shakhtar's biggest achievement in Europe so far came against one of the Bundesliga's finest. In May 2009 they travelled to Istanbul for the last ever UEFA Cup final, where Werder Bremen were supposed to be the favourites despite a very average season. In reality, Shakhtar should have wrapped the game long before Jadson scored the winner in extra-time.

Jadson, probably the best of the Brazilians who occupy most of the slots in Shakhtar's midfield and attack, left for Sao Paolo last year, and this January Lucescu's team suffered another blow when Anzhi Makhachkala signed the brilliant Willian for his release clause of 35 million euros. That is less important that it might seem, though, as the Shakhtar backbone is remarkably stable. Just compare them to Werder. Only one of the eleven Bremen players who were in the starting lineup in Istanbul remains in the squad, namely Clemens Fritz. Shakhtar, on the other hand, still have no less than seven UEFA Cup heroes still with them; including Croatian captain Darijo Srna who is closing on a decade at the club.

In the meantime, president Rinat Akhmetov, Ukraine's wealthiest businessman, made some shrewd signings, especially Armenian superstar Henrikh Mkhitaryan, scorer of a stunning 18 goals in 17 league games so far, to add to his brace versus Danish champions Nordsjaelland in a 2-0 win in September. In fact, Shakhtar's league form was better than ever this season, with 17 wins in 18 games. The fourth successive title is absolutely certain already, which means they can concentrate on the Champions League.

The only problem is that, unlike Dortmund, Shakhtar didn't have any competitive fixtures since December. Thus some high profile friendlies were arranged, and while we are not supposed to judge them too seriously, the results were absolutely outstanding. Zenit, who are in huge disarray ahead of their Europa League clash with Liverpool on Thursday, were soundly beaten 3-1. A week later, CSKA Moscow, the most in-form team in Russia, also had no chance against Lucescu's troops who ran away with a 2-0 win.

If you like fiery football, you shouldn't dare to miss the clashes between Shakhtar and Dortmund. The teams' philosophies have a lot in common, as both sides are committed to a free-flowing style, with a very swift transition from defence to attack. Just like Lucescu, Klopp went for a win in every group stage fixture in the autumn, as the Germans could have easily beaten Manchester City away, if not for an astonishing performance by Joe Hart, and Real Madrid at Santiago Bernabeu. Their chances of retaining the local title are almost non-existent, especially following the home fiasco against Hamburg on Saturday, and thus -- just like Shakhtar -- they are bound to focus on Europe from now on.

Both teams will, therefore, go for a kill. The potential is huge, and this could easily become an instant classic. That this gem will be played at the same time with the biggest game of them all, Cristiano Ronaldo's Real Madrid hosting Manchester United, is a great shame. UEFA should undoubtedly have come up with a different timetable, enabling the fans all over the world to watch Lucescu versus Klopp live. It might be useless to persuade any of the readers to prefer the spectacle at Donbass Arena to the one in Madrid, but here is a bet -- those who dare to do it are bound to watch the better game.