Ruthless Man United dent Everton's European dreams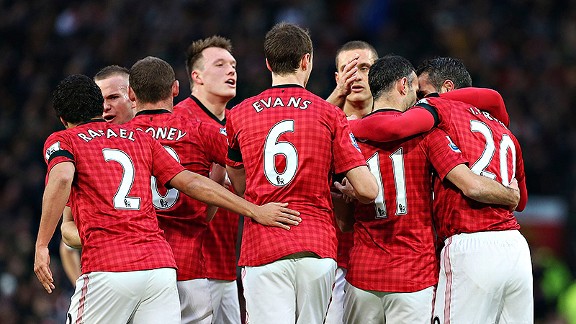 John Peters/Getty ImagesManchester United went 12 points clear atop the table with just 12 matches to play in the Premier League season.
Is this where the dream ends? Was the result at Old Trafford on Sunday the final reality check in this quickly dwindling season? Can the points be made up with only 12 matches left and a rather difficult fixture schedule ahead?

No, this has nothing to do with Manchester City's hopes to defend their title. Twelve points behind United, the focus for Roberto Mancini might as well be twofold: the FA Cup and updating his CV. It's about Everton. David Moyes' side had some of us -- aside, of course, from direly fatalistic Everton supporters -- believing that the club could finish in the top four and qualify for the Champions League for the first time since 2004-05. Sunday's 2-0 loss to Manchester United feels like the beginning of the end, as the Toffees have slipped to sixth place, two behind Arsenal and six points behind fourth-place Tottenham Hotspur.

We shouldn't be surprised, but there seemed just enough to be clicking on Merseyside -- from Leighton Baines' outstanding form to being able to hold onto Marouane Fellaini in an otherwise thin squad -- that maybe Moyes could conjure some magic.

Not against a ruthless Manchester United side determined not to see a repeat of last season's match in which they gave up two goals at the death to Everton, a result that went a long way in giving the title to Manchester City.

The Toffees fell behind early after Ryan Giggs reminded Chelsea in the 13th minute that veterans can still play a key role on even the top sides. The 39-year-old finished with his weaker right foot to become the second-oldest goal scorer in the Premier League era, behind a 40-year-old Teddy Sheringham on Boxing Day in 2006. Giggs has also now scored in every Premier League season.

If not for some superb defending by Nemanja Vidic, Jonny Evans and Rafael, however, Everton could have easily leveled things back up. But right before halftime, John Heitinga -- whose foot was the only thing between Wayne Rooney's pass to Robin Van Persie in the box and what would have most certainly been a goal earlier in the match -- helped in United's second goal, by Van Persie. (The United striker missed an almost identical attempt earlier in the half, but he wouldn't be denied again as Tim Howard was left for dead.) Make no mistake: Everton played well -- Steven Pienaar put in a strong shift, and Kevin Mirallas was everywhere, it seemed, in the first half -- but it wouldn't be enough.

With Jose Mourinho in the stands, signing autographs and processing tidbits for Wednesday's Champions League clash between Real and United, Sir Alex Ferguson's side saw the game out despite some game opposition on Everton's part. With Phil Jones, and later Michael Carrick, shackling Fellaini and some stellar movement and tireless work rate from every player, United snuffed out the match in the second half. Indeed, it was one of United's better performances all around. When Giggs needed to tuck in, Rooney went wide. In the final third, United's attack contracted into the center of the pitch, only to expand out wide -- usually to Antonio Valencia -- as if an accordion was being played.

Last year with 26 games under their belt, United were in second place with 61 points. This season: first place, 65 points. All the more amazing for a side that, as we all know, has often failed to convince in the midfield against a team that presses (images of Southampton still running Carrick into a frazzled daze remain fresh) and a back line that has leaked goals. Yeah, maybe the league has been won with 12 matches to go, but you can't say that United won't deserve it after matches like these or, for that matter, grind-it-out results like that 1-0 win over West Ham back in November.

Whatever it takes.

Everton, meanwhile, are staring down the barrel of away fixtures to Arsenal, Tottenham, Liverpool and, on the final day of the season, Chelsea. The Toffees also host Manchester City.

In 2004-05, after 26 games, Everton was in fourth place on 47 points. They're on 42 points now. They'll almost certainly play a huge role in deciding the final Champions League spot, but given the Toffees' remaining schedule, the odds of it being them in Europe next season dwindled after the loss to United.