Graham can follow Stokoe path to bridge Tyne-Wear divide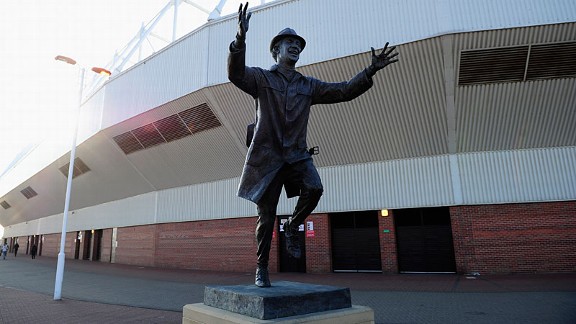 GettyImagesBob Stokoe, the manager who took Sunderland to FA Cup victory in 1973
In the shadow of the Stadium of Light stands a statue which reads: "The man, the messiah, the moment."

The figure stood atop its base is Bob Stokoe, his pose an homage to the 1973 FA Cup winning team that overcame monumental odds to beat favourites Leeds. Forty years on and the statue now also serves as an example for the club's latest signing Danny Graham to live by.

That's because long before Stokoe was running onto the Wembley pitch, his arms outstretched in celebration, he was a Newcastle player. A notable one in fact. A centre-half who joined the Magpies in 1946, he made over 250 appearances for the club, collecting an FA Cup winners medal in 1955 before leaving for Bury in 1960.

Sadly passing away at 73, his funeral in 2004 was attended by both halves of the Tyne-Wear divide, something noted by the presiding reverend. The statue still remains a focal point of the stadium's landscape. It was also the backdrop for the presentation of Steve Bruce as Sunderland manager. More than just a visually appealing background to the photos framing, the inclusion gave a subtle reminder that it was performance not place of birth that dictated how Sunderland fans evaluated their players and staff.

Unfortunately for Graham, he learned that once in print your words can be tough to ignore, regardless of how long ago you said them. Speaking to a Watford fanzine, Graham joked that if his beloved Newcastle ceased to exist, he would rather support non-league Gateshead than Sunderland. Lacking context, tone and many of the facets that would have dampened the sensationalist angle with which it was given, some on Wearside took umbrage with his views.

Keen to provide mitigation and clarity, Graham addressed the comments he made in Saturday's match-day programme. "It wasn't supposed to go out," he said. "People dig up things from years ago which is what's happened here. I don't want to hide from the fact that I did say it. It was a fanzine interview which wasn't supposed to be printed. We were messing around and as far as I'm concerned what I was doing was just light hearted conversation which wasn't going to be published, but it was."

Booed onto the field during a tepid goalless draw with Swansea last month, there was an air of pantomime to the reaction he received. After the game, Martin O'Neill chose to reference Stokoe when asked how the boos might affect Graham's chances of completing a move. Yet contrast that poor welcome with the roar he received when he entered the field as a Sunderland player against Arsenal and it was plain to see, grudges were not being held by the majority.

Still having detractors, Graham will note this is not the toughest phase of his career. Working as a glass fitter in between trials with every local club that would take him (including Sunderland and Newcastle), it's a path he's pleased he took. "I did it for eight months and I kept getting all the screws wrong," he told the Independent. "The worst part was getting up at half seven and waiting on the corner in the freezing cold to get picked up, but I wouldn't change that. It is part of who I am. It is why I appreciate the playing time on the field."

Eventually getting his chance with Middlesbrough after impressing with Chester-Le-Street, his journey still had further peaks and troughs. Released by Boro, and in need of games, he cultivated his talent at Carlisle before Watford decided to afford him an opportunity in England's second tier. Proving doubters wrong has been a regular demand of his time in professional football.

Sunderland fans remain split however. Not on his roots, more how he should be used, sparking healthy debate on the local radio call-ins. Some want Graham as backup to Steven Fletcher, meaning the team can maintain its five man midfield. Others are willing to sacrifice a man in the middle and give Fletcher a partner to play with.

Graham has his own opinions: "If you have two up front it's not necessarily 4-4-2: you can alternate, one can drop deep and take turns on who's going to go long," he told the club's programme. "If that's how the gaffer sees it with two up top I'm sure we can form a great partnership."

On Saturday, it was Fletcher who often went long, despite previous suggestions from O'Neill that the Scot could play the deeper role. Albeit against 10 men, the pair did look dangerous. Given that Sunderland's creative strength lies in the wide areas, it should come as little surprise that these avenues fashioned their best chances.

While against Arsenal a more cautious approach is perhaps sensible, against lesser sides O'Neill should realistically look to accommodate both Graham and Fletcher in the side, choosing two defensively minded central midfielders to give the team security in the middle of the park.

Although 4-4-2 may have previously seen Stephane Sessegnon be demoted to the substitutes bench, the diminutive midfielder showed on Saturday that he has the ability to not only play wide, but also cause trouble. His tricky run causing Carl Jenkinson to dive in and receive his second yellow card.

No doubt eager to score his first goal for Sunderland, it seems unlikely that Graham will have to wait long given some of the chances he is both garnering and fashioning for his team-mates. A great believer in himself, the initiation song he chose to sing to his new team-mates, Mr Brightside, perhaps also an astute insight into why he has handled the early awkwardness of his Sunderland career so smoothly.