Grading the big six EPL clubs in the transfer market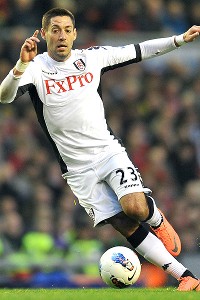 GettyImages / Paul Ellis/AFP/Getty ImagesEveryone thought Clint Dempsey would land at Liverpool, but Tottenham got his signature in the end.

It's one of those times to grab some popcorn and become a couch potato: Deadline day in football's summer transfer window.

There were the inevitable last-minute deals in the Premier League, with some of which won't be confirmed until early Saturday morning, past Friday's 11 p.m. deadline. As we got down to the final hours, the biggest story, of course, was Clint Dempsey finally moving to a bigger club. But it wasn't Liverpool. Rather, he was nabbed by Spurs.

But most of the major signings all materialized earlier in the window, with Chelsea leading the way and Manchester United swooping up Robin van Persie.

Time to grade the Big Six on their summer dealings.

Chelsea (A-): Not only have the Blues splashed out 80 million pounds in the offseason, taking owner Roman Abramovich's monopoly spending further past 1 billion pounds, but they did it early. It has allowed manager Roberto di Matteo the maximum time to try to sort out his best lineup -- though more games are required.

A once aging midfield has been regenerated with the signings of young midfielders Oscar, Marko Marin, Victor Moses and Eden Hazard, who looks to be, at this early stage, the finest import of the season. One or two will inevitably become disgruntled sitting on the bench, but Chelsea under Abramovich has never been annoyed when the time comes to sell at a loss.

Chelsea will see who works out; the others can go.

The concern in midfield is that, as some would argue, the squad is either too old or too young, with not much in the middle, yet in Hazard and Juan Mata, Chelsea possesses two players with football brains well past their age.

Chelsea needed cover at right back behind Branislav Ivanovic and bought; whether it bought well in Cesar Azpilicueta remains to be seen.

The thinking of not adding a striker to make up for departed talisman Didier Drogba is likely twofold: The midfield will create a bundle of opportunities for Fernando Torres. And for Torres to flourish, he needs to know he's the main man up front. So far, so good.

But if Torres gets injured or slumps, Daniel Sturridge is the next in line. Overall, though, Chelsea has shored up the major problem area, midfield. In football, money can buy happiness. (Please, no mention of the quite meaningless Super Cup.)

Manchester United (B+): Maybe Manchester United manager Alex Ferguson bought van Persie to replace Wayne Rooney rather than play the two together.

A story in The Sun this week claimed United would consider selling Rooney after his relationship with Ferguson had once again soured. It could help explain Ferguson not starting Rooney against Fulham at Old Trafford on Saturday, a game marked by Rooney's nasty thigh injury. Then again, it could all be rubbish, which is exactly what Rooney said via Twitter. And, in the end, the striker wasn't sold this transfer window. But, if there's any truth to the Sun story, it could eventually mean curtains for Wazza: Getting on Fergie's bad side once usually means exile.

In the meantime, does Ferguson put aside any issues he has with Rooney and play him when he returns from injury, knowing that a successful partnership with van Persie could lead United to the title?

Ferguson spent most of the cash at his disposal on van Persie and midfielder Shinji Kagawa. And while Kagawa's transfer, compared to van Persie's, was less hyped, it was no less important. United needs a playmaker in the center of midfield, someone to act as the supply line to van Persie and Rooney, since Paul Scholes and Ryan Giggs are too long in the tooth to play every game. Ferguson will also hope Tom Cleverley can become a provider.

The arrival of another central attacking midfielder would have pleased Ferguson, however.

In one way, the Red Devils are looking like Arsenal -- they're buying more younger players, but the purse strings have tightened. (The difference is that United won't sell when those players hit their prime.)

Ferguson, for instance, opted for 23-year-old Alexander Buttner to give 31-year-old Patrice Evra competition at left back. Cleverley was part of the set up after his loan spell at Wigan ended, and Chris Smalling, Phil Jones and David de Gea have all joined since 2010. As to be expected with youth, consistency was an issue for the latter three last season.

But Ferguson is sticking with de Gea, for one, which has to be a gamble. His blunder Saturday led to a Fulham goal. Smalling, when fit, is a more stable pick at right back than Rafael, yet neither are a Gary Neville.

Manchester City (B+): Manchester City won the Premier League last season with the deepest squad in the division, so an overhaul was never in the cards. But neither was doing nothing.

Roberto Mancini made it clear earlier in the summer that the lack of activity irked him, though few were quick to offer sympathy given City's newfound wealth.

City's big moves started with Jack Rodwell, who was acquired from Everton to act as a holding midfielder while Gareth Barry recovers, before Mancini told Rodwell that he wasn't close to the finished article. Bang on cue, Rodwell made errors that led to goals for Southampton and Liverpool in City's first two fixtures.

Javi Garcia is a more than adequate replacement for the purely one-dimensional Nigel de Jong, and Maicon adds flair and experience to right back.

In a swap of wingers, and an upgrade, the left-footed Adam Johnson left for Sunderland and was replaced by the right-footed Scott Sinclair. Sinclair proved his worth in the Premier League last season with Swansea. Yet Sinclair, like Johnson, will spend more time on the bench than off it.

City has leaked six goals in three games, including the Community Shield, and to partially rectify the situation, Matija Nastasic arrived from Fiorentina. (Flop Stefan Savic went the other way.) Yet he's a teen, and how many times have we seen players with potential -- Nastasic has been compared to countryman Nemanja Vidic -- not hit the heights?

All told, a good bit of shopping by City.

Tottenham (B+): Tottenham's movements in the transfer window were far from a secret. The club was linked with stellar French goalkeeper Hugo Lloris, midfielders Willian and Joao Moutinho, and strikers Leandro Damiao and Loic Remy.

Of the five, a grand total of one came to White Hart Lane in the infancy of Andre Villas-Boas' revolution, which begins without the supreme Luka Modric. Modric's sale to Real Madrid took longer than Tottenham would have hoped, leaving Spurs without much time to work on deals.

Not that Brad Friedel did anything particularly wrong last season, but in acquiring Lloris, Tottenham now has a keeper who can win more games by himself. And Lloris isn't afraid to come out on corners.

Trying to make up for the loss of Modric, Tottenham bought Fulham's highly rated Moussa Dembele. Dembele is a different type of player to Modric: He's more of an attacking sort who runs at opponents and shoots more than the little Croatian. Modric's vision is better, and he has the edge technically (though Dembele isn't shabby). Dembele is world class, too, and it was only a matter of time before he moved from Fulham to a bigger club.

Gylfi Sigurdsson will be counted on to back up what he did at Swansea last season, more so now that Rafael van der Vaart returned to Hamburg.

Tottenham desperately needed Emmanuel Adebayor to stay. On loan last season and with ample Premier League experience, he can go straight back into the team. But then Tottenham also needed padding behind Adebayor and Defoe. Dempsey, who can operate in virtually any offensive role down the middle, fits the bill.

AVB may not want him, but fan favorite Michael Dawson remaining at Tottenham is a huge lift. Villas-Boas, for some reason, seems to think 35-year-old William Gallas should play alongside newcomer Jan Vertonghen in the center of defense instead of Dawson.

Had Dawson left, Vertonghen, Gallas, Younes Kaboul (facing a long spell on the sidelines with injury) and the untested Steven Caulker would have been Villas-Boas' options in the middle.

But still, a striker or central midfielder short? All in all, though, Spurs were quite active in the transfer window without breaking the bank.

Arsenal (C+): Arsene Wenger has been quick to remind folks that Arsenal has spent a fair chunk in the transfer window, on Olivier Giroud, Lukas Podolski and Santi Cazorla, to help make up for van Persie's absence.

But this phenomenon in the red half of North London is called replacing, not adding. Imagine the Gunners with van Persie, Podolski, Giroud and Cazorla. Therein lies the difference between a club realistically challenging for the title and one that will do well to finish fourth.

Cazorla has made a smooth transition to the Premier League, and even if Giroud and Podolski haven't scored in two games, it's premature to suggest both will turn out like Marouane Chamakh.

However, it's also silly to think Arsenal doesn't need more cover. Arsenal had to buy another proven scorer, a player who knows how to produce goals in England's top division. Wenger, though, rarely spends on proven Premier League performers, wary of the higher price tag.

And not content with failing to grab Hazard and Vertonghen, Wenger let another one slip by when Nuri Sahin left Real Madrid for Liverpool.

Alex Song's sale to Barcelona leaves Arsenal without another valuable international. He began purely as a defensive midfielder but became something more.

By not signing a holding midfielder, Mikel Arteta (who, poor guy, thinks Arsenal can win the title) could be asked to play the role, which would take away from his ample offensive capabilities.

Assistant manager Steve Bould's work on the defensive front has yielded results in two games, but another defender was needed. Per Mertesacker played well at Stoke on Sunday, but he was comfortable dealing with high balls instead of worrying about quick strikers on his shoulder. If one of Laurent Koscielny or Thomas Vermaelen is injured for a long stretch, it's an area of concern.

But hey, in Arsene we trust, right?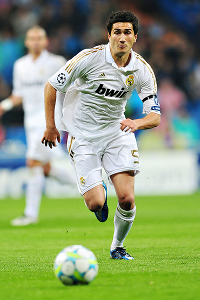 Liverpool beat Arsenal to the signing (on loan) of Real Madrid's Nuri Sahin.
Liverpool (C): Brendan Rodgers isn't one to mince words. He openly admitted Liverpool was interested in Dempsey, leading to an almighty brouhaha, and practically escorted Andy Carroll to the Anfield door.

Refreshing, and the press corps couldn't be happier with his sound bites.

Rodgers' arrival initiated a summer cull often seen with new managers, and Craig Bellamy (an impact substitute who can start a few games), Maxi Rodriguez (who scores goals from midfield) and Kop favorite Dirk Kuyt (a workhorse) joined Carroll -- on loan at West Ham -- in the exodus.

All three midfielders could be missed. They weren't the ones who disappointed last season.

Rather, Liverpool fans would have preferred Stewart Downing, who played so poorly last season that he's now being mentioned as a left back, Jordan Henderson and Charlie Adam to leave. Adam obliged, going to Stoke City.

As for Carroll, he never really got a fair shake at Liverpool, and so a spring and early summer of joy culminated with a move to a team whose first objective this season is to avoid relegation.

Liverpool pipped Arsenal to the loan signing of Sahin, but Sahin's preferred position is as a deep-lying midfielder. Joe Allen, whom Rodgers brought from Swansea, barely put a pass wrong against Manchester City on Sunday as Rodgers' pressing game harried the champions, yet he, too, isn't the attacking midfielder that was needed, a player such as Dembele.

And Rodgers is playing a very risky game by not bringing in another forward as protection for Luis Suarez and Fabio Borini.

Rodgers, commendably, has great faith in the players he wants, although Borini is only 21, and performers in Serie A typically have a tough time adjusting to the Premier League. For every Gianfranco Zola (who came to England when older), there are Alberto Aquilani, Juan Sebastian Veron, Andriy Shevchenko and many more.

Oh, and as lively as Suarez is, his shooting accuracy leaves plenty to be desired.