New man about Toon: Moussa Sissoko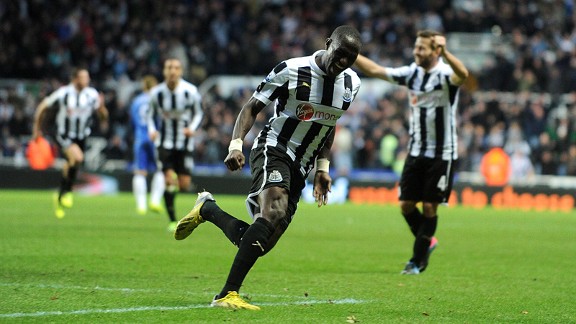 APNewcastle's Moussa Sissoko hit the headlines following his man-of-the-match performance against Chelsea.
Moussa Sissoko arrived at Clairefontaine nice and early. He likes to be punctual. And anyway, this was a big day for him. It's August 2009 and the Toulouse midfielder had been called up to represent France at senior level for the first time. He was still just 20 and couldn't quite believe what was happening to him. Looking around the dressing room, he gulped.

- Macintosh: Time to take Newcastle seriously again

"There was Thierry Henry, William Gallas [and] Nicolas Anelka," he recalled. "I'd seen them all on TV. They were my idols. Being by their side was strange."

Out on the training pitch and a couple of months later during his debut, a 5-0 win against the Faroe Islands on October 10, 2009, Sissoko was, by his own admission, "shy." He kept his head down and stayed quiet for fear of saying the wrong thing. And when the ball came his way, he passed it on. "I did not take risks," he said.

Following Sissoko's arrival in English football three and a bit years later, you could be forgiven for thinking that we're even discussing the same player, such is the contrast. Few footballers have made as precocious a first impression as he has done at Newcastle since joining the club in the final week of the January transfer window.

"He is a force of football," manager Alan Pardew claimed. How else to explain the way in which Sissoko has lifted the gloom at St. James' Park. Ten defeats in 13 games and the threat of an improbable return to the Championship after last year's fifth-place finish had spread panic. Then came the mighty Moussa.

Two appearances. Two precious wins. His fingerprints were all over them.

Thrown into a relegation battle away to Aston Villa, Sissoko took no time to settle in. He bossed the game and set up Papiss Demba Cisse for the opener in a 2-1 win. Then, there was that memorable home debut against Chelsea with Sissoko grabbing the game by the scruff of the neck and inspiring a comeback from 2-1 down to 3-2 up, an equaliser and last-minute winner, his first goals for the club.

Two points above the drop zone when he signed, a week later Newcastle are six points clear of it. And a large part of it is due to him. "A guy like Sissoko has completely transformed the atmosphere around the club in a matter of days," Newcastle legend and academy director Peter Beardsley told France Football. "Moussa was magnifique," added his compatriot, the team's playmaker Yohan Cabaye. "I knew that he'd be a success here, but perhaps not so quickly."

There have been some elements of surprise to Sissoko's instant adaptation. A player taking to a league like a duck to water should of course never be taken for granted. As Didier Deschamps noted after calling Sissoko up for France's friendly with Germany: "Players who leave during the January transfer window take a risk. They change country. Competition can be high. They can encounter problems in terms of playing time."

That doesn't appear to have been an issue for Sissoko, who was brought in with three other Frenchmen to bolster a threadbare squad short in some positions and afflicted by injury in others. One gets the impression from Deschamps that the revelation is how Sissoko has also been playing in a new role for Newcastle. Instead of being deeper in midfield, where the French are used to seeing him, he has instead been played behind Cisse. "He's a No. 10," Deschamps observed. "I hadn't seen him in that position."

Sissoko had "already done that for Toulouse" on a few occasions. He has even played centre-back for France's Under-21s, such is his versatility. That was against England in Nottingham nearly four years ago. Les Bleuets won 2-0. "He was huge," Erik Mombaerts, their coach at the time, recalled, remarking on how he had "smashed the English strikers."

Pardew perhaps wondered to himself if Sissoko could do the same to English defenders too. "Sissoko brings us energy and power," he explained. "When he arrived, I told him he needed to score more. Here, the game is more open, faster, less compact than in France. I had no doubt he would adapt quickly."

So it's not a surprise then really, is it? Well, it shouldn't be. A lot of the consternation surrounding Newcastle is that no one else in England is in for these players. Chief scout Graham Carr is said to have watched 20 Ligue 1 games last month, but he won't have been alone. Sissoko and the others will have been on the radar of most Premier League clubs. Even a fan interviewed in L'Equipe revealed that she was "confident" the new signings would be a success because "I have seen several matches of Ligue 1 on ESPN [in the UK]."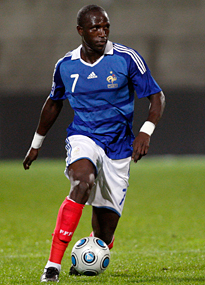 APMoussa Sissoko makes his debut for France.
The calibre of player they're signing isn't secret. It's public knowledge. That, of course, should take absolutely nothing away from Newcastle. If no one else is prepared to get a deal done for the captain of the 2011 French champions and their full-back [Cabaye and Mathieu Debuchy] to say nothing of the rock at the back of the 2012 league winners [Yanga-Mbiwa] then more fool them. It's not their fault that their English counterparts are overcome with inertia and sit on their hands when they could be competing for these players.

Take Sissoko. He signed pro for Toulouse at 17. He featured in their Champions League qualifier against Liverpool on August 15, 2007. He made his debut for France at senior level at 20. And after nearly 200 appearances in Ligue 1, an average of more than 30 a season over the last five years, you could say that, at 23 years old, he's already a veteran of a top-level division. Needless to say, there have been ample opportunities to watch him and ascertain his talent.

So why didn't someone sign him up earlier? Well, only now did he represent a real bargain. His contract was due to expire at the end of the season and Newcastle, along with Marseille and Monaco, were poised to take him on a free there and then. However, a combination of Newcastle's urgent need of a fix and Toulouse's reluctance to see a player they've had on their books since the age of 12 go for nothing brought things forward and a deal was done for just £1.8 million.

Surely someone wouldn't have minded paying a bit more for him a year or so ago, right? True, but Sissoko had also, it might be said, found it hard to live up to expectations after his sudden emergence in France. He'd risen so quickly through the ranks, there was a sense that, while undoubtedly talented, his was a case of too much, too soon. After playing in Laurent Blanc's first game as France coach, he wasn't picked to play for his country at senior level again for two years. However, the explanation didn't have much to do with his form. Blanc was simply taking France in a different direction.

"I'm a big [strong player] and Blanc was looking for players with a Spanish profile," Sissoko revealed. "He was more interested in technical players, but I can't blame him. Every coach has their own style of play. The new Selectionneur [Deschamps] doesn't share the same vision, which is all the better for me. It corresponds better with me, even if technically I'm not limited." Far from it, in fact.

Though his former coach at Under-16 and Under-19 level for France, Luc Rabat, says "seeing his profile, he can't be Messi in the tight spaces," his strengths, as demonstrated against Chelsea, are "his spacial awareness [see the position he takes up for his second goal], his speed and his power."

Those two years away from the national team were, according to Sissoko's Toulouse teammate Etienne Capoue, "very hard." "I looked out for every squad and my name wasn't there," Sissoko told L'Equipe. "I was always frustrated by it. But I knew that by working hard I'd get back in. My uncle, who is also my agent, and coach Alain Casanova were always behind me to give me a boost when times were hard."

They believed in this kid. Why? Simply because he'd never let them down. "He's educated, polite, a really good person," Casanova reflected. "He's the same now as when he first arrived at the club." One of the youth coaches at Toulouse, Fabrice Garrigues, uses him as an example to those in the academy today. "When he was with us, he was very quiet but ambitious. He said nothing but worked. Moussa never looked for excuses."

Personality-wise, don't expect the tantrums and fits of piques of other French players of his generation. Contrast, for instance, how he acted on his first day at Clairefontaine, watching Henry with awe, to Samir Nasri, who disrespected the hierarchy at Euro 2008. "His entourage doesn't have a negative influence," Rabat told L'Equipe. "And like Maxime [Gonalons, the level-headed Lyon midfield player] he was the only one to have the commitment to go with his talent."

Pardew's comments after the Chelsea game summed Sissoko up nicely. "I don't want to say too much about him, because his performance speaks for itself and it doesn't need me to give a sound bite because he's going to get enough headlines..."

He certainly is.