Zeman did not fit Roma to a tee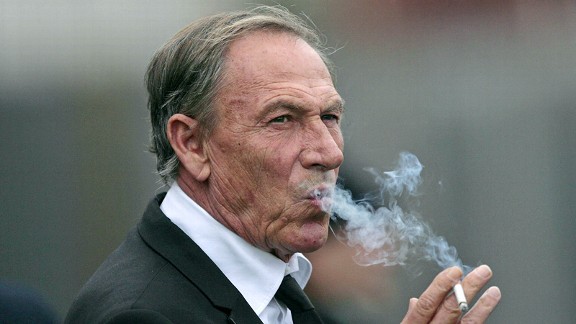 Marcello Paternostro/AFP/Getty ImagesZdenek Zeman couldn't give up old habits, and his second stint at Roma went up in smoke last Friday after a loss to Cagliari.
Consider it a good walk spoiled. Golf courses have a reputation in football as the location where bad news is broken. While on the tee, fairway or green, players have got the call to say, sorry, but they're not in a World Cup squad. Managers too have received texts to inform them that regrettably they have been sacked.

That's what happened to Zdenek Zeman Saturday. His phone had been switched off during a round that morning, presumably out of respect for golf club decorum. Roma had been trying to get in touch. A meeting of the club's directors had been called at the law firm where Zeman's appointment had been made official in June. They were now there to discuss his dismissal. A decision was made and when Roma couldn't get through, a text was apparently sent to Zeman and an agent close to him, Alberto Faccini.

It was the morning after the night before. Roma had lost 4-2 at home to Cagliari in calamitous circumstances. A banner had been unfurled in the Curva Sud. The message printed on it was clear. "Via il Boemo." Leave Bohemian.

There was dissent in the air. Stooped in the dugout, Zeman had to sit and take the insults, many of which were also aimed at Roma's directors. Such was the atmosphere at the Olimpico that as the game entered the final minute, the fourth official, preparing to signal how much added time there should be and aware that Zeman was taking flak, went to the Roma technical area and asked the coach if he wanted it to end there and then. Be it pride or stubbornness, Zeman said no. He'd endure another five minutes .

In the press conference afterwards, he told reporters: "The idea of resigning after a bad game hasn't entered my head. I don't believe our season has gone wrong." And even amid questions about the threat of the sack, he added: "I still believe." It was evident, however, that the club no longer did.

There was an inevitability about Zeman's firing. Earlier in the week, Roma's director of sport Walter Sabatini revealed that while "it wasn't a mistake to bring [Zeman] back" to the club for a second spell, he was "little satisfied with the day-to-day situation." Because, you see, "we gave Zeman everything he needed" - Roma had spent £36m in the summer - and while certain players have been "valued", the relationship with some, including directors, was "cancerous." As a consequence, Roma, he explained, were to undergo a period of reflection, which "also contemplates the idea of changing coach."

There was shock. Sabatini, whose own position should perhaps be under review after some signings, might as well have announced that Roma were sacking Zeman there and then. He'd undermined the coach. So why persist with him? What remaining authority did Zeman now have? He was a dead man walking. When it emerged after a series of crisis talks held the following day Zeman would in fact be staying on, many asked, and quite rightly so, for how long? Certainly not for "another five years," a hope he expressed in the press conference prior to Cagliari.

Even if Zeman could change his ways as requested - specifically, to be a coach not a guru, to not be so darn cold with the players, talk to them, explain why some have been left out, trust them more and pay greater attention to the medical staff's recommendations - the club had made it so that he could not realistically continue. The handling was below the standard many expect from a group of directors who are thought of as intellectuals rather than incompetents. We're led to believe they're above this kind of thing, that they're better than that.

Roma general manager Franco Baldini had never had to sack anyone. The club hasn't either 'officially', at least not since 1997, when Carlos Bianchi was told to pack up his things and leave after another defeat to Cagliari - oh that, and the small matter of trying to force a young Francesco Totti out the club.

After Zeman, however, you do get the feeling that no one is more disappointed about this than Baldini himself. He insisted Saturday that "[Zeman] is not the only one responsible for this situation." The blame has to be shared.

Baldini knows that Roma's "project" is now under scrutiny like never before. Since the completion of the club's takeover by an American consortium now led by James Pallotta 18 months ago, he has been the one tasked with outlining a vision for the club and enacting it on their behalf.

That's why Il Corriere dello Sport's question "Where's the owner?" is to a certain extent superfluous, even though, it perhaps must be also acknowledged, that the absence of a grand arbiter or padre-padrone - like past presidents Dino Viola and Franco Sensi - to mitigate between the coaching staff and directors is felt.

How else do we explain the disconnect in this regard, to say nothing of Baldini, Sabatini and Claudio Fenucci not always singing from the same hymn sheet? They too were on the end of insults throughout last Friday night and were confronted outside the law firm near Piazza del Popolo where they ratified Zeman's dismissal Saturday morning.

While obviously lamentable it had to come to this, the board were to a certain extent justified in the decision they made. True, Roma are in the semifinals of the Coppa Italia and take a lead into their second leg with Inter, but they have yet to win in Serie A in 2013. The loss to relegation-threatened Cagliari, their fourth in seven league games, saw them fall to eighth. They're now nine points adrift of the third and final Champions League place held by rival Lazio. And though top scorers in Serie A, the only defence worse than Roma's is that of Pescara, the team Zeman coached to promotion last season.

But hold on a minute. Isn't this what you sign up for when you appoint Zeman? Well, yes and no. Roma made a mistake in good faith here. They thought Zeman had changed. The tears he cried following Pescara's promotion were taken, in addition to his grief at the loss of former assistant and his goalkeeper at Foggia, Francesco Mancini, to signify that, after everything, he'd finally got that winning feeling.

To some, although he has always denied it, he had compromised in order to get Pescara to Serie A. Relatively speaking - they still conceded 55 goals in that campaign - Pescara had shown restraint to their football uncharacteristic of a Zeman team. They did not play with as high a line as they had earlier in the campaign. Players sat back and paid greater attention to their duties in coverage. Fewer risks were taken to preserve promotion clinching results. It seemed Zeman had matured.

No longer a prisoner of his ideas, he had liberated himself - not completely, but enough to give the impression that it was possible for a team to win something with him on the bench now that other obstacles to his success, the alleged doping of other teams and the system of power revealed in the Calciopoli scandal, had apparently since been cleared.

Just like a magician in chains, however, his escape from them was a grand illusion. The promise of a 3-1 win against Inter at San Siro in September, when Roma, for all their attacking intent, were impressively balanced in their play, was to go unfulfilled.

Cries of "Same old Zeman" were heard. Which was fine. Roma were OK with that. Zeman was brought back not only because of his style of football but also for what he stood for: he was clean, incorruptible and uncontaminated.

What Roma hadn't reckoned on, though, was how corrosive Zeman's man-management would prove. He criticised Erik Lamela and Nico Lopez in preseason for understanding "little of what I want from them." Next, he questioned the attitudes of Daniele De Rossi and Pablo Daniel Osvaldo, dropping them both.

Zeman's predecessor Luis Enrique had also had disciplinary issues with the pair [the former for lateness on one occasion, the latter for an altercation with Lamela and his habit of getting sent off]. But he had never put their professionalism in discussion. Enrique defended the team. They won and lost together. Responsibility for poor performances was shared. Zeman, instead, blamed bad results on "a lack of concentration". The players were at fault. Not him.

It grated. Several have turned to the bench and mouthed off at Zeman this season. Miralem Pjanic in the derby and Marquinho against Catania to name but a few. Some decisions were vindicated. Others, like preferring Panagiotis Tachtsidis to De Rossi or in particular Mauro Goicoechea in goal to Maarten Stekelenburg, were not and contributed to the club looking rather silly on transfer deadline day.

Told he was to be sold, Stekelenburg boarded a plane to London for talks at Fulham, only for the deal to go up in the air with him as Roma couldn't find an alternative in time before the window shut. He returned the next day, understanding but disappointed, and looked on from the bench as Goicoechea made his latest blunder, jumping unchallenged to catch a routine Cagliari cross only to fumble it into his own net for an embarrassing own-goal.

In that game and the one away to Bologna the weekend before - when Roma twice surrendered the lead and drew 3-3, two of the 18 points Roma have thrown away from winning positions this season - it was discernible some players were no longer responding to Zeman, that he'd maybe lost them.

The first session back after the Bologna game, only 11 or 10 players trained fully amid reports that a not insignificant number of the squad had gone out in Ostia the night before and partied until the early hours.

Was it unprofessional? Absolutely. Did it also indicate a lack of respect for Zeman and his diminishing authority? Yes, that too. Not overly prone to hyperbole, a headline in the Rome edition of La Repubblica read: "The team abandons Zeman. By now the relationship is destroyed."

Of course, there's great regret that it had to end this way. Asked if they thought sacking Zeman was right, 61.6 percent of those polled in Il Corriere dello Sport said no. After being forced to leave Roma owing to "political pressure" (read: Luciano Moggi) in 1999, there was a great deal of goodwill towards Zeman finishing what he had started at Roma. On the one hand, he deserved more time. On the other, it was impossible considering a section of the dressing room apparently couldn't bear him any longer.

Baldini had said: "The real Utopia is winning with Zeman." Some things, it seems, really are too good to be true. For now, Aurelio Andreazzoli, the club's tactics coach since 2005 and a man after whom Rodrigo Taddei named his dribble the 'Aurelio', has accepted the call to step into the breach.

Even amid reports linking Laurent Blanc with the post, Andreazzoli looks likely to be in charge until the end of the season and restore the 'sacred' 4-2-3-1 played under his former boss Luciano Spalletti, a system synonymous with their best football over the last eight years.

Roma have had to promote from within in recent memory and not too long ago, either. It's a sore point for some that Vincenzo Montella wasn't given the Roma job on a permanent basis after a caretaker stint in 2011. The takeover had just been completed. New owners and directors wanted to break with the past, make a fresh start and take the club in a different direction.

Before Zeman's re-appointment, there were also calls for Montella to be brought back in 2012 after he'd proved himself to be one of Italy's most promising coaches at Catania. But to go back, of course, would have been for the owners to acknowledge that they'd perhaps made a mistake in not appointing him in the first place. Still there's no use looking back now and thinking about what might have been. Roma have to move forward.

In the meantime, what next for Zeman? Is this the last we'll see of Il Boemo in Serie A? Will he be kept away? Well, not if he's got anything to do with it.

"Stop coaching? I'd rather they shot me," he says.