Contintental Divide: Two paths to UCL title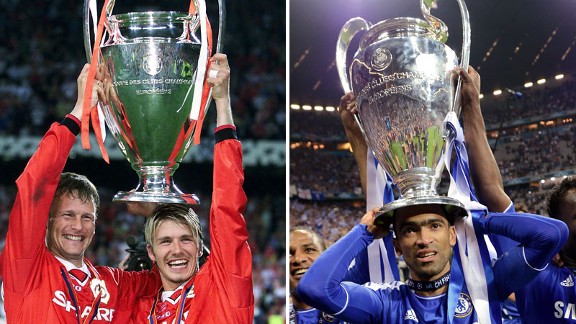 Getty ImagesManchester United (with Teddy Sheringham & David Beckham, left photo) won everything in sight in 1999, while Chelsea (with Jose Bosingwa) focused solely on the CL in 2012 after domestic titles were out of reach.
For all the immortality the Champions League trophy immediately and inarguably bestows, there are a surprising number of very human contradictions on the path toward the prize.

Take the alternating routes of two relatively recent winners.

In 1998-99, Manchester United had the kind of all-fronts run-in that has ruined many other teams. Even one of their nominally "less important games," such as the FA Cup semifinal, took on "a significance way beyond the prize at stake" -- in the words of Roy Keane -- because of the exact opposition they faced in Arsenal and the potential knock-on psychological effect of any negative result. Constantly winning such games, though, created and perpetuated a momentum that Gary Neville described as "unstoppable."

- Bennett: Balance of power is shifting
- Michael Cox: Best Starting XI in Champions League
- Tyler: Frustrating glory
- Carlisle: Jermaine Jones at home in Europe
- Hunter: Real Madrid v Manchester United
- Video: Celtic Park showdown
- Video: Europe's No. 1

Milan in 2002-03, by contrast, were the exact opposite. It wasn't about momentum but momentarily raising themselves for isolated occasions in the fixture list. As Carlo Ancelotti bluntly put it, "we had lost our determination in Serie A, so our focus was now on the European Cup." They certainly applied it.

Fortunate enough to face a Juventus side that expended a lot of energy in winning the domestic title that season, Milan just edged the Old Lady in the final on penalties. It led to the curious situation in which the greatest team on the continent were nowhere near the greatest in their own country.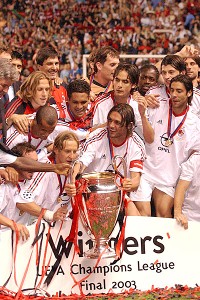 John Peters/Getty ImagesIn 2002-03, AC Milan had no chance to win the league, so they focused their efforts on winning the Champions League.
Milan finished a distant third in Serie A. Worse, it wasn't as if they were any closer the previous season, when they came fourth. At the least the Aston Villa side that finished 11th in 1981-82 while also lifting the European Cup had crossed the important threshold of claiming their national title in the previous season.

And although this is not a lament for the lost days when the competition only allowed title winners, it does again point to the paradox of the modern Champions League.

In recent weeks in England, there has been a lingering argument that the league title race is not yet over because Manchester City may well benefit from United's continental distractions.

History, however, suggests that the inverse is true. While lasting involvement in the European Cup may well help maintain momentum at the top of the league, the absence of any meaningful domestic demands can allow a side to properly prepare and plan for the more exacting -- and often more unfamiliar -- challenges of the Champions League.

That's been evident in the types of teams that have won it since it became such a behemoth of a competition after the 1999-2000 expansion. There's been an almost even split between genuinely historic sides who have racked up doubles, trebles and successive league titles, and also-rans who have only rescued otherwise poor seasons with the ultimate prize.

On one side, for example, we have what was statistically the greatest Manchester United ever between 2006-09, an Inter managed by one of the greatest managers ever in Jose Mourinho and a Barcelona side many consider to be the greatest squad of all time. Even FC Porto only signposted the rise of Mourinho in 2004.

On the other side, though, we have Milan, Liverpool and Chelsea teams that couldn't even finish inside the top three of their domestic divisions in those seasons.

At the start of this campaign, Arsene Wenger attempted to offer an explanation for the latter.

"Going into March, April, you need your best players available and fit and that's not easy, especially when you're playing in the Premier League. One of the lucks Chelsea had last year was [Didier] Drogba, in the first part of the season, didn't play a lot. He came into it in the second part of the season, he was fresh, focused, had a good rest and was still hungry to make it happen."

A clear advantage, then.

Neville, however, has explained what can happen at the other extreme -- as in 1998-99.

"We relished the looming challenges so much that Jim Ryan [the first-team coach] started a countdown -- as if he was counting down the steps to greatness. 'Twelve to go, boys,' he'd say when we came in after another victory. And then we would knock another one off and it would be 11 to go, then 10. Ten games in which to make history."

Again, the momentum only developed. It's also the kind of effect that's denied to also-rans like those Liverpool and Chelsea teams, as well as those defending domestic champions who are most focused in the next season on evolving toward the European Cup.

In fact, it's somewhat telling that only one team since 1999 has followed that more standard route of solely taking the natural step from just league winners to Champions League winners, and that was more than a decade ago: Real Madrid in 2002. Those were the only trophies they won across those two seasons.

That in itself perhaps speaks to the modern nature of the competition. Its extended structure now makes seasons so demanding that you've either got to be a historically special team to successfully navigate it, or one that is out of everything else and so can solely concentrate on it. There is no in-between -- or, at least, there hasn't been for the past decade.

As such, despite Gabriel Hanot's grand intentions when first devised, it is a competition that only really throws up the most rightful winners by accident rather than design.

Instead of the kind of league event that never lies, as Hanot originally envisioned, it is a knockout competition which is more subject to freak occurrences and can be significantly distorted.

Last season's semifinals were classic examples. Although Real Madrid and Barcelona were undeniably the two best sides left, the fact they were locked in an intense title race -- and even faced off between the two legs -- meant they were sapped of enough energy for relatively rested Chelsea and Bayern Munich teams to knock them out.

It's also a consideration that could yet condition this season. Because, again, there is an almost even split in the last 16 between those who can primarily focus on the Champions League and those who must also reserve energy for other fronts. That can create a pretty unpredictable mix.

Because, as much the competition is designed to decide the greatest in Europe, it doesn't actually possess the best structure to do so. Sometimes, in fact, it isn't so much about immortality as who's capable of surviving.

Where European champions have finished in their domestic leagues in the same season they won the continental competition:

| | | |
| --- | --- | --- |
| Since 1955 | | Since 2000* |
| 26 | 1st | 7 |
| 12 | 2nd | - |
| 9 | 3rd | 2 |
| 2 | 4th | 1 |
| 5 | 5th | 2 |
| 1 | 6th | - |
| 1 | 10th | - |
| 1 | 11th | - |

*-competition expanded for 1999-2000 season

Where European champions have finished in their domestic leagues in the same season they won the continental competition:
First 26
Second 12
Third 9
Fourth 2
Fifth 5
Sixth 1
Tenth 1
Eleventh 1

Where Champions League winners have finished in domestic leagues same season, since competition's 1999-2000 expansion
First 7
Second -
Third 2
Fourth 1
Fifth 2
Sixth 1