Something to prove with the Selecao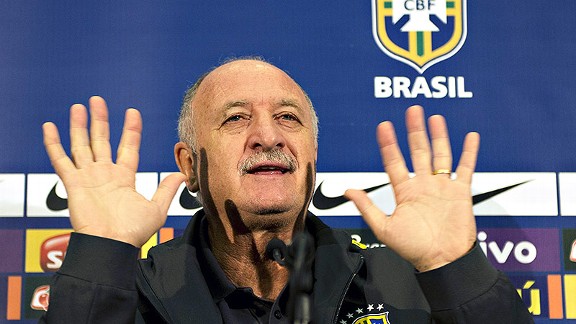 Adrian Dennis/AFP/Getty ImagesLuiz Felipe Scolari has made bold moves since taking on the Brazil job again. Will his newly anointed players rise to the challenge?
Brazilian footballers are found all over the globe.

The early chapters of Alex Bellos' brilliant tome Futebol follow a couple of Rio natives who have decamped to the Faroe Islands to ply their trade in the domestic league.

Being Brazilian is the most fashionable provenance of a player, with the country of origin itself lending a certain prestige that Bellos compares to "the phrases 'French chef' or 'Tibetan monk.' [Where] the nationality expresses an authority, an innate vocation for the job -- whatever the natural ability."

Simon Kuper and Stefan Szymanski's equally brilliant book Soccernomics describes Brazil's footballers as a "seductive" brand, something borne out by the raw statistics of their human exports.

A report by the CIES Observatory Group found that in UEFA's 31 leagues there are 515 Brazilian players (note: this is before the January transfer window), a figure that is nearly double that of the second-placed nation, France, with 269. On a more worldwide scale, Argentina and Brazil vie on an annual basis for the title of the world's biggest exporter of footballers, and the upshot of this is that the national pool from which the Selecao manager has to choose from is much larger.

With space for just 23 bodies in a World Cup squad, competition is fierce, and with considerable pressure from the national media to include domestically based players, there are often players starring across Europe's top divisions who can't force their way into the Brazil picture.

The squad for the friendly against England is Luiz Felipe Scolari's first as the returning head coach of Brazil, and for many players this is the crucial clean slate needed to have a chance at partaking in a World Cup on home soil in 2014.

We look at those who could be most impacted by the return of Big Phil:

Luis Fabiano: O Fabuloso is a classic number nine and a goal scorer; in football it matters not where you come from if you boast those qualities. Fabiano has had an up-and-down career that started pretty slowly, being unimpressive at Ponte Preta before moving to Europe too young and being forced to return to Brazil with São Paulo.

Fortunately, things started to happen for him at Morumbi, and despite receiving a lengthy ban for kicking a player in the neck while with the Tricolor, he began to score goals and returned to Europe. He made his name during a six-year stint with Sevilla; though his record in La Liga and the national team is very impressive, he hasn't played for the senior national team since the 2010 World Cup.

Despite being back in Brazil and scoring goals with Sao Paulo, his prospects of a return to the Selecao looked grim as Mano Menezes stumbled upon the use of Neymar as a false nine and the attacking hub of his side, but on Scolari's return he is suddenly in the picture once more and likely to start at Wembley.

With the traditionalist Scolari preferring a classic centre forward, Luis Fabiano (and Fred) are back in with a chance of earning an important role in the squad. While Fred (and the even younger but out-of-form Leandro Damiao) have an age advantage, O Fabuloso has been given the first chance to impress, meaning he might make his first World Cup at the ripe old age of 33 years.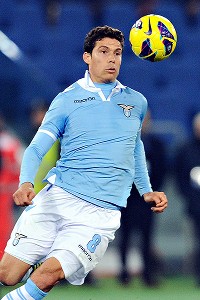 Giuseppe Bellini/Getty ImagesHernanes has multiple uses in the Brazilian midfield, something Scolari has finally recognized.
Hernanes: Having starred for Lazio in Serie A, Hernanes' inclusion is long overdue and promises much for the Brazilian midfield. While there are plenty of options to fill the more advanced berths, the "2" in Menezes' 4-2-3-1 was often a tough balancing act with Lucas Leiva's injuries, Ramires' lack of positional discipline rendering him unsuitable in a defensive role, and the introduction of unfashionable players like Luiz Gustavo, Romulo and Ralf to partner the impressive Paulinho in midfield.

The shape of Scolari's new-look Brazil is unknown as yet, but whether it is the 4-3-1-2 he used at Palmeiras or the 4-2-3-1 of his predecessor, Hernanes is an all-round and modern midfielder who is adaptable enough to be used in either set.

More than a playmaker, Hernanes conducts from deep but also possesses a sparkling ability to carry the ball and bring the game forward. His role would not clash with that of a more traditional "10" like Ronaldinho but would rather help balance the midfield with Oscar and Paulinho. With a chance finally handed to him, the Lazio man must prove what an asset he could be to the national side.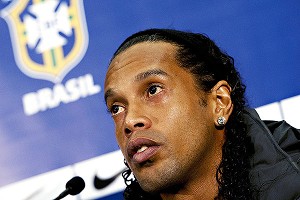 Adrian Dennis/AFP/Getty ImagesHe hasn't played a full competitive international for Brazil since 2006, but Ronaldinho's shown of late that he can still serve the Selecao moving forward.
Ronaldinho Gaucho: Ronaldinho was undoubtedly the headline inclusion in Scolari's first squad -- and with good reason. By including him in the squad -- and most probably in the starting XI -- the clear implication is that the new manager sees the 32-year-old as his playmaker going forward; provided that he continues to perform, there is little reason to doubt that he will be wearing the number 10 shirt for the 2014 World Cup.

Such a prodigious talent with Barcelona, Ronaldinho's star waned somewhat as his waistline grew after leaving the Camp Nou but he has reverted to being sublime since returning to Brazil, particularly since walking out on Flamengo and joining Atletico Mineiro. His move to Belo Horizonte has seen him partnered with one of the country's hottest young talents in Bernard, and while the 20-year-old provides the speed and energy, Ronaldinho is allowed to focus on his creative and technical duties.

His snap of acceleration and fleet-footedness on the run is gone -- not that he was ever rapid in the first place -- but his mind remains sharp and his precision from set pieces remain the utmost of concerns for any opposition.

Given his decreasing mobility, Ronaldinho no longer occupies the wider positions of his Barca days -- nor does he tend to stray much from his creative central box between the attacking edge of the centre circle and the opposition goal -- but when he has the ball in this area, magic happens; despite not playing a full competitive international for Brazil since 2006, his presence still excites.

Neymar: Much has already been written about Neymar and 2014 but with endorsements, politics and vested interests making the Santos youngster the face of next summer's tournament, the CBF's appointment of Scolari could have quite the opposite effect on the pitch.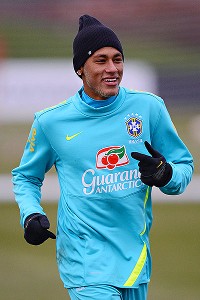 Mike Hewitt/Getty ImagesNeymar's brilliance could be curtailed by Scolari, whose inclusion of Ronaldinho and Luis Fabiano implies that the young star will be marginalized on the wing.

Whether he discovered it by accident or not, Mano Menezes' strikerless formation seemed to have found the perfect shape for Brazil's playing talents, with the right balance of defensive solidity forming a base for a dreamy creative quartet to perform. Neymar's unconventional central forward role served the team perfectly, as it got their most talented player on the ball more as well as producing more space for his teammates to take advantage of; such was his influence that his club boss Muricy Ramalho has looked to shift him into the middle during the ongoing Paulista state championships.

However, the aforementioned reintegrations of Luis Fabiano and Ronaldinho put a spanner in the works for Neymar as his two most natural roles looking ahead to 2014 are suddenly occupied by players north of 30 who appear to be firm favourites of the new man in charge.

The obvious conclusion is that if Brazil line up in a 4-2-3-1, Neymar will play on the left of the "3," shunted back out the flank and somewhat marginalising his talents.

It's probably unnecessary to point out that a player of Neymar's immense quality can still make an impact from a wider position, but just as the powers that be have set this cherished wunderkind up to be central to the World Cup itself, his development had seemed to imply that his on-pitch role would reflect this.

The result could be that by going back in time and opting for Scolari -- and by extension the likes of Ronaldinho and Luis Fabiano -- it is possible that the CBF have put the brakes on Neymar's (and the Selecao's) future.

Ed Malyon is a freelance sportswriter who has written for the Daily Mirror, the Guardian and FourFourTwo, among others. He can be contacted @eaamalyon or by whistling in F sharp on the night of a full moon.