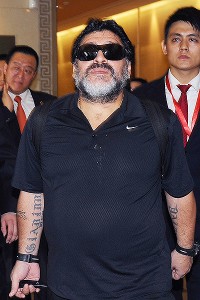 ESPN FC, a place where even Diego Maradona will feel at home.

Welcome to ESPN FC, your new home for comprehensive soccer coverage. This is not the place for someone who can't tell the difference between a full back and a running back. This is the place for fans to get their fix of club football. The place to follow international "friendlies" (try telling the likes of U.S. vs. Mexico, or Brazil vs. Argentina that it's all cumbaya) and major competitions, including 2014 World Cup qualifying and the Big Show in Brazil. The place where Lionel Messi and Cristiano Ronaldo fans can live side by side. Well, in a manner of speaking.

On ESPN FC, we'll showcase live matches from around the globe – in-depth, real-time stats, live blogging, video analysis and highlights along with WatchESPN for live streaming of matches. Missed a game? Check back with us for replays of the week's big fixtures. You'll be able to follow your team when you want, where you want – on whatever screen you choose.

With ESPN FC Network, we'll showcase some of the leading voices in football today, such as Gabriele Marcotti. But more than that, we will aim to deliver the passion of fans with club correspondents who will cover their teams from the bottom up. If there's a rumor in the transfer market, they'll be all over it. If the season's results go pear-shaped, well, they'll be there to commiserate with like-minded supporters as the season progresses. Add to that a tactics blog to get your geek on and the Relegation Zone, where heroes and heels, triumph and failure, on-field glory and off-field antics will be treated with an even hand.

ESPN FC – your destination for the world of football. Or soccer. Or footy. Whatever you call it, we hope you enjoy our coverage and welcome your feedback. And here's to a great season.