Is glass half full or empty at Arsenal?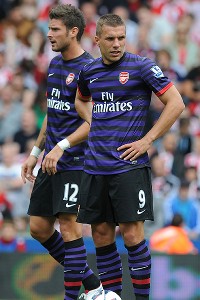 GettyImages / Stuart MacFarlane/Getty ImagesPerfect strangers: Olivier Giroud and Lukas Podolski have yet to jell at Arsenal, as the team's inability to score attests.

When I was growing up in the already sepia-tinged days of the 1980s, English newspapers did not bother to publish a league table until the season was three games old. It was a decision born of an understanding that teams take time to gel, so conclusions made too hastily should considered unreliable.


Not so in the hyperbolic world of today's Premier League, a culture in which one poor game is surefire evidence of "crisis," and a single victory sufficient for a club to be instantly declared "back on track."

This weekend, the old-school three-game mark looms for Arsenal, a team still very much a work in progress as it travels up to Liverpool. The Gunners' inability to notch a single goal in two games weighs heavily, with the departure of Robin van Persie having caused a wound that the new striking partnership of Olivier Giroud and Lukas Podolski has not come close to healing.


Arsene Wenger's side are league leaders. Regrettably for them, they are pace runners in the category of shots fired off-target, having blasted 11 attempts wide last week against Stoke alone. Fans at the Britannia Stadium celebrated Wenger's frustration with the relish of medieval serfs savoring a bear-baiting. Stoke supporters clad in Wenger masks goaded the Arsenal legend, and one fan, conveniently located behind the Gunners' bench, held aloft a taunting sign proclaiming "Arsene Probably the Best Chief Soccer Scout in Manchester."

Lips pursed, Wenger experienced the ribbing with the good humor of a man having his fingernails ripped out, a suffering shared after kickoff by those who joined him in watching the game. Both teams stumbled bluntly through a plodding affair that made it hard to believe that only 18 months ago, Arsenal was sufficiently potent to trump Barcelona 2-1. A proud victory that Wenger pronounced would "strengthen the belief in our philosophy."

How overly optimistic that declaration now appears. Wenger's sour countenance last weekend may have been caused less by the masks and banners and more by the crushing awareness that of the 11 players he started against Barca, only five remain (one of whom is the will-he-or-won't-he-leave Theo Walcott.) Barcelona and the two Manchester giants have gutted the Arsenal squad like a carcass, stripping the diverse talents of Cesc Fabregas, Alex Song, Gael Clichy, Samir Nasri and van Persie. It's a talent drain that has smothered the manager's philosophy and worn down his alchemic charisma.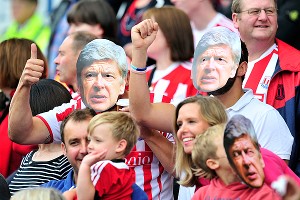 GettyImages / Glyn Kirk/AFP/Getty ImagesStoke fans are never shy about having a go at Arsene Wenger.


Last year, Wenger repeatedly bristled at the accusation that van Persie's Arsenal was a one-man team, but his attempts to demonstrate how to rebound from the loss of one man who netted 37 times have yielded 180 minutes of goalless football and five shots on target. This season, will the long-serving Arsenal manger have anything to look forward to other than the prospect of nine months' worth of misanthropic postgame handshakes?

Of the three major new arrivals introduced under the RvP exit plan, Santi Cazorla has seemed the most influential. The effervescent Spaniard has proven to be a deviously intelligent orchestrator, albeit one who will be susceptible to the physical grind that is the Premier League.

Lukas Podolski has appeared hardworking yet uninspired. A result, perhaps, of experiencing a new league, and also of being asked to play in an unfamiliar position. The German international has featured in a more central role than he was used to in the Bundesliga, having been encouraged by Wenger to see himself as a striker rather than a winger. Fifty-seven percent of his contributions have occurred in the middle third of the field, almost doubling that of his last two seasons at Koln, where he clung to the left.

Giroud -- a $20.5 million signing -- has floundered most visibly, establishing himself as the poster boy for Arsenal's wanton ways. In his first two games, the Frenchman blessed with the face of a young David Hasselhoff has proved himself to have the scoring ability of a bloated, late-career David Hasselhoff. A crude miss within 18 minutes of entering the fray against Sunderland was followed by a more theatrical long-range attempt at Stoke, when a pass to the open Aaron Ramsey would have been less dramatic yet more effective.

Wenger has attempted to preach calm, kindly suggesting that his technically talented yet physical striker "has not to think he has to replace van Persie with the number of goals he has to score. We want to play well as a team, and if you play well as a team you score goals." But the late-blooming target man who scored buckets of goals in all levels of the French league (three years ago, he was named Ligue 2 Player of the Year as a striker for Tours) has barely been involved in Arsenal's collective play. His rate of 31.1 touches per 90 minutes ranks last among the team's field players.

In Giroud's defense, the former Montpellier star has had little time to adapt to his new teammates and the helter-skelter pace of the Premier League. Wenger admitted his forwards played like strangers in his postmatch comments at Stoke. "The understanding was missing," he said, suggesting that his supporting cast had to be part of the solution. "We must find a way around that by sharing around the goals we scored with van Persie."

The goal-scoring onus will now be on the deep-lying Mikel Arteta, the still-raw Alex Oxlade-Chamberlain and the infuriating Gervinho, who continuously demonstrates the same ill-advised decision-making abilities on the field that he does in the barber's chair.


Arsenal's "cup-half-full" types will point out that the team has yet to concede a goal. The back four have indeed impressed, with Abou Diaby proving to be a relentless shield. A case could also be made that Wenger's squad had the misfortune to be drawn against two of the league's most defensively minded teams in Sunderland and Stoke. If so, the trip to Liverpool should come as a welcome diversion on the evidence of their last game against Manchester City in which they were undone by two self-inflicted defensive lapses.

Sunday's match should certainly be a must-see for those who prefer their shooting wild and uncalibrated. Liverpool's own forward line has yet to develop a syncopated understanding. Diligent young talent Fabio Borini should start alongside the frenetic yet profligate Luis Suarez, who may have embarrassed Joe Hart with a precise free kick last week, but comfortably leads the league in missed shots.

Ahead of the game, Giroud has sought to project a sense of undeterred optimism. Asked whether he feels added pressure in following van Persie, the Frenchman declared, "I am not the kind of person to put negative pressure on my shoulders, but I hope to make my mark as quickly as possible and score a lot goals."

Aware, perhaps, that if his long-range clip against Stoke had been a few inches lower, he would have already been hailed as Arsenal's latest striking phenomenon, he calmly inquired on the club's in-house television station, "French strikers normally thrive at Arsenal. Why not me as well?"