Brazil starts another era with Big Phil
For Luiz Felipe Scolari, starting his second spell as Brazil coach with a trip to face England is "the best debut possible." Though his spell in charge of Chelsea did not last as long as he would have liked, Scolari said that he loved his time there and that he feels a special bond with the English people.

He would never admit it, but Scolari could be forgiven for feeling a certain gratitude for Wembley stadium, the venue of Wednesday's match. What happened there almost six months ago played a significant part in Scolari's being handed the chance to crown his career by leading Brazil to World Cup glory on home soil in 2014.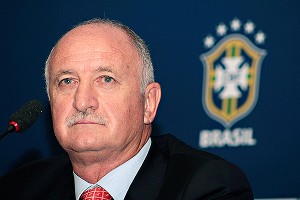 Alexandre Cassiano/Getty ImagesThe pressure is on Big Phil, who said of the 2014 World Cup: "We have to admit that we have the obligation to win."
It was on Aug. 11 last year, with Wembley basking in summer sunshine, that the Brazil side coached by Mano Menezes went down 2-1 to Mexico in the final of the Olympic Games. Had Brazil won the elusive Olympic gold medal -- the only title they need to collect the set -- then the position of Menezes would have been considerably strengthened. Defeat left him waiting for the executioner's ax.

Menezes had already been destabilised by a change at the top of the CBF, the Brazilian soccer association. Ricardo Teixeira, the president who appointed Menezes, had resigned. Teixeira's replacement, Jose Maria Marin, was known to be keen to bring in his own choice of coach. That the change was not made straight after the Olympics was due to one single motive -- Luiz Felipe Scolari was busy coaching Sao Paulo club side Palmeiras.

Come November that was no longer the case. The fact that Scolari had been sacked for poor results was irrelevant. He was available. The fact that Menezes seemed to be moving in an interesting direction was also irrelevant. He was out, and Scolari was back in. It was the switch that Marin always wanted to make. But it would have been much harder to pull off had Menezes and his men been able to perform a Wembley lap of honour last August.

So will London prove lucky a second time for Scolari as he takes the first steps on this new journey? The final destination can only be either triumph or disaster. There are no half-measures when Brazil host the World Cup and a nation of 200 million demand nothing less than victory. "We have to admit that we have the obligation to win," said Scolari, placing the bar as high as possible and giving his best steely, man-of-destiny glare.

In truth, there is almost no time for Scolari to impose himself on the team that will face Roy Hodgson's England. After turning out for their clubs at the weekend, Brazil's players will have a single training session with their new coach. Scolari confesses that he is not starting from scratch, that he is building on foundations constructed by Menezes. Already, though, it is clear that there will be changes -- not only in terms of personnel but also in the structure of the side.

Menezes ended up playing without a recognised centre forward, using a formation best described as 4-2-4-0. Strikers Hulk and Neymar were thrown wide, with attacking midfielders Kaka and Oscar through the middle. The principal alteration will surely be the return of the penalty-area reference figure. Scolari has usually favoured an old-fashioned centre forward and is likely to kick off at Wembley with either Luis Fabiano or Fred carrying out the function.

Along with the figure of the centre forward, Ronaldinho is another big beneficiary of the change at the top. Menezes brought the forward back in 2011 when, as now, he was in fine domestic form. The former FIFA World Player of the Year never looked comfortable. "The rhythm of international football is much more intense than the Brazilian game," said Menezes, who had closed the door on another recall shortly before he was sacked. "We are not going to go round in circles."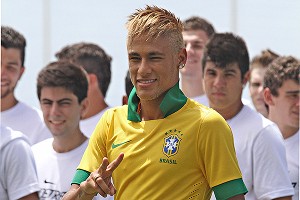 Alexandro Auler/Getty ImagesNeymar will look to partner Ronaldinho for Brazil.
Scolari, who won the World Cup with Brazil and Ronaldinho in 2002, clearly has more faith that the clock can be turned back -- but perhaps not for Kaka, who has been dropped from the squad. Ronaldinho will probably start in a central position behind the main striker, in the hope that his range of passing and the pace of Neymar can form a potent partnership.

If Hulk is retained, Scolari could start with a 4-2-3-1. Perhaps more probable is the addition of an extra midfielder and the extra protection of a 4-3-2-1.

But if that is Scolari's starting point on Wednesday, it may not be where he ends up in June, as a study of history makes clear.

When he took over Brazil for the first time in 2001, Big Phil was known as a 4-4-2 specialist, with a front pair of target man and a quick striker capable of using the flanks. To general surprise, he immediately set about doing something very different. The attacking thrust of full backs Cafu and Roberto Carlos was an important resource at his disposal, but the manager was worried that it left his defence exposed. The solution was to play a third centre back. In the 2002 World Cup, the role was carried out well by Edmilson, who had started his career as a midfielder and was proficient at stepping forward and playing a part in the buildup.

Since the team under Menezes was consistently vulnerable down the flanks, a repetition cannot be ruled out, with David Luiz the obvious candidate to do what Edmilson did over a decade ago. Chelsea's experiments with Luiz in front of the back two hint at a conclusion that such a position hides his lack of defensive discipline and highlights the quality of his forward passing.

Scolari has indicated that this could be an option for the future. But the lack of training time for the England game prevents him from doing anything other than fielding a conventional back four. But it is a defensive line in which the competition for places has become more intense with the recalls, for the first time in three years, of the Atletico Madrid pair of Miranda and Filipe Luis, and a first call-up for Dante of Bayern Munich, keen to make an impression by giving England's strikers an infernal time.
It is almost certainly true that the collective side of Brazil's game will receive more attention later this year -- especially in June, when a combination of friendlies and the Confederations Cup will give Scolari a full month to work with his squad.

For now, the emphasis will be on the personal. Can the newcomers grasp their opportunity? Is Julio Cesar capable of re-establishing himself as first-choice goalkeeper. Can Ronaldinho prove himself worthy of his recall? All narrative lines in a fascinating story whose first chapter is written at Wembley.

Tim Vickery is an English football journalist who has lived in Brazil since 1994 and specializes in South American football. You can reach him on Twitter @Tim_Vickery.