Zola's men add steel to style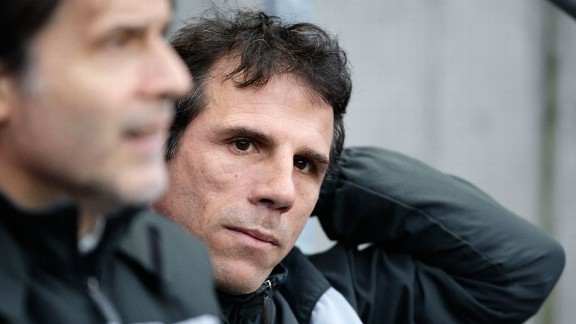 APGianfranco Zola's side are pushing for a place back in the elite
It felt unusual to hear fans of a fourth-placed team fervently chant "we are going up" as the February chill bit hard. Yet these are strange and heady times at Vicarage Road, with Watford fans swept up in a tidal wave of optimism. After years of being perpetually browbeaten with intermittent financial crises, these supporters have a right to feel upbeat.

What's going on at Watford is certainly an eye opener to the many doom-mongers who warned of the club's personality and heritage being sucked out of it under new ownership. The Pozzo family's style of management is unique and divisive - as has already been proven at Udinese and Granada, their other two concerns - but those who scoffed at the potential of transplanting it successfully into the English game are being forced to rethink.

The Pozzo model of strength in collectivism comes via Quique Pina - player agent, entrepreneur and Udinese's transfer conduit in South America (he introduced the club to Alexis Sanchez and Mauricio Isla), who persuaded the family to buy Granada in 2009 and appoint him president. Immediately the club started making use of Udinese's waste, bringing in a series of fringe players on loan, minimising deadwood and getting players in the shop window. Accordingly, nine players in the current Watford squad are on loan from either Udinese or Granada.

Lowly Granada nailed successive promotions to arrive in La Liga for the first time since 1976. The new ideas represent a culture shock for England, but a new approach suits a league where overspend and fiscal incompetence is commonplace. The current FA charges being pressed against Watford for financial mismanagement under previous owner Laurence Bassini are a chilling reminder of the bad old ways.

Granada, for their part, are on an even keel; no small achievement in Spain, especially given the club's meagre €14 million (£12m) annual market share of television rights. Repeating the trick here at Watford would be a whole different kettle of financial fish. If the Hornets manage to make it to the top flight for next season, when the increased Premier League broadcast rights deal kicks in, the Pozzos will have hit the jackpot.

The change in philosophy at Vicarage Road has been affected in some style. The Hornets are Championship top scorers, having put away 56 in 29 matches before the visit of Bolton Wanderers. Before kick-off, Watford were sitting pretty in fourth while the Trotters were 17th, just six points above the drop zone - and crucially, 13 short of the play-offs.

Gianfranco Zola has plenty to do with the new élan, of course. Yet the quality he has at his disposal is the bottom line that has the locals rubbing their eyes in disbelieving glee. Without the operational model, there is no way that Matej Vydra, Joel Ekstrand, Marco Cassetti and company would have ended up at the far north end of the Metropolitan Line.

It has not been at the cost of stability, despite the perception of pre-season upheaval. Zola has experienced a far more tranquil January transfer window that many of his peers. Recycle and reuse has quickly become the mantra here, too. "We have a big squad and we were more interested in placing some players that we have here (in other clubs)," he told ESPN after the game. "So it was quite calm. I think some others had a bit more of a busy month."

Bolton are facing their own new financial reality in their first Championship season in over a decade. Big earner Martin Petrov departed to Espanyol in this latest transfer window but - just as immediately after relegation - there was no big exodus. There were plenty of recognisable names in the line-up at Vicarage Road but apart from the odd bit of fleet-footed invention from Chung-Yong Lee, not a whole lot of stardust being sprinkled.

This, and the lack of a plethora of obviously saleable assets, must represent concern for a club that announced an overall debt of £136.5m in November. While Bolton were organised and rigorous, and a credit to the motivational skills of boss Dougie Freedman, the intermittent moments of quality were Watford's.

Vydra's ability was evident inside the first 15 minutes, when he sent Troy Deeney away with a sublime pass from the outside of his right foot, but Deeney could only hit his shot straight at Adam Bogdan. The Czech later dug his side out of a hole, fashioning a superb first-half equaliser. The 20-year-old sold Tim Ream a canny feint and then ran on to his own flick to sidefoot a 20th goal of the season home at Bogdan's near post. Deep into the second half, he drove into the box and picked out midfielder Almen Abdi - once a Europa League scorer against Celtic for Udinese - to expertly spear home a winner.

The visitors had taken the lead through a penalty by Marvin Sordell - returning to his old club - but even this opportunity had emerged from a fairly innocuous situation, with Watford's left wing-back Daniel Pudil challenging Sam Ricketts well away from goal, on the far edge of the penalty area. "I felt our game plan was working very well throughout the match, but I didn't think we put enough pressure on their goal," reflected Freedman afterwards.

With Cardiff City surging away at the top of the table, Watford now have a genuine opportunity to make second spot their own - they are one point away, amid a congested pack. The rare quality in their ranks, and a certain fearlessness of style, suggests they may be able to keep their heads.

It'll be interesting to see what happens in terms of movement within the conglomerate after the first season. Pudil, for example, has the perfect profile to replace the in-demand Guilherme Siquiera at Granada were the Andalucian club to cash in on the Brazilian.

But if Watford were promoted? The permanent signing of Vydra would seem like sense rather than a dream for a start, as the Pozzos know that the real money to be made is in selling players between English clubs. Striking a balance between sporting and financial success is always a painful process, as Udinese fans well know, but the early indications is that it's possible for it to work even in England.