Man City clings to its Silva lining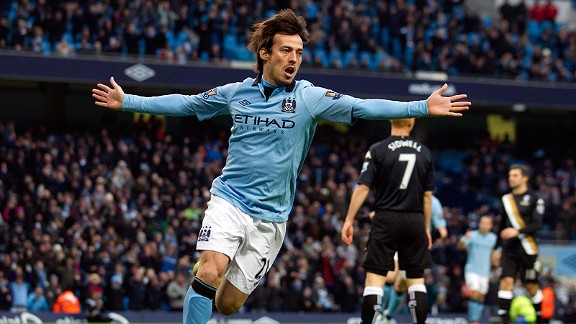 AP Photo/Jon SuperDavid Silva is part wizard and part weasel, according to Joe Hart
Even on teams you despise, there are players it remains difficult not to love. However strongly rooting for the 2009 Yankees felt akin to cheering on House Lannister, I could not help but admire the straight-up slugging style of Hideki Matsui. Many NBA fans who resented the Chicago Bulls' MJ-era dominance still savored B.J. Armstrong's 3-point accuracy. Even those who find Barcelona's dominance too mechanical to stomach have to respect the selflessness of Xavi and Andres Iniesta.

Manchester City's David Silva is one such player. On a team loaded with such unsavory personalities as Carlos Tevez, Samir Nasri and Kolo Toure, the shaggy-haired, Canary Island-born Spaniard cuts a humble figure. Witnessing him descend upon giant defenders like an angry wasp is one of the Premier League's guilty pleasures. As he papercuts opponents with angled-passes, his childlike aura can make him appear like a preternaturally gifted middle-schooler tormenting grown men.

He's blessed with an imperious touch, ceaseless motion and technical intelligence, but the key to Silva's style is his vision. "The game is so fast in the English Premier League," Silva told me. "You have to decide where the pass has to go before you have received the ball."

It is not just Manchester City fans who admire him. Real Madrid may have released Silva as a 12-year-old on account of his size, but the club's members recently voted him the club's top transfer target next summer, outstripping even Radamel Falcao. The 76.7 percent approval rating he received broke the record in the poll, conducted by local newspaper Marca.

With the transfer window now shut, City find themselves with little margin for error, seven points behind Manchester United with 14 games to play. With no reinforcements of note arriving, the possibility of a Premier League race depends on their ability to summon the hunger, collective focus and professionalism to defend the title with the squad they have.

The run-in begins on Sunday against a Liverpool side who have made Jekyll and Hyde seem the model of consistency. This season, the team's only constant has been Brendan Rodgers' news conferences, which are consistent Comedy Central gold. Last week the manager theatrically defended the physicality of his underperforming "Welsh Xavi," boasting, "I've seen Joe throw Yaya Toure to the ground last season."

Regrettably, Joe Allen will be unable to repeat the feat this weekend as his vanquished foe Toure remains on Africa Cup of Nations duty. Lacking the barrelling Ivorian, and with defensive talisman Vincent Kompany lost to injury, City fans will have to pray that Mario Balotelli's move to Milan will be addition by subtraction and believe that Silva can step up to pick apart Liverpool's brittle defense.

Liverpool's inability to beat a team above them in the table has become one of the most infamous statistics of the season, but if City are to preserve that record, Silva's performance will have to propel them. The 3.3 chances he has created per 90 minutes ranks first in the league, as do the 30 passes he has completed in the attacking third. Hindered by Samir Nasri's flimsy midfield performances, Silva will have to be the whetstone to sharpen the Sergio Aguero-Tevez blade.

City have struggled for width all season, and with Daniel Sturridge and Luis Suarez charging through the center, Liverpool have become increasingly vertical. The midfield battle will be suffocating on Sunday, and the Smurfish Spaniard will have to mine the crevices of space in his opponent's half, seeking to break open the defense with a lightning-quick assist slipped off either foot. Silva's teammate Joe Hart captured his teammates' unique qualities best last season when he described the midfielder as "a mixture between a wizard and a little weasel," pausing for a moment before clarifying his comments to emphasize the Spaniard was "more weasel than wizard."

Roger Bennett is a columnist for ESPN FC and, with Michael Davies, is one of Grantland's "Men In Blazers." Follow him on Twitter @rogbennett.