Success and failure in the transfer window - Premier League top 10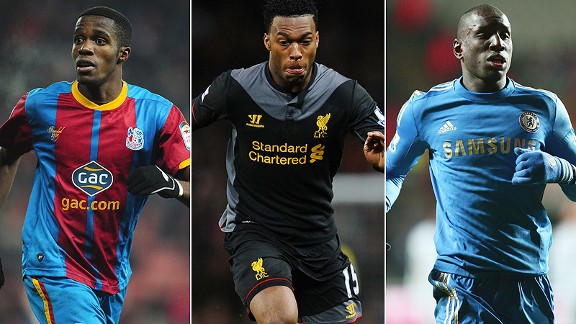 Getty ImagesHeadline grabbers: Wilfried Zaha, Daniel Sturridge and Demba Ba
When the transfer window initially came into view it brought a tantalising whiff of promise: potential new signings to plug obvious holes in the squad, the chance to shore up defence, bolster the attack and add creativity to midfield as the march toward lofty goals continued.

But the transfer window can be a fickle fiend, motivated by panic buying and inflated transfer fees. What was required may not tally with what was acquired. Now that the window has closed (you mean "Slammed Shut™ - Ed.), ESPN's army of writers assess the success of January's recruitment drive, starting with the Premier League's top 10 clubs.

- Transfer window - Premier League strugglers
- Transfer window - Europe's big guns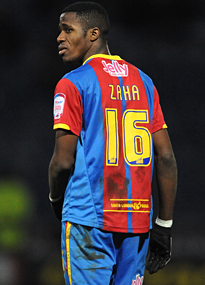 PA PhotosWilfried Zaha was loaned back to Crystal Palace
1. Manchester United - Mark Payne
The calls for a midfielder who rolls his sleeves up and unsettles the opposition continued during the transfer window, and although there was an interest in Celtic's Victor Wanyama, plans for an official bid are said to have been pushed back to the summer.

One man who has been signed is Wilfried Zaha from Crystal Palace. There has been much fanfare about the move, but with the winger being loaned back to Crystal Palace immediately, he won't be donning a United shirt until the summer at least.

The best things to happen to United this transfer window have happened away from the boardroom. Mario Balotelli leaving Manchester City weakens the neighbours, and the civil war in Madrid could not be better timed ahead of the Champions League tie. The return from injury of Anderson, Nani, Chris Smalling, Shinji Kagawa and Phil Jones strengthens the squad massively and bodes well for the coming months.

Several United youth players have been loaned out to get match experience, notably Scott Wootton, who stepped into the breach earlier in the season. Federico Macheda and Bebe have also been sent out, to VFB Stuttgart and Rio Ave, respectively. They are becoming the forgotten men of Old Trafford now.

2. Manchester City - Simon Curtis
Having bought a lot of players who didn't necessarily fit the bill in the summer, it was not surprising to see City entering the bejewelled transfer window with the same needs they had in the summer. Remember, as the season was starting, City did not need a right-sided full-back but got one in Maicon. Did not need an injury-prone Everton reserve, but got one of those, too. Did not need an old, creaky, third-choice 'keeper, but … you guessed it. What City did need was a holding midfielder and they still need one, thanks to Javi Garcia's prolonged "settling-in period." The club needed a jinky, up-and-at-em winger and still need one, thanks to Scott Sinclair's ongoing struggle with the terms "jinky" and "up-and-at-em." Owing to recent occurrences, City are now also a man down for the Friday night darts team and firework display as Mario Balotelli joined Milan.

What City got in January was a piercing silence, a gaping hole, a pregnant pause. As the club most assuredly learnt when buying an overpriced and overweight Robbie Fowler some 10 long years ago, there is no great need to rush out and buy the first thing in front of your eyes, however plump and succulent its appearance may be. The transfer window has become a greatly overhyped supermarket-trolley dash for clubs like QPR to prove how desperate they are to avoid the bigger-than-normal drop at the end of the current season. I give you Christopher Samba and his £95,000-per-week wages. To see just how unhinged football people can become during the month of January, regard Peter Odemwingie, walking forlornly back up the M1 without any trousers on.

3. Chelsea - Phil Lythell
Every Chelsea fan and his dog could see that another striker was required in the transfer window to put the misfiring Fernando Torres out of his misery. There was also hope that another defensive midfielder could be acquired, given the crazy decision to let both Michael Essien and Raul Meireles depart in the summer, with that error compounded by Oriol Romeu's long-term injury and John Obi Mikel's involvement in the Africa Cup of Nations.

Striker Demba Ba was brought in from Newcastle as soon as the transfer window opened, much to the relief of each and every fan, and he has fortunately hit the ground running. However, the gaping hole in midfield has not been plugged and with 41 games played already this season, there is every chance that the failure to bring in any more bodies could take its toll on a jaded squad as the campaign enters its closing stages.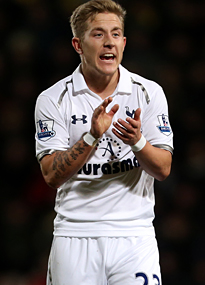 PA PhotosLewis Holtby joined Spurs earlier than expected from German club Schalke
4. Tottenham - Dan Fitch
Tottenham went into this window with a midfield playmaker and a striker the priority. Spurs had no creative alternatives to Moussa Dembele in the middle of the park and only Jermain Defoe and Emmanuel Adebayor as recognised strikers.

This situation was exacerbated when Sandro was ruled out until the end of the season. Was a playmaker now the priority or a midfield enforcer? The inevitable also happened up front, as Defoe picked up an injury when Adebayor was away at the African Cup of Nations.

Lewis Holtby was signed on a free transfer and was due to arrive in the summer, but following the injury to Sandro he joined in January for an increased fee. Though not a direct replacement for Sandro, of course, Holtby is a versatile player who will give Spurs a lot more options in midfield.

Other than Holtby, Tottenham's only signing was the young left back Zeki Fryers. The striker issue wasn't addressed, as the club tried and failed to sign Leandro Damiao, rather than a more realistic target. With Adebayor still at AFCON and Defoe looking far from fit, Andre Villas-Boas could find his good work at the club undone by issues beyond his control. Fingers are crossed in N17 that Togo make a swift exit and Adebayor is back on the first plane home.

5. Everton - Luke O'Farrell
Everton needed something; that much was clear when the transfer window opened. Exactly what was required remains up for debate, but the lack of depth is well-documented. Far too often, defenders are used in midfield and forwards masquerade as midfielders. Lacking numbers in many areas and quality in a few others, David Moyes faced the unenviable task of identifying the area of most importance.

Unfortunately, as the window closed, Everton had failed to make any noteworthy additions, and now pressure mounts on the current squad. Relatively meagre resources meant Yann M'Vila and Alvaro Negredo were always unlikely to join. Others were inquired about but the real disappointment was the Leroy Fer saga. Concerned over a previous injury, Everton wanted to alter the structure of the deal. Twente did not agree and stubbornness from both sides ensured the deal collapsed, with Fer the biggest loser.

Heading into the closing stretch of the Prem season holding onto star names is reassuring and the arrival of highly rated defender John Stones is another plus point. The young right back appears one for the future and has two England Under-19 caps to his name. Few will lose sleep over the loan departure of Magaye Gueye, but fans may lose sleep over a window that promised much and delivered little. The sense of disappointment among Everton fans is clear and they will hope the lack of new arrivals does not prove costly.

6. Arsenal - Andrew Mangan
After much talk of the need for strikers and midfield enforcers, Arsene Wenger sprang a surprise and bought a left back, Spanish international Nacho Monreal. It has shades of the 2009 transfer window when everyone wanted the Arsenal manager to sign a centre half, so he went out and bought Andrei Arshavin.

To an extent, Wenger's hand was forced by the injury to Kieran Gibbs. The thigh strain he picked up against Liverpool could keep him out for anywhere between four and eight weeks, and with Andre Santos proving less than reliable cover at the moment, clearly Wenger felt he had to act swiftly and decisively to stop his team being weakened.

Nagging doubts will remain about whether Arsenal have enough firepower, but fitness more than quality is the issue here. Between them, Podolski and Giroud have scored 26 goals and assisted almost as many. Theo Walcott has scored more this season than Freddie Ljungberg ever did in a single campaign and he's closing in on Robert Pires' best total too, while Cazorla is almost in double figures. If they can stay fit Arsenal shouldn't have too many problems up front.

Whether Monreal can prevent those around him making the kind of silly mistakes we've seen Arsenal defenders make this season is another question, but he comes with a decent pedigree and should have no problems fitting in.

Overall it's a bit underwhelming, but having gone through the whole month fearing nobody would be brought in, it could have been worse.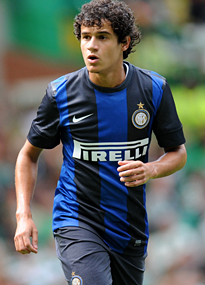 PA PhotosPhilippe Coutinho joined Liverpool from Inter Milan
7. Liverpool - Kristian Walsh
One word was on everybody's lips: goalscorer. After the summer window was shut in Liverpool's face with much acrimony, Luis Suarez was left to run defences ragged alone up front. But as injuries stretched the squad, there was a realisation that a goalscorer does not wholly solve the puzzle. A left back, commanding centre back and some more energy in midfield would have also been welcomed -- but quality, not quantity, was of utmost importance.

A goalscorer was added -- or so it would seem. Daniel Sturridge scored three in his first three games and has generally looked a menace to defences. He also brings support to Suarez and gives Liverpool an outlet, making them much more potent on the counterattack. Brazilian Philippe Coutinho was the surprise arrival from Internazionale, the 20-year-old attacker looking capable of playing either off the front man or in one of the wide positions. His pace and trickery could complement Suarez and Sturridge superbly.

8. Swansea City - Max Hicks
The one obvious deficiency in Swansea's otherwise well-balanced and versatile squad was up front. Last season's starting striker Danny Graham didn't fit in with Michael Laudrup's plans this campaign, while Luke Moore and loanee Itay Shechter had failed to convince. With fluidity and strength at almost every other position, finding an effective striker to spearhead the Swans' attack was the number one priority. A little more steel in midfield wouldn't hurt, either.

Surprisingly, Swansea came up short at the close of the window. Graham was allowed to join Sunderland for a healthy sum, but despite the club's best efforts they could not find a replacement. Rumoured moves for midfield cover and even an extra defender also came to nothing. Perhaps the plan is to pop that alleged £10 million transfer war chest (along with the Graham money) into a high-interest account ready for the summer and another run at Iago Aspas. If there is one saving grace, it is that not many other Premier League sides strengthened significantly in this window, either. Swansea should be able to maintain the status quo provided Michu stays healthy.

9. West Bromwich Albion - Matthew Evans
Despite a fantastic start to the season, it was clear that West Brom would need a couple of additions to tide them over until the end of the season. The defensive midfield area was lacking any quality once either Youssuf Mulumbu or Claudio Yacob were absent, while the right-back position remained a problem, with Steven Reid injury-prone and Billy Jones too inconsistent. But with an average spend in January of £670,000, the lowest average in the history of the Premier League, fans weren't expecting much.

And West Brom got what they expected: nothing. It looked for a moment on deadline day as if Albion would do business; Chris Baird held talks with the club while there was chatter that Junior Hoilett would join the club as part of any deal for Peter Odemwingie. As it worked out, Odemwingie has been made to look a bit silly by travelling to London without West Brom's permission and with QPR not talking to him. He has burnt his bridges at West Brom, but the club may still have to use Odemwingie at some point in the remainder of the season.

10. Stoke City - James Whittaker
Stoke fans have been crying out for a specialist full back for years and, given the injuries to Marc Wilson, Andy Wilkinson and Ryan Shotton this season, hoped that this January manager Tony Pulis finally saw sense and signed at least one. The wide positions could also do with some attention and given the uncertainty around Peter Crouch and Kenwyne Jones, there was expected to be some movement up top, too. Pretty much a whole new team needed, then.

What Stoke actually got were two outstanding prospects for the future -- Jack Butland and Brek Shea -- but absolutely no one for the full-back and wing positions that have needed new blood for so long. In fact, that the Potters let Matthew Upson leave on loan actually leaves the club worse off than they were, as once again Stoke find themselves limping toward the 40-point line.