Rafa left longing for Rodgers' Anfield affection
The pattern was similar. A position of being two goals to the good was surrendered, and Arsenal and Reading comebacks meant the doubts could continue. Brendan Rodgers' Liverpool are still to beat a team in the top 10. Rafa Benitez is still to win anything other than distaste from the majority of Chelsea fans. While Rodgers could offer hope and positives, Benitez was at a loss to explain his latest setback. The pattern was familiar, too.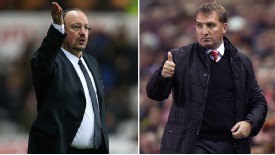 PA PhotosRafa Benitez and Brendan Rodgers: The former and current Liverpool boss respectively
For now, Rodgers can postpone the future. He has a season of grace before his achievements will be measured properly. Benitez, however, must pay penance for his own sins of the past and those of his club. He is living a football purgatory with notable dignity.

When Liverpool sacked Kenny Dalglish this past May, and were in the process of wooing Roberto Martinez or Rodgers, there was a vocal minority who wanted Benitez to return. A Twitter hashtag was launched, and even a website. #talktorafa didn't last long as a going concern. Martinez was pictured, takeaway coffee in hand, with club owner John Henry in Miami before Rodgers was eventually chosen.

It is said that Henry was prepared to talk to Rafa, but others in Liverpool's hierarchy felt the Spaniard would be a difficult appointment. The fans had gotten their wish with Dalglish, and it fell flat. This time, Fenway Sports Group wanted its own man. Benitez's power base among the club's supporters counted against him.

Rodgers got the job Benitez that loyalists still believed should be the Spaniard's. Benitez has a job that Chelsea loyalists believe should still be Roberto Di Matteo's, and now the chances of his ever returning to Liverpool are dwindling fast, even allowing for Rodgers' season of inconsistency. What the Northern Irishman has done best of all is to lower expectations. The length of his "project" may vary according to which result he is reacting to, but progressive zeal has succeeded in winning patience never granted to Roy Hodgson. Inexperience has worked to Rodgers' advantage. Benitez can offer no such excuse.

Three months in, and Chelsea are a mess of diminishing horizons. Recent briefings suggest that Benitez has been told to prioritise a return to the Champions League even though the club began the season with seven trophies on offer. The draw at Reading completed a week that included falling short in the League Cup at Swansea and near embarrassment at Brentford. Benitez's calls for recruitment fell on deaf ears, too.

Chelsea's season has been draped in controversy and rancour; the quality of their football has never been high enough to divert from low mood. "Champions of Europe, we know what we are" has been knocked off the Shed End chants by "Rafa Benitez, you're not welcome here" whenever his team has faltered.

Rightly or wrongly, whenever anything goes awry, Benitez must take the blame. The first leg with Swansea City turned especially nasty. Benitez was not responsible for the two catastrophic errors made by Branislav Ivanovic but assumed all the abuse. His frequent protestation that he can neither understand nor hear the fans falls some way short of convincing.

Although it was Roman Abramovich who sacked Di Matteo, Chelsea fans always stop short of vocally criticising the owner. After all, he wrote the cheques for the most glorious spell in over a hundred years of history. Instead, chairman Bruce Buck and chief executive Ron Gourlay are booed whenever they make an appearance, though Benitez remains the most put-upon scapegoat.

It borders on the heroic that Benitez is not for turning. He has made few attempts to pander to fans -- something Rodgers has made a priority at Liverpool, and been successful at, too. Benitez is by no means an insincere man and must know that any flag-waving or scarf-wearing will convince no one.

Association with Liverpool and a status as an anti-Jose Mourinho damned him before his new team had kicked a ball for him. Yet the need to be back in football led him to take a job bordering on the impossible. When Chelsea staff hand out team sheets ahead of matches, the printed word "interim" spells out Benitez's standing. Where he became a part of the fabric of Liverpool civic life, he is a fish out of water at Chelsea, thrown to mob rule by a club uncommitted to its association with him.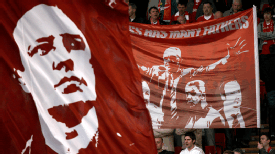 PA PhotosWhile reviled by many of his own supporters at Chelsea, Rafa Benitez remains revered at Anfield
On Sunday, even though a draw at Brentford was a markedly better result than those suffered by Liverpool at Oldham or Tottenham Hotspur at Leeds United, Benitez was still far more unpopular than Rodgers or Andre Villas-Boas. There were those Chelsea fans willing to accept FA Cup shame if it meant Benitez would be sacked as a result.

He has never been given a chance, although he has often not given himself a chance. The postmatch interview mantra technique, in which he always says his team were controlling the game and creating chances, is met with dismay. Win, lose or draw, they remain the same, parroted without audible passion, even though it is obvious Benitez deeply cares. A self-defence mechanism causes him problems.

By contrast, Rodgers bubbles with enthusiasm, perhaps looking a little too wide-eyed on occasion, but still in a position to make promises for a later date. Benitez's supporters said that his return to football would bring the bright-eyed revolutionary of 2004 back. His time at Chelsea has reminded more of the decline of 2010. Like those last days at Liverpool, he has been mortally damaged by events outside his control while unable to produce adequate results and performances on the field. His talk of his staying at Chelsea beyond May borders on masochism.

A #talktorafa campaign among Blues fans is about as likely as Benitez spending Christmas with Marco Materazzi. The summer will see him return to his Wirral home, richer financially but his standing the poorer for his time at Chelsea. For him, Liverpool will almost certainly remain in the past. Rodgers is the club's future now. His time for judgment is approaching.