Last call for Andy Carroll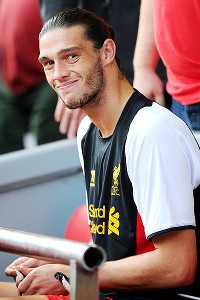 GettyImages / Michael Regan/Getty ImagesIt's not surprising that Andy Carroll didn't work out at Liverpool. But the team deserves some of the blame.

How do you know when it's time to get rid of a player? Is it when they're playing so well that suitors appear obvious, a la Robin van Persie? Or is it when they've become so disappointing and distracting that you pray for a patsy, a la (perhaps) Joey Barton?

With Andy Carroll, the answer is clearly neither here nor there. And, as such, he's off to West Ham on a season-long loan deal. The Hammers do have an option to buy next summer for an "undisclosed fee" but you can bet that if they were to dust off the checkbook, it will be nowhere near the 35 million pounds ($55 million in today's dollars) that John Henry and Fenway Sports Group spent to grab him from Newcastle.

Though we shouldn't eulogize the living, in Carroll's case, it seems appropriate. Such loan deals are akin to last rites, the first shuffle of many to come, and for the 23-year-old striker from Gateshead, so begins a quite unpredictable ride.

But first, his Liverpool days. Carroll is simply a player who didn't quite fit, no matter how much effort was exerted in trying to make it work. Kenny Dalglish salivated over the thought of his little-and-large pairing with the sprightly nuisance Luis Suarez, yet the duo meshed about as well as Tom Cruise and Katie Holmes. The chemistry lacked a vitality that transcended statistical analysis and it wasn't long before the pair was used separately as a crude "Plan A" and "Plan B" last season. If the Reds trailed late in games, you just knew Carroll would be thrown into the maelstrom and implored to make an aerial impact. How could any player succeed under that desperate mandate?

Now that Brendan Rodgers is in charge, the summer has been spent gradually dismantling the rusted remains of Dalglish's efforts. Rumors abound of Charlie Adam's exit. Jay Spearing is on loan with Bolton until a permanent suitor presumably can be found. The ex-Swansea manager clearly feels that the lumbering totem Carroll is surplus to a footballing strategy that doesn't involve many frantically lumped balls into the box. In a 4-3-3, the less mobile striker doesn't stand a chance, as evidenced by Rodgers' signings to date: out with the stout, in with the speed.

Yet it's unfair to paint Carroll as a one-dimensional, two-bit flop. Though six goals and two assists in 44 Premier League games is worthy of derision, strikers rely so heavily on service that their failure should not be a solo burden, but one befalling the team at large. One only needs to look at Stewart Downing's assist total in 2011-12 -- I'll spare you the effort: zero in 36 Prem outings -- to know that Carroll's not entirely to blame. Hence why Rodgers is trying to make Downing into a left back in order to spare him a similar transfer deadline ignominy.

The new Liverpool is one of Raheem Sterling and Joe Allen. Of Adam Morgan and Fabio Borini. If you loathe Rodgers for being so swift to dismiss the likes of Carroll, at least credit him with having an identifiable plan. Unlike with Dalglish, there appears to be a crystalline method to such madness, even if it does mean Carroll's depressing demise. (And, if I may, shame on the club for announcing his move while the Europa League qualifier second leg vs. Hearts was ongoing! Carroll deserves better.)

On a practical level, Liverpool could have used Carroll to provide depth at striker, even if he wasn't what he was supposed to be around goal. After all, the Reds are a Suarez injury (or suspension) from starting yet more teenagers in the attacking third, and so you have to assume that with the transfer window closing Friday night, reinforcements have been identified. Repeat the mantra: In Rodgers, We Trust (Until We Don't Anymore).

Andy Carroll was an expensive square peg bought to fill a round hole. He was a purchase for purchase's sake -- remember the context of Fernando Torres' 11th-hour sale and the desperation to fill that talismanic role -- not one I think Liverpool fans ever truly reconciled despite trying desperately to love.

He's West Ham's enigma now. Best of luck to him.