A festival of football in Madrid
This was sublime. Football at its purest, its quickest, its most relentless -- thrilling enough that if anyone had watched this sport we love for the first time tonight then they'd be hooked for life. Craving more.

When so many of the world-renowned participants -- Leo Messi, Xavi, Mesut Ozil and Sami Khedira -- performed outstandingly, it's perhaps surprising to some who couldn't watch the match that the names that will probably emerge with the most credit from this game are two debutants and the referee.

- Rigg: Varane rises to the top in Clasico
- Match report: Real Madrid 1-1 Barcelona

Raphael Varane, aged 19 and savouring his first Clasico, was utterly and completely sensational.
Stop, already, with the use of the phrase "he's going to be a world-class defender in the future." He is now.

Then it's "Chapeau" to Jose Mourinho for having the nous to select Diego Lopez ahead of Adan in goal. With Lopez newly signed from Sevilla, there was a degree of risk in choosing him. He'd had little time to familiarise himself with what was already a rejigged defence. Equally, relegating Adan to the bench, immediately after Iker Casillas was ruled out injured for three months, carried the threat that the junior keeper might take it so hard that his already undermined confidence might be permanently damaged.
Instead Lopez excelled -- he was superb.

There were other factors, but were it not for the 31-year-old who grew up at Madrid, and whom Fabio Capello, as Madrid coach, wanted to use to replace Casillas, then Barcelona wouldn't simply have won, they'd have won by a hatful.

Now the referee.

I know, I know. It's not a traditional "seller" of an article to praise the referee, but I don't care to trot along in a flock with the sheep.

I also know very well that Clos Gomez did make a couple of mistakes -- Ricky Carvalho should have earned a second yellow card for a deliberate handball and been sent off before Madrid's equaliser. Equally, Thiago committed a late lunge on Ronaldo which was certainly a foul and probably a yellow card. It went unpunished.

Barca fans will mention the whistle which was blown when Messi was going to be straight through on goal, but that's an assistant's call and Clos Gomez needs to follow the decision of the man on the line.

Other than that he, too, was exceptional. Good call followed good call; he allowed the proper level of physical contact such that the match at least resembled the standards of Premier League football; and his concept of how and when to apply the advantage rule, to let the play flood back and forward, contributed massively to the spectacle.

I almost applauded when he allowed Essien a thumping shoulder challenge on Messi, fully legal but normally punished by the tutu-wearing referees in Spain. Not a whimper or a complaint came from the Argentinian because he's a proper footballer, not a whiner.

And better still when there was an equivalent challenge from Alba on Ozil a little later, Clos Gomez applied precisely the same standards.

It shouldn't be rocket science -- knowing the laws and applying them consistently -- but it's what we most often criticise officials about.

So, well done, Senor Arbitro.

In fact I salute all three of them and I can't resist going back to Varane.

If it was galling, and it was, for Florentino Perez to see Cesc Fabregas open the scoring (his second goal at the Bernabeu since returning from Arsenal), then that was because the Madrid president tried over and over again to persuade the Catalan to move from Highbury and then the Emirates and wear white -- not Blaugrana.

How sore to see him capitalise on Messi's cleverness and send Diego Lopez the wrong way for the visitor's goal.

But there was an equally galling display for Manchester United. The English giants, who beat Southampton thanks to two Wayne Rooney goals on Wednesday night, are Madrid's next Champions League opponents.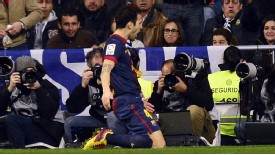 GettyImagesCesc Fabregas celebrates putting Barcelona into the lead against Real Madrid
And it was United who were first in line to sign Varane. I have it on good authority that the kid was not only targeted, but well scouted and happy to move from Lens to Old Trafford, yet for some reason Madrid were able to pounce first.

Throughout the match he played as if this was his 101st Clasico, not his first. He played as if he wants Pepe's berth -- full-time. And while he had some moments of just joyful work, it was the 100 percent concentration, confidence on the ball, positional sense and athleticism which must be praised -- holistically, not selectively.

The golden moments which stand out were racing back and, against all odds, getting to his own goal line in order to hack Xavi's goal-scoring shot away from the net with not even a split second to spare. How ironic that it was Xavi who said this week that all his team lacked was a little bit of clinical edge to add goal upon goal when it had the opportunity. His was a golden chance to score. More credit Varane. And poor old Xavi also cracked a free kick off the bar.

"Varane had a magnificent game," Gerard Pique had no qualms about confirming postmatch. "It's very hard to look that good at that age for this club. It was a pleasure to play in a match like that, it was a great spectacle."

Time and again the young Frenchman won crucial sprints or slid into tackles of which Paolo Maldini would have been proud.

Oh yes, and he scored the goal. A towering, crashing header where he should have been second best and which he won against the taller Pique. "My best game in a white shirt," Varane confirmed afterward.
And I'm smiling here but I swear, honestly, that I saw Jordi Alba, who can occasionally look like he's the fastest man on the planet, start with a slight territorial advantage in a race for the ball against Varane and the Spaniard decided, pretty early, that he wasn't going to get there and didn't fancy the physical crunch either.

Old-school football from the Frenchie.

Notwithstanding all that, Barcelona were the better side. Madrid had their spells, no question. Ronaldo won't miss many diving headers like the one which he failed to convert early in the second half and it also took magnificent, and I mean that adjective, blocks from Pique and Alves to prevent him having equally clear scoring chances.

But the combinations of Xavi-Fabregas-Iniesta-Messi-Alves and Alba took the game by the neck, and for a sizable spell when Barcelona led 1-0 it looked much more like the Cup holders would add a second than they would concede the draw.

Alves squared for Fabregas to miss a sitter, Diego Lopez had two exceptional late moments -- saving from Alba and then anticipating with lightning speed that Messi was going to receive the ball on his own on the edge of the box and racing out, like a lighthouse on legs, to anticipate and swamp the danger.

What needs to be set out, in black and white, is that there are not two other teams in the world, anywhere, who can play this high-quality football, at this astonishing speed, for such a large part of the 90 minutes.

Just to diverge for a moment, the whole concept of "pressing" as developed through the Milan of the early '90s, perfected by the "Tridente" of Marcello Lippi's Juventus when Vialli, Lombardo, Ravanelli, Padovano -- whoever happened to be up front -- chased the living daylights out of any defence which tried to play from the back, is that 90 percent of players will display mental and technical errors the more quickly you ask them to make decisions, to control the ball and to use the ball intelligently.

Think of Jack Charlton's phrase to justify Ireland's (successful) long-ball philosophy -- "Pooot 'em oonder presssshah" he'd growl in his hoarse Geordie roar.

Pressure = stress. Stress = creates fault lines. Fault lines = an opportunity to create shock waves.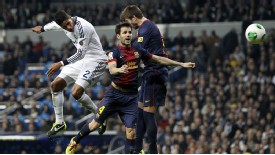 GettyImagesRaphael Varane heads Real Madrid level against Barcelona
So just marvel for a second how both sides, perhaps more regularly Barca (but nobody will persuade me that Madrid didn't try to match them) consistently took risks with first-time passes, giving the ball to teammates who had a marker on them but who had the chance to further the attack, and played the ball confidently from the back even when an attack had just broken down and the most natural thing in the world would have been to kick possession away frantically.

The ball moved with unbelievable speed and accuracy and, in the best sense of the phrase, we were treated to end-to-end football which you normally don't see outside a primary school playground.
No speculative stuff, no cynical game-killing tactics, very little pragmatism -- two well-staffed outfits tearing at each other back and forward and using cleverness and technique to create advantage -- not counting on the other side committing errors.

I'm delighted that neither Fabregas nor Ronaldo, each of whom would have been banned from the return if booked, will be missing from the Camp Nou for that reason on Feb. 26 or 27 when the second leg is played.

I'm pleased for Tito Vilanova that his recuperation, via a brutal chemotherapy treatment, won't be slowed or damaged by a bad result for his team at the most difficult of venues.

And I'm thrilled for those leader-players at Madrid who decided, weeks ago, that they could and would block out the "white noise" which their coach was needlessly creating with one ill-judged comment or decision after another. The champions, even without two World Cup winners in Casillas and Ramos plus Coentrao, Di Maria and Pepe also missing, are back. United beware.

So after 1,500 words of sincere and pure happiness about the glorious festival of football, it's sad to end on a note of disgust and anger, but it would be a betrayal of everything which we decent people stand for to ignore it.

Some sections of the Bernabeu crowd deserve to be arrested, tried and fined or jailed. The racist abuse of Dani Alves, in particular incessant monkey noises as loud and as obnoxious as I've heard them there, was beyond disgusting. It was criminal.

At a time when Kevin Boateng led AC Milan off the pitch for the same offence and when a Dutch league game was abandoned on Tuesday night for the same offence, it is impossible not to demand that Spain's football community accepts that there is a racism problem and accepts that direct, firm and consistent action is required.

And this isn't a time for anyone to waste energy by suggesting this is an attack on Real Madrid. It's not. It's an attack on the racists who produced this foul abuse. Moreover these sentiments apply to every ground, professional or amateur, across Spain (and every other nation for that matter). If anything similar happens in the return leg my attitude and my request for action will be identical. Ditto Valencia, San Sebastian, Zaragoza -- wherever it happens.

A thing of beauty was besmirched on Wednesday night. It remains beautiful in its essence, but those who appreciate football appreciate the need to unite to rid it of a sickness.