Inspired Theo Walcott gives Gunners well-earned draw vs. Liverpool
When Liverpool went up 2-0 at Arsenal, the thought crossed my mind that Brendan Rodgers might not use those infamous envelopes (you know, for the three players he will cut from Liverpool Football Club at the end of the season, realty show-style) and instead give them to Arsene Wenger. After goals from Luis Suarez (brilliant in the first half) and Jordan Henderson, perhaps Wenger could have used a couple of those envelopes for, oh, I dunno, Andre Santos (on in the 37th minute for the injured Kieran Gibbs) and Per Mertesacker, among others.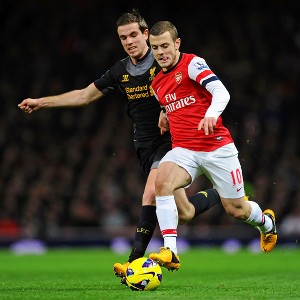 Laurence Griffiths/Getty ImagesIn drawing with Arsenal, Liverpool has yet to defeat a team above them.
Then something strange happened at Arsenal HQ. Inspiration. A fight-back. Goals. All spearheaded by perhaps the most maligned Arsenal player of them all, Theo Walcott. As Liverpool appeared to tire, Walcott helped pull his side out of the mire -- you have to figure Wenger did his best Ferguson at halftime, too, to "inspire" his players -- along with an equally impressive (if occasionally profligate) Olivier Giroud. Between the two of them, in the span of three minutes (the 64th and 67th), they leveled the match, which ended in a 2-2 draw, a point each, for two clubs scrambling to reach the Champions League next season.

The Emirates Stadium, known more for its hush-hush library atmosphere, was rocking. The link-up play between Walcott and Giroud was excellent, especially since the Gunners looked a wee bit clueless in the first half.

Wenger's side ended with a well-earned point, particularly after the comedy of errors that led to both Liverpool goals. Yup, the Gunners' trademark defensive foibles were on display. We saw a chain reaction of poor defending in the fifth minute -- Bacary Sagna slipped, Thomas Vermaelen whiffed, a save, then a finish by Suarez. And the second Liverpool goal came about as Henderson -- all alone -- tore between Mertesacker and Santos, who helplessly tried to stop the Liverpool midfielder as he ran toward goal, got a bit of luck, and finished into an open goal.

Liverpool had Arsenal shaking, their fragile confidence looking ready to spontaneously combust -- yet still couldn't finish them off. Just days after labeling some of his younger players "soft" after the Reds were bounced from the FA Cup, Rodgers watched in horror as a much better starting XI still couldn't get the job fully done. The fight for fourth is going to be epic this season, by all accounts, but Liverpool isn't going to make it if they can't put the finger to the windpipe.

With this draw, the Reds have still failed to beat any team above them. Or in the top half of the table, for that matter. There's been a lot to like of the Rodgers revolution -- OK, evolution -- and Suarez, once again, proved he's close to Lionel Messi's class not just with his finishing and superb passing and link-up play, but with his vision and trickery, too. But Suarez grew visibly tired, Liverpool found themselves looking for ideas for that third goal, and although Suarez almost stole the match at the end after Santos cheaply gave the ball away at the death, it wasn't enough.

Earlier in the season, Rodgers said Liverpool should expect to finish eighth in the table. It was a classic case of managing expectations -- the Reds currently sit seventh, three points behind Arsenal -- but if they don't learn to defeat teams above them, his prediction may not be far off.

As for Arsenal, Wenger should be proud of Walcott and a few others, but the manager is going to need a couple envelopes of his own if the Gunners are to get back into the top four, too, and with only a day left in the transfer window, that looks less likely to happen.