Spurs must strike while iron is hot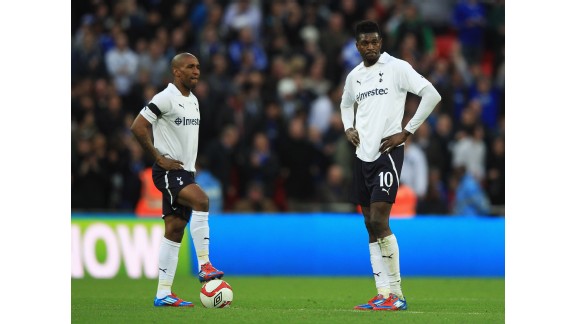 GettyImagesEmmanuel Adebayor and Jermain Defoe could use support
As another transfer window edges towards an unpredictable conclusion, Tottenham chairman Daniel Levy finds himself in a hauntingly familiar position.

Twelve months ago, Tottenham dared to believe their long-awaited assent to the big-time was all but secure, as their enchanting brand of free-flowing football fuelled the belief that they were on course to become founded members of a new look Premier League 'big three' alongside the Manchester giants.

With 49 Premier League points on the board and a massive 13-point advantage over their local rivals Arsenal in the race for a top four finish established after 23 games played, not even false dawn specialists Tottenham seemed capable of fluffing their lines, and with the feel good factor firmly in place, fresh signings were deemed to be an unnecessary luxury.

A year on and history tells us that chairman Levy's failure to strike while his iron was red hot was to be a fatal mistake, as the commanding lead over Arsenal evaporated in the final few weeks of last season, a return to Europe's top competition slipped through the fingers of London football's nearly men.

Manager Harry Redknapp was to be the fall guy for an end of term collapse that was as much down to the limited resources he was working with as his own inability to halt the slide, but Levy is about to be presented with his chance to ensure the grizzly Tottenham's flop is not repeated.

Their most recent defeat provided a timely warning sign of what could happen if Tottenham fail to splash the cash right now, as on a day when they were without the injured Jermain Defoe and the absent Emmanuel Adebayor, a line-up featuring attacking midfielder Clint Dempsey in a striking role were bundled out of the FA Cup by Championship side Leeds.

The chastening Elland Road experience has apparently convinced Villas-Boas that re-enforcements are needed and while he insists he is willing to "take the risk" of getting through to the end of this season with just two senior strikers in his ranks, his diplomatic comments were altered when pressed by reporters.

"In the beginning of the season, we set out to play with a 4-5-1 formation, but we have found some success with 4-4-2 now and this is why maybe we need an extra striker," admitted Villas-Boas.

"At the moment, I am not worried if we cannot sign someone because I have confidence in Defoe and Ade. We also have Clint Dempsey and even if he is not a pure striker, he can play that role. Maybe we could do with one more striker, but the general transfer market is very demanding in January.

"You look at the deal we have done for Lewis Holtby and it was a good deal at a good price. To do something else, we have to see what is possible. It is not impossible that the club will move to sign a striker."

The theory goes that signing strikers in January is a fruitless exercise for notoriously stingy bargain hunters such as Levy, yet he would be wise to learn from the despair that rippled through his club at the end of last season as he considers flexing his financial muscles once again.

Rumours suggesting Tottenham are preparing to launch expensive attempts to snare Brazilian strikers Leandro Damiao (Internacional) and Willian (Shakhtar Donetsk) refuse to disperse, but either of those would come at a hefty price and we are yet to discover whether Levy has the resources or willpower to finance such a transfer.

Apparently, Levy had sanctioned a club record £22 million fee with FC Porto for the transfer of midfielder Joao Moutinho last summer before the move fell through at the last, but the Spurs chairman has never been the type to splash the club's cash in reckless fashion and it remains to be seen whether he will change his approach now.

It may be that Villas-Boas's veiled pleas for support may prove to be significant in persuading Levy to strike a significant deal in the coming days, yet he needs merely to recall the events of last season when weighting up what his next move will be.

"We have spoken openly about the situation now and said that we are considering the possibilities of another striker, but we are prepared to take the risk with the strikers we have," concluded the Spurs boss.

"Clearly there are still lots of games to be played and everything can shift very quickly. Plenty more games will be decisive, particularly as you reach the closing stages. At the moment everything is open. We should keep on the momentum and keep on the results that put us in this position."

With Tottenham guaranteed their share of a vast financial windfall from the lucrative new Premier League broadcasting agreements that are set to start next season and many of their rivals floundering in the race for a top four finish, Levy dare not pass up another opportunity to transform his club for the better.

So while he considers his options, the Spurs cheque writer should ponder this thought: If his Tottenham were to implode for a second successive season due to a lack of goal power, their youthful manager may be spared the wrath of supporters who may well opt to turn their venom on their prudent chairman. It is a prospect worth avoiding.