Shanghai bubble bursts, but hope exists in China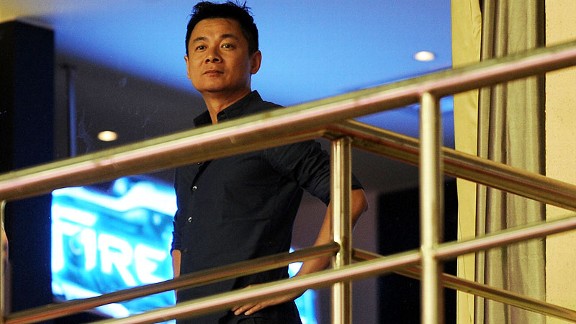 GettyImagesZhu Jun has overseen the changes at Shanghai
"Quand la Chine s'éveillera, le monde tremblera" - 'When China awakens, the world will tremble' - Napoleon 1816.

The diminutive French general's prophecy is being put to the test at this very moment, for China is very much awakening from its lengthy slumber to become a true global superpower once more. Indeed, the country is developing at such a rate that even its much maligned football league has shown signs of stirring in the past year. Unfortunately, in this respect, the world is still far from trembling.

The 2012 calendar year was a major milestone in the development of football in China, with world-renowned names arriving in the Middle Kingdom in such a manner that neighbours Japan had achieved prior to their economic downturn of the late-1990s. The country has come into money in dramatic fashion as part of an economic boom instigated by the opening up policies of Deng Xiaoping as long ago as 1978, and football is becoming a way for the rich to demonstrate their acquired wealth.

It is a phenomena being seen right across the BRIC countries that are supposedly the next batch of global superpowers. In Brazil, Russia, India (to a lesser extent) and China, money is flowing into football at a rapid rate, either from the bursting wallets of the nouveau-riche or from the pockets of companies spotting an opportunity to propel their name onto a global stage. China's generation of millionaires is rapidly expanding and, in a country that cares so greatly for outside appearances, football can be an attractive way of showing the prosperity of oneself, or one's business.

It should not be forgotten that it is still only a handful of clubs that can afford to gamble upon renowned foreign stars, though. There has been a general assumption in many quarters that the whole of Chinese football is now awash with money, but that is simply not the case. Much of the top flight still find their squad based on the staples of Asian football: Domestic players, journeymen from Eastern Europe and the hordes of Brazilian footballers deemed not good enough for Europe. For the likes of Guangzhou Evergrande, neighbours Guangzhou R&F, Shanghai Shenhua, Guizhou Renhe, Dalian Aerbin and Beijing Guoan, though, those boundaries have now widened.

In a league which has been tainted by corruption scandals, poor standards and, in many cases, a complete absence of professionalism, the arrivals of the likes of Nicolas Anelka, Didier Drogba, Seydou Keita and Yakubu have been a massive shot in the arm. There is a feel-good factor around the Chinese Super League that has not been present for some time, even if not everything has gone to plan. For some, adapting to China and the massive pay cheque that it offers is an easy task; for others the grim reality of being far from home in a country where the average urban salary is approximately £4,000-a-year hits home. Facilities are often far from those seen in the top European leagues, with professionalism an equally large step down from elite standards.

This week's news that the aforementioned Anelka and Drogba will be departing for pastures new has come as a significant blow to that bubble of optimism. Shanghai Shenhua, while doing so much to raise the profile of football in the country with illustrious signings, are now the very people doing the greatest damage to the league's standing. For many outside of the country, it is Shenhua who are seen as representative of football in China as a whole. When the club began spending money in such elaborate style, they quickly became synonymous with the Chinese Super League. Now, with the Hongkou club having failed to meet their contractual obligations to their star duo, it is they who will influence a new, less positive, perception of the country's footballing setup.

Shenhua are, though, an isolated case for the time being. They have become a soap opera that, sadly, is being played out in front of a global audience. Boardroom squabbles between major investor Zhu Jun and his fellow directors have been the catalyst for the demise of their latest project, but the problems run much deeper. Zhu, perhaps the best example of the nouveau-riche that have become so integrated in the Chinese football system, craves publicity. This, after all, is a man who famously played himself in a club friendly in 2011. It is Zhu's ego that is now threatening to tear the club apart.

Having been refused a larger ownership stake, the computer game entrepreneur withdrew his funding from the club and, thus, saw the very stars he had used to boost his own personal standing go unpaid. Now, having flogged off both the former Chelsea duo, as well as Shenhua's two best Chinese players, he is threatening to move the club away from their Shanghai home. It is seldom reported, for obvious reasons, but football in the country is as linked to governmental activities as any other area of life. It is not a direct or particularly widespread influence, but there is an almost constant requirement to keep local power-brokers happy if one is to succeed in life. The growing feeling is that Zhu has fallen out of favour and now the affronted millionaire is talking of moving his club away from Shanghai - a not uncommon step in a country where the fan is always lowest on any list of priorities. Only in the past two months, second tier side Fujian Smart Hero have relocated over 1,000 miles to Shijiazhuang for the 2013 season.

The truth, though, is that Chinese football may benefit from the departures of both Drogba and Anelka. While Drogba was a model professional during his time in the country, the feeling is that Anelka contributed little to the club either on or off the pitch. The hope must be that the departures will draw attention away from Zhu and his cronies and place more deserving parties into the spotlight.

In champions Guangzhou Evergrande, China have a side that they can truly be proud of. Professionally run and all-conquering over the past two years, the club will be a real challenger for the Asian Champions League this season, with South Americans Lucas Barrios, Elkeson and Dario Conca spearheading their assault on continental honours. With Marcello Lippi in command, the Cantonese side hardly shirk attention, but they now face a momentous challenge to prove to a wider audience that Chinese football does offer both a high quality of football and organisation. They will, though, be helped in their task by the appearance of several credible challengers for the 2013 season.

The game needs serious investment at grassroots level if China are ever to become a force at international level. However there is little reason to suggest that it couldn't happen long-term and the recent addition of Tom Byer, whose work in Japan has drawn so much acclaim, to oversee a schools football program is undoubtedly a positive step. For now, though, China as a serious footballing power is still many years away.

At club level, though, success is a far more realistic short-term possibility and there are several sides intent on putting into place the professional standards and attitudes needed for that to occur. Shanghai Shenhua have crudely grabbed all the headlines over the past 18 months, but have done Chinese football a disservice with their conduct. There is still a long way to go and, no doubt, many more hiccups to overcome, but there are tentative signs elsewhere that football in China may just be about to burst into life. As ever, though, in a country so prone to false dawns, nothing should ever be taken for granted.