Viktor Fischer, the next star at Ajax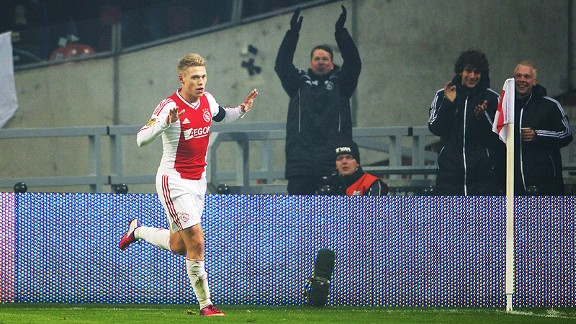 VI Images/Getty ImagesIn Viktor Fischer, Ajax has found itself yet another star in the making.
There's a Spanish phrase "es un crack," which roughly translates as "he's a genius" or is amazingly good at what he does. Siem de Jong didn't say those exact words when describing teammate Viktor Fischer, but the Ajax skipper could have with ease after the prodigious Dane etched another chapter in his blossoming fairy tale against Feyenoord in the recent Klassieker.

It wasn't quite as stellar as his performance against PSV last month that heralded his arrival, but the stage couldn't have been any grander. Facing Feyenoord is seen as more than just a game, so his impact alone -- 2 goals in a 3-0 win despite playing much of the second half with 10 men -- elevated his standing in the eyes of Ajax's support as well as the likes of Chelsea, who nearly signed Fischer when he was 16. If both sides get past the Round of 32 of the Europa League, they will meet in March.

After the game he greeted reporters in the mixed zone with high-fives, a reminder of his exuberance. "I was nervous beforehand," he told them. "This is the most beautiful game in the Netherlands." As Ajax manager Frank de Boer had hammered home the Klassieker's importance in the pregame, Fischer rose to the occasion even if he felt he could have been even better. "Though I decided the match in two moments, I could have done better as I lost the ball too often," he said.

Knowledge is power for the 18-year-old; despite never having seen Michael Laudrup at his pomp, he revealed the legendary Dane as an inspiration in a recent interview. "Denmark's greatest footballer," Fischer enthused knowing that comparisons have already been made, something that teammate Christian Eriksen understands after receiving the same tag after his breakthrough in 2010.

However in Fischer's case, there might be some truth behind it. Though still a long way from matching Laudrup, the pair share much in common. Position-wise he's a wide playmaker who acts like a deep-lying forward, a role familiar to the great Dane. Combined with the system at Ajax -- lots of positional interchange and movement in a flexible 4-3-3 -- Fischer's natural ability means he's allowed to float between the lines and move into space vacated by a teammate, normally the No. 9 position. Once he bears down on goal, Fischer's composure is great for someone so young, leading many observers to believe that his finishing is his strongest asset -- though he's not lacking in other departments.

"He has the qualities to become a major player," De Boer said last summer, before adding how he reminded him of former Barcelona teammate Andres Iniesta, a player who idolised and modeled much of his game on Laudrup. A few traits Fischer appears to share with Barça's unsung hero: his fleet-footedness, intuition, love of dribbling and insight.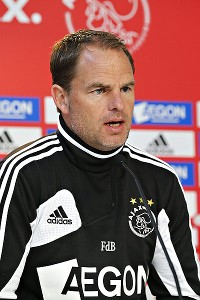 Ed van de Pol/AFP/Getty ImagesAjax manager Frank De Boer sees much in Fischer to remind him of former teammates like Andres Iniesta and Michael Laudrup.

"A smart coach once told me: If you are good enough you can play all four offensive positions," Fischer says. "When I receive the ball I act spontaneously and do what feels right at the time. Like with the first goal [against Feyenoord], I decided to go past the keeper."

Fischer made his senior debut against PSV last August in the Johan Cruyff shield (the Dutch Super Cup) after an impressive preseason but after a stuttering start, De Boer quietly demoted him. It was a decision that Fischer looks back on as a turning point; he returned more determined against Heracles in October and has since been a mainstay, scoring 7 goals with 4 assists in 13 appearances.

"He has the personality, intelligence and mental strength to become one of the top three players in the world," retired midfielder and current Eredivisie pundit Kenneth Perez told Dutch newspaper Algemeen Dagblad. "Viktor combines technical qualities with the mental abilities you saw that against Feyenoord. He had a real 'Laudrup moment'. He got the ball, initially appeared to shoot, but changed his mind in a split second and dragged the ball." De Boer agreed: "When you can keep calm like that at a moment like that, in such high pressure, then it proves you can play football."

Having played one season with Laudrup at Ajax, De Boer knows the importance of having flair players who are given the freedom to express themselves. At Fischer's age, Laudrup was the hottest prospect in Europe (and came close to moving to Ajax); 30 years later it's Fischer, who in his early teens mapped out the path needed to be taken. Once Ajax made their interest known in the summer of 2011, everything fell into place.

Chelsea, Inter Milan and Manchester City (where he underwent trials) vied for his signature but the Amsterdammers' appeal was great -- and special. Fischer knew there was a better chance of first-team football given Ajax's reputation when it comes to developing footballers. Soren Lerby, his agent and an Ajax club legend, knows this better than anyone.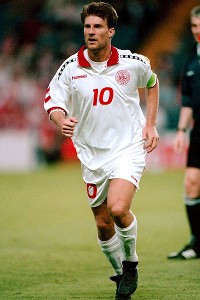 Henri Szwarc/Bongarts/Getty ImagesIt's hard for young Danish players to escape comparisons with Michael Laudrup, and Fischer is no different. Yet he's remaining humble and focused.

Another advocate is former captain Jan Vertonghen who recently said how many clubs could learn a thing or two from their fabled academy 'De Toekomst.' As far as De Boer is concerned, too many teams have. "Everybody has been copying the Ajax academy, so we want something new again, and in 10 years' time everybody will copy us," he recently told Algemeen Dagblad. "And we'll come up with something new once more."

Meritocracy rules at Ajax: if you're good enough, you're old enough. De Boer was in Barcelona when Fischer first announced himself to a wider audience. Ajax were taking on Barça in the inaugural Next Generation Series' quarterfinal, it was a breathless performance, everything positive going forward went through him, and players weren't afraid to pass knowing the Barça defence couldn't cope with his individual ability.

He scored twice on that evening at the Mini Estadi in a 3-0 win, celebrating his second by ushering his teammates over. His body language gave the impression of a talent that knows he's good, but calling him arrogant would be wide of the mark. Despite his showmanship, he's still just a boy from Aarhus. Those who have followed him since the early days in Denmark were just as impressed as everyone in attendance. De Boer left knowing his club had another maestro on their hands.

De Boer, a fundamentalist, believes in a certain way of playing. His players are masters of possession; circulation football -- beloved by Rinus Michels -- is used as a defensive weapon. The more Fischer plays, the better his passing and the more in sync he becomes with his teammates. He's already developed a strong bond with Daley Blind on the left flank; there's also Eriksen, who remains Denmark's crown jewel though Fischer's ascent has taken some of the weight of his shoulders. Their burgeoning partnership hasn't gone unnoticed, drawing early comparisons to the understanding shared by Mario Gotze and Marco Reus at Borussia Dortmund.

Fischer's willingness to learn and constantly improve is refreshing to see. Like Jan Vertonghen did after joining Ajax, he moved in with a host family to help assimilate to life in his new surroundings and pick up the Dutch language -- he became fluent after six months.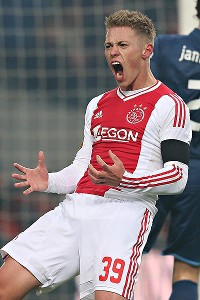 VI Images/Getty ImagesIt took Fischer a few months to settle in the Ajax first team but his ability to change a game -- as he did in the recent Klassieker -- has made him a mainstay.

Furthermore, fame and fortune haven't yet skewered him; playing football remains a privilege, one he's fortunate to have. Currently taking his driving exams, he still rides a bicycle to training, parking in between his colleagues' Mercedes. His younger compatriot Lucas Andersen, who joined last summer, gave him a lift home after Anderson made his debut against FC Groningen. "Can you believe it?" Fischer jokingly decried.

Perfection is impossible, but getting close is the greatest challenge. It starts by being consistent, and Fischer continues to raise his own bar; the resources available to him in Amsterdam can only help. "He knows what the keeper is going to do," Danny Blind said after the Feyenoord game. "He has the same smarts and technique as Romario."

Plans are underway for a statue of the club's greatest player Johan Cruyff to be placed outside the Amsterdam ArenA. For someone like Fischer who is appreciative of history, there's no better incentive every time he walks into the stadium.

Dutch football writer Mohamed Moallim became immersed in the world of Voetbal after being exposed to Louis van Gaal's early- to mid-90s revolution. He writes for FourFourTwo and Just Football as well as other publications, and can be found on Twitter at @jouracule.