Bradley speaks of emotions surrounding Port Said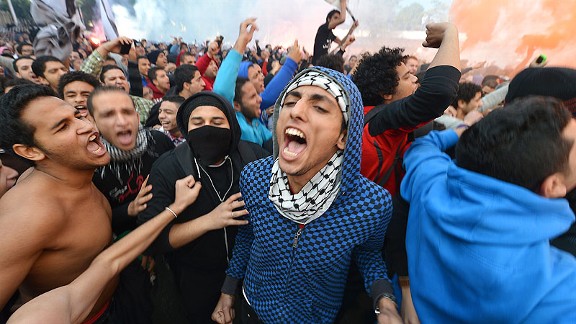 KHALED DESOUKI/AFP/Getty ImagesSpeaking from Cairo, former U.S. national team manager Bob Bradley echoed the "frustration" in Egypt that precipitated this weekend's riots.
With Egypt once again racked by violence, national team coach Bob Bradley spoke of the tension and emotion gripping the country.

On Sunday, violence erupted in the northern city of Port Said after an Egyptian court handed down death sentences to 21 individuals connected with the deadly riot that took place in the same city last February. On that occasion, a match between Port Said club Al-Masry and Cairo-based Al-Ahly resulted in a riot that cost 74 Al-Ahly supporters their lives.

News: 27 killed in riots after judge's verdict

In this latest round of violence, reports stated that at least 27 people had died as relatives of those who were sentenced stormed the prison where defendants were being held. This comes on the heels of clashes Friday between police and protesters marking the second anniversary of the overthrow of former President Hosni Mubarak. Eleven people perished in that incident.

"Like everything here, it's complicated," Bradley said via telephone from Cairo. "I think going into today, most people thought there would probably be a delay, that there would be no announcement. So this initial announcement of 21 names brought a lot of emotion from certainly the families that lost loved ones [last year], and from the [Al-Ahly Ultras]. I think in that regard, there was some initial feeling of justice. But at the same time, the verdict just adds to the long list of questions that have been there since the tragedy took place on Feb. 1 of last year."

Among those questions is how much collusion took place between the police and those who perpetrated the violence last year. Bradley noted that of the 21 individuals who were sentenced, none belonged to the security or police forces, leading to speculation that the announcement was made to appease members of the Ultras Ahlawy who form the hard-core support of Al-Alhy. Fifty-two defendants are still awaiting their sentences.

Yet Bradley added that Sunday's violence also points to immense dissatisfaction in some quarters at the country's lack of progress under President Mohammed Morsi, as well as the huge divisions that remain.

"As is always the case in Egypt, there will be a huge divide, and that's what happened in Port Said today," he said. "Many people at the moment are frustrated. There's no trust of the leadership that has been in place now. And then of course there are others that support the Muslim Brotherhood. This comes out in different ways. It came out in the writing and ultimately the passing of the constitution. But what always happens is opposition groups and opposition forces look for openings, moments, when they can press back."

"This is the political nature of this place," Bradley continued, "and the fact that many of the basic problems remain -- the living conditions for people, illiteracy, tourism is down, the Egyptian pound is very weak -- these are still the things that impact people every day. And depending on which side you support, you have a different opinion in terms of how things have gone, and maybe what the next step is."

The remaining 52 defendants are scheduled to be sentenced on March 9.