Hamilton: Zdenek Zeman and Roma can surprise
Frengo knows.

The dancing Apulian football commentator, with a deep-seated and passionate love for Zdenek Zeman, represents the depth of feeling towards the Roma boss. Frengo may be a fictional character, devised by popular Italian comedian Antonio Albanese, but he shows the unique following and affection for the Czech manager. Sure, Napoli's Walter Mazzarri and Milan's Massimiliano Allegri have their admirers, but neither of those are being serenaded with their own personal ode on Italian television. Only Zdenek can inspire that sort of emotion.

The cult of Zeman was born in Foggia, with his spell at the provincial club now referred to as the "Miracle Foggia," or "Zemanlandia." The club was propelled from Italy's third tier into Serie A and European contention thanks to the most suicidal, death-or-glory attacking football of all time, in which every game seemed to end 7-3 and a host of talented players like Luigi Di Biagio and Francesco Baiano were apparently conjured out of thin air.

When Zeman was appointed as Roma head coach in June, his reputation preceded him. Not just for Foggia, but for his previous spell at the club, too, for Zeman was the man who brought through Francesco Totti and laid the groundwork for the team that Fabio Capello would lead to the Serie A title shortly after Zdenek's departure.

Zeman may be welcomed as the returning prodigal son, but Simone Perrotta's waistline is the closest he'll get to a fatted calf. Although the new American owners have ended the years of financial security, there was no heavy transfer outlay to mark Zeman's reappointment.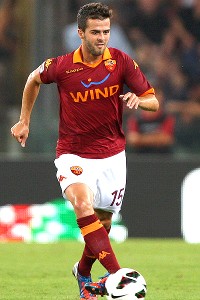 GettyImages / Paolo Bruno/Getty ImagesMiralem Pjanic has yet to truly deliver at Roma, though Zeman might be the man to finally help him blossom in the attacking third.

Fortunately, it may not be required -- Roma has spent a few seasons paying out for some of Europe's best young talent, such as Miralem Pjanic and Erik Lamela. This summer, Mattia Destro was also added to the set. It could be an ideal fit for the Czech; if there are two things he does well, it's attacking soccer and developing young players. The former is simply not open to question -- there is no coach in Europe more committed to the offensive. As for the latter, Zeman's track record boasts not just the development of Totti, but also Alessandro Nesta, Giuseppe Signori and a host of other rough diamonds from his time at Foggia.

Those skills will have to serve him well in dealing with the likes of Pjanic and Lamela. Pjanic, signed from Lyon, has not lived up to his potential thus far and may have to adapt to slot into Zeman's "bury me in a triangular coffin" devotion to 4-3-3, but it could suit the Bosnian as the traditional No. 10 becomes increasingly marginalized in the modern game.

Meanwhile Lamela, a younger player signed for over 16 million euros, is blessed with a clear gift for vision and technical ability but has not been able to become a key component of Roma's side yet. Nurturing their talent will be less of a challenge than finding them the right roles in a system that demands dynamism and versatility.

Fortunately, as well as their youth, Roma has the necessary experience and wiser heads to help marshal it this season. Daniele De Rossi needs no special guidance, but Zeman's touch could be vital when it comes to Francesco Totti.

The legendary playmaker had appeared to be on the verge of being a hindrance to the Giallorossi in recent years, his prestige ensuring his untouchable team status regardless of fitness or form, but he will need to be used effectively and sensibly if Roma is to get the best out of its team. The man who nurtured his talent as a youth could be the man to do it again as a veteran. He certainly thinks highly enough of him -- once, when asked in an interview who the five best Italian players were, Zeman replied "Totti, Totti, Totti, Totti, Totti" and stated earlier this month that he is "more convinced than ever" that the Roma captain is one of the greatest players of all time.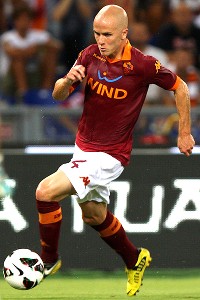 GettyImages / Paolo Bruno/Getty ImagesMichael Bradley's summer move to the Giallorossi will add bite and further dynamism to Roma's electric midfield.

Despite the modest transfer budget available, the squad has still been strengthened. Federico Balzaretti was a sensible purchase (and excellent at Euro 2012) who will lend solidity -- and, according to Zeman, goals -- to an otherwise vulnerable defense. Michael Bradley should be a bargain at 3.75 million pounds and, despite having a poor debut against Catania, the USA international should lend more steel and drive to Roma's midfield. He can only improve while playing with the likes of De Rossi and Pjanic.

Although Zeman's stock seemed to have fallen permanently following a series of poor career moves after his last reign in Roma, a return to Foggia and then a promotion season with Pescara allowed the Czech to rebuild not only his reputation as a capable coach, but also his near-mythical status, as both teams scored goals by the bucketload. The cult of Zeman has caught on in Roma, and while expectations are modest, there is the hope that maybe this team could go all the way. On paper Roma's squad is not as strong as the other contenders, but nothing is certain under Zeman, which will favor a club willing to take a risk.

It was, then, no surprise that Roma's season opener against Catania produced the highest-scoring Serie A game of the round. A 2-2 draw is mundane by Zeman's standards, but it was a gloriously strange affair with two remarkable goals -- including an imperious overhead finish from Pablo Osvaldo -- being undone by shoddy defending.

Old habits clearly die hard, but in the case of Zeman, that will be something to be celebrated by Roma supporters and fans of exciting football everywhere. There is much work to be done if Roma is to challenge the likes of Juventus, Milan and a rejuvenated Internazionale, but the resources are there if they are carefully managed. The gamble is one worth taking.

Callum Hamilton is a football writer on the Premier League, Serie A and La Liga for SB Nation Soccer and is also one-third of Surreal Football.