An Ayre of confidence at Liverpool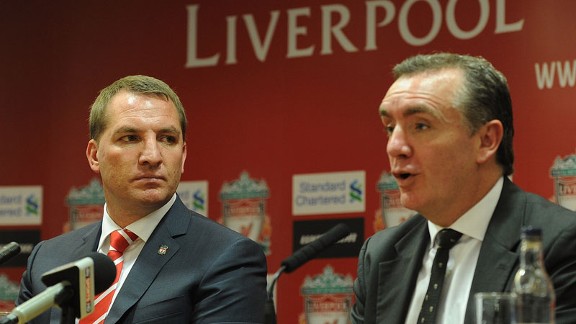 GettyImagesLiverpool managing director Ian Ayre says the Premier League team is now finding consistency under manager Brendan Rodgers.
Liverpool managing director Ian Ayre is a man who believes slow and steady wins the race. His club have recently emerged as one of the Premier League's form teams. Only the Manchester sides and Chelsea have gained more points since the beginning of December. Buoyed by the extra gear Daniel Sturridge has provided alongside the effervescent Luis Suarez, Liverpool has shaken off an inconsistent start to the season and are now just seven points off the Champions League places. Yet the lifelong Liverpool fan was reluctant to dream about the possibility.

"We are not getting carried away," Ayre revealed, suppressing a chuckle. "It is a bit of a cliche, but we are taking a 'one game at a time' approach. Our goal is to build something here that is sustainable -- a squad that is not just built to win but to keep on winning."

Ayre may be wise to preach a medium-term message. Despite Liverpool's steady upward climb, they are yet to beat a team above them in the table. With league games against Arsenal, Manchester City and West Bromwich Albion forthcoming, the executive advised caution. "We have had ups and downs this year, but we seem to be gaining a bit of consistency as players get used to Brendan Rodgers' style and to each other," he said. "We want to be realistic about what we can achieve this season and are trying hard not to set too many expectations other than progress."

-Walsh: Leave Luis Suarez alone

The defining achievement of this campaign may be the club's ability to have sold their fans on the concept of a "rebuilding season," an American sporting concept that is rarely attempted in the unforgiving landscape of English football. "Liverpool fans are great students of the game," Ayre explained in his flat-toned Liverpudlian accent. "They can tell the difference between good football and bad football. We have suffered an unfortunate period with few trophies and no Champions League qualification, and they knew we really needed a sea change."

Ayre remained evasive when asked to explain how long the transformation will take to accomplish. "We won't talk openly about a timeline," he disclosed. "All it does is allow people to beat the manager over the head if we don't hit it." The former television executive was more forthcoming when dampening rumors of a covert club plan to sign only players who are under the age of 24. "We don't have that policy at all," he asserted. "If you are building a team to win and keep winning, young players are essential as they offer longevity, but we have just renewed with many of our senior players this summer. If we see an older player who fits our policy, we will add them at the right price."

There is one matter Ayre is adamant about. The club have no regrets about failing to sign Clint Dempsey. "We knew what we were looking for and just could not make the deal work at that price for that profile," he said. As proof, the director points to the instant impact provided by Daniel Sturridge. "If we had expended that cash on Dempsey, then we would not have been able to spend it on Daniel. We feel we have ended up with a great deal."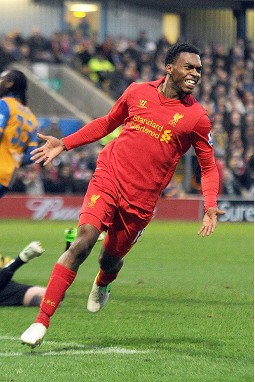 Andrew Powell/Getty ImagesDaniel Sturridge: Better value than Clint Dempsey
Steven Gerrard recently expressed his fear that Luis Suarez may be forced to leave Liverpool if the club fail to secure Champions League football, but Ayre attempted to project a sense of calm. "We are not making a plan for life after Luis at this stage," he said. "We just renewed his deal in the summer and he is clearly enjoying his football at Liverpool Football Club. Hopefully as both the squad and results improve, he will want to stay, but football is football. Players will come and go. No one is bigger than the club."

In a week in which Manchester United announced new partnerships with an official soft drink and a branded credit card in China as well as an "official paint" in Japan, Ayre expressed his satisfaction with the progress Liverpool are making off the field.

"We are not trying to close the gap on United," he said. "We have our own partnership group at work bringing in sponsors." Pointing to the recent deal struck with Indonesian airline Garuda, the former commercial director said: "Our focus is on quality rather than number. United may have assembled a better group earlier than us, but we are much better off commercially compared with five years ago and are growing faster than any other club. All we need is time and success on the field."

Ayre is confident the club can achieve that success on a limited budget. Liverpool came ninth on Deloitte's recently released Football Money League with revenues of $313.4 million, and the director is optimistic about future growth. "It is all about generating the right amount of revenue from the three pots available to us -- media rights, match-day revenue and commercial revenue," he explained. "Because the match-day revenue grows the further we go in Europe, progression up that ladder is the key. We have to plug away and find value for money, which is why taking tough but key decisions on players and recruitment becomes paramount."
In terms of commercial strategy, Ayre believes the club's American owners have provided the team with a competitive advantage. "What is great about John [Henry], Tom [Werner] and all the people out of Boston is they are very hungry to learn. I know John watches hours of games," he said. "They are regularly involved in discussions on the phone, and although they are not long-term students of football and its business side, they bring fantastic experience of sport in terms of ticketing and sponsorship. Our ability to share best practices with the Red Sox organization and NESN gives us real strength."

One transatlantic partnership that surprised many of the club's fans was the behind-the-scenes series "Being: Liverpool." The documentary pierced the veil on the club's traditionally private culture and Ayre confessed he understood many of its critics. "A lot of our English fans felt it was not in the 'Liverpool way,'" he said. "It was not really made for a British audience who are already knowledgeable about the club and its history, but it proved really successful in the United States and Asia."

Asked if he would have approached the show differently with the benefit of hindsight, Ayre bellowed with laughter before admitting: "I might not have let them see my motorbike. But Brendan will tell you for every one person that asks me about the Harley, he has 10 asking to know who is in the envelopes."

I ask him the obvious question. Which names are in the envelopes? "I can't tell you," Ayre giggled. "But it wasn't mine for sure."

Roger Bennett is a columnist for ESPN FC and, with Michael Davies, is one of Grantland's "Men In Blazers." Follow him on Twitter @rogbennett.