The pitfalls of Pardew's success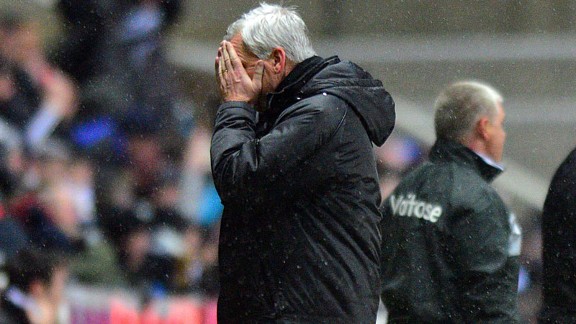 GettyImagesAlan Pardew: Struggling to replicate last season's achievements
Every manager in this great game aspires to over-achieve, yet Newcastle boss Alan Pardew is living proof that reaching lofty heights comes with inherent dangers.

Tipped by many to be among the relegation candidates in the Premier League before a ball was kicked in the summer of 2011, Newcastle's fifth-place finish last May earned Pardew worthy plaudit, including the LMA's Manager of the Year prize.

Yet Pardew suspected trouble was around the corner and after openly conceding back in August that the irresistible momentum that propelled Newcastle last season may be hard to maintain this term, he finds himself plunged into a relegation battle that lacks the glamour and glory that he sampled on Tyneside in the year just gone.

As the cries of 'you don't know what you're doing' rang around St James' Park to herald Pardew's substitutions during Saturday's alarming 2-1 home defeat against Reading, the 'outsider' who had been accepted to the bosom of the Geordie family was left in no doubt that the good will generated last season is evaporating and yet such knee-jerk responses have to be misguided.

If anyone has earned the right to fight his way out of a concern at Newcastle, it is the manager who put the club firmly back on the football map last season and even if a few knives may be out for this 51-year-old Londoner right now, most sensible Geordies will not support any notions of an uprising against the tactician handling his discomfort with impressive composure.

Already Pardew is adapting to his plight in impressive fashion. While some managers panic as the threat of relegation becomes more pressing by the week and others lash out at referees and anyone else who can be blamed for their own incompetence, Pardew has taken a measured approach to his crisis and seems intent on solving it with affirmative action.

After completing a deal for Mapou Yanga-Mbiwa from Montpellier last Monday, signing Yoan Gouffran from Bordeaux a day later and preparing to unveil and Massadio Haidara (Nancy) imminently, Pardew has been honest enough to accept he needs to make changes to his squad before it is too late.

"The FA Cup defeat at Brighton game was the catalyst for my decision to make some changes to our playing staff and get this Newcastle team moving forward once again," confirms Pardew, reflecting on a 2-0 reverse against the Championship side earlier this month, which saw a host of his shadow players fail to take their chance once again.

"You can evaluate the strength of a team not just from the first choice players, but also those waiting for their chance. While it has not been easy for those coming into the team of late as the team have not been as stable as we would have liked, top players find a way to take their chances and maybe some have come up a little short."

Pardew's acute frustration at the failure of the club's youngsters to step up to the plate when presented with their chance has been his biggest frustration in recent weeks. The likes of Nile Ranger, Sammy Ameobi and Gael Bigirimana have all struggled to prove their worth at first team level and with the arrival of a host of fresh talent, their first team chances may be gone for good.

This Newcastle manager may successfully offer himself up as the master of polished media presentation on a weekly basis, but a fiercely competitive football lover lurks behind his glossy exterior and with that in mind, he has always demanded the maximum effort from his players, the staff at the clubs he works for and, significantly, the supporters backing them every week.

Grumbling discontent among Newcastle fans will concern Pardew, so he will be quick to urge wavering fans to stand by his team ahead of their crucial game against Aston Villa next week and even though his back is pinned for the wall for now, last season's accomplishments means this is one manager who still has the power to plan for the future at Newcastle.

With money to spend and ambition to match, Pardew eyed up this month's transfer window with relish and even though some Newcastle fans may have preferred him to sign some proven Premier League performers, the club's links in France forged by chief scout Graham Carr have taken him down a familiar path.

Pardew's annoyance at losing out to QPR in the race to sign Marseille striker Loic Remy was well documented, yet his regular trips to France in recent weeks will reap dividends if Mbiwa, Gouffran and Haidara prove to be the men to fire Newcastle to safety this season.

"We are fortunate to be at a well-run club that has some money available to invest in new players," adds Pardew.

"It may be that the final position we will achieve this season will be dictated by the success we enjoy in this transfer window and I still believe a finish in the top half of the table is possible for this Newcastle side if we get the right players in during this transfer window."

Pardew didn't become a good manager overnight as he took time to hone his touchline skills at Reading, West Ham, Charlton and Southampton before confirming himself as one of the brightest tacticians in the game by guiding Newcastle back into Europe last season, so no-one should suspect he has become a bad boss in double quick time either.

His Geordie bubble may have deflated for now, but Pardew has proved he is more than capable of breathing fresh life into it all over again. Hold your fire Newcastle fans, hold your fire.