Barn burner at the Bernabeu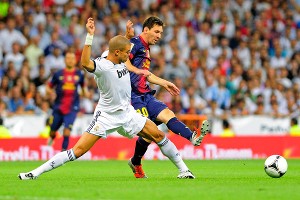 GettyImages / Arroyo Moreno/Getty ImagesReal Madrid was a deserving winner over Barcelona in the Supercopa.
MADRID -- So let's start with the basics: Not for precisely four and a half years, in this same stadium, against this club, has Barcelona had its pants taken down and received a spanking of this magnitude.

Between May 2008 and now, Barcelona has found it eminently comfortable to visit the Bernabeu, usually leaving with points, scalps and a scoreline of remarkable proportions.

On Wednesday night in Madrid, Barca were given a total chasing, made to spin like tops and feel as if their hosts were not only going to end that run of results but add humiliation with relish.

Taking Jose Mourinho at his word, which hasn't always been easy during his exciting and controversial time in La Liga, this match wasn't about the trophy or the victory, but about his squad showing that they not only had the guts but also the mentality to stop feeling second-best to Barcelona in front of their own, passionate supporters.

That debate was won. It's pretty clear that Mourinho is always going to have issues with Iker Casillas and Sergio Ramos. The proud, haughty, trophy laden Spaniards don't like his manner, don't like him criticizing them in public and yearn to play a little bit more football while, hopefully, adding trophies to the two they have lifted under his command.

What will remain for the cooler heads is the fact that Madrid, at high pace, was utterly in command, played at a tornado speed that ripped right through the fault lines which Barcelona has been exhibiting since the beginning of Pep Guardiola's last season -- it felt like Real should have scored six or seven, particularly as Barca were at sixes and sevens.

So what lingers as an interesting fact is that from the point at which Barcelona started to put its foot on the ball with 10 men left on the pitch, Adriano red-carded correctly for a last-man challenge on Gonzalo Higuain, they were the superior side.

That won't matter to those players who lifted the Supercopa, who erased the ugly scars of the defeat at Getafe this past Sunday. But it will matter when the dust settles and people try to evaluate where this leaves Spain's, let's say Europe's, best two teams.

No debate that the right fingerprints are on the trophy, none whatsoever.
Football is predicated on the fact that if you score twice, concede one and then somehow keep your opponent at bay, then you deserve to win.

The prospect of an understrength Barcelona -- no David Villa, no Carles Puyol and no Dani Alves, who broke down with a muscle strain in the warm up -- winning a trophy and hoisting it at Merengue HQ must have been the stuff of absolute nightmares. So massive kudos to Madrid for playing with urgency, confidence, cutting edge and aggression -- for about 35 minutes.

Does this give weight to the kind of arguments you might find Xabi Alonso, Casillas, Ramos and others with a like mind making in private -- that Madrid just need to add a smidgen of football to its superb counter-attacking, athletic defending and hunger to add more trophies?

We shall see.

To the goals. I don't care what anyone says, not even those who highly value the tremendous cameo which Alex Song gave when he made his debut for Barcelona. The former Arsenal midfielder did some lovely things -- winning the ball, passing with intelligence, showing urgency. Hats off to him. But the way that Madrid clinically stripped bare Barcelona's deficiencies at the back in that torrid first 35 minutes simply underlined that the Catalan club has badly misjudged its need to sign a center back.

Javier Mascherano is an imperial footballer. He can often play without flaw in his improvised center-back position. But in top, top matches, he continues to be exposed.

His fans will point out that after Real Madrid was 2-0 up, he made some superb blocks and dug out another heat-seeking pass forward to Pedro, which nearly ended in a goal. In fact, if you subtract his horrible error from Pepe's long punt forward, which allowed Higuain to score the opener, Mascherano had a good game.

But what I drew from the match was that Mourinho completely undressed Mascherano, in a football sense.

One of the Portuguese most dramatic and important victories over Barca came in 2010 in the Champions League semifinal first leg, when his Inter team won 3-1. Weeks later, he was at Madrid and he took time to explain the football thinking which had won that tie. He pointed out that he was happy to play the ball long, early and high. That he judged Pique and Puyol to be at their most uncomfortable when they were forced to turn and to go back seeking the ball.

If his strikers and auxiliary pressing players could compete for the second ball and press the turning defenders into errors, Mourinho reckoned that the double effect would be putting Victor Valdes goalmouth in jeopardy and prevent the Barca creative machine from firing properly up front.

It worked.

The early stages were similar. Time and again Barca's improvised back line was forced to see the ball sailing over its head, to turn and to try to control under pressure in a bad area of the pitch.

For at least half an hour Barca was neither sharp enough, quick-footed enough, nor coordinated enough to manage.

It was like going to a hi-energy disco aged 40, managing to rave along to the first tune or two before collapsing in a sweating heap.

Song is a talented footballer and athlete, but his new club needed something additional to his skills.

I swear there was nearly a white flag from the Blaugrana troops. Then when Cristiano Ronaldo's utterly brilliant improvised flick took him clear of the defense, again, it has to be said that Valdes didn't help his reputation in the face of his doubters when the firm shot seemed to go through his attempt at a block.

Yet Valdes, like Casillas, went on to make three outstanding one-on-one blocks. He's not in form, he has contributed to Real Madrid being Supercopa champions, but he remains the right keeper for that club and now simply needs to face the challenge of finding his sharpness, confidence and normally assertive touch.

To watch Alonso, Angel Di Maria and Mesut Ozil send Ronaldo or Higuain through time and again must have been thrilling for the 85,000 Madridistas in the stadium. Had this contest happened at Madison Square Garden as a boxing match, there were stages in which it would have been declared a TKO.

But the beauty of the sport was evident as Lionel Messi produced the single-best free kick of his career to make it 2-1, and from that point onward the game was both fascinating, relentless and could have ended with either team winning the trophy.

Overall Madrid not only deserved to be Supercopa champions, it was also a big journey from the hurt of Sunday night to the determination, sharpness and confidence of Wednesday's performance. If Mourinho, who gave Luka Modric his debut, was serious about having real doubts over his players' mentality after the loss to Getafe, they answered him.

Whether they showed that they have added something extra to last season, whether they demonstrated that they did this for their coach, rather than for themselves, is a moot point.

Moreover, on a purely analytical basis, the fact that a 10-man Barcelona, which was two goals down, began to match and sometimes outplay Real is something for Mourinho to assimilate, plan for and eliminate.

If he does that successfully, the Special One can aspire to adding prizes far, far more glittering than this one. For the moment, I'd guess, the Supercopa will be sufficient reward.