Terry: Captain, leader, social media guru?
The world feels a poorer place for the absence of John Terry's Instagram account. The feed, which sparked to life during Terry's prolonged knee injury last November, ended without warning as Terry pulled his profile Monday, holding the service's new terms and conditions responsible for its closure.

The account had quickly become one of the football world's guilty pleasures, each photograph as image-disrupting as the revelation North Korea's Kim Jong Il owned 20,000 Hollywood blockbusters, including VHS copies of "Friday the 13th," "Rambo" and the complete works of Elizabeth Taylor.

Few footballers' reputations needed refurbishing more than Terry's. A player who was found guilty of using racist language and has been tabloid fodder for years. It's all left his on-field heroism displayed during 14 seasons at Chelsea thickly stained with ridicule.

Three images had come to define the twilight of Terry's career: performing the walk of shame into an English courtroom accused of using racist language; a scandalized and lonely man grimly driving home from training; and a suspended player who changed into his kit to insert himself into the historical record in the wake of 2012 Chelsea's Champions League win.

Every Instagram photograph Terry crackled across social media platforms chipped away at his old image. As his teammates decamped to Japan for December's Club World Cup, the injured defender reminded the globe he was not with them by releasing a downbeat composition that captured life in rehab. In the image, JT lies on a training table, assuming a Victorian smile-free approach to portraiture. The club captain addresses the cameraman with a haunting stare expressing the mixed emotions of melancholy and boredom he experiences as an image of Juan Mata flickers on a television screen above his head. Despite the cluttered composition, the eye is inextricably drawn to the focal point of the picture: Terry's crotch. The picture was simply captioned with a mournful "Good Luck Lads".

A stream of photos followed, bringing us behind the looking glass of Terry's life as he sported a novelty "Hangover" T-shirt, or a fluffy, monogrammed JT26 bathrobe, took us down memory lane courtesy of vintage photos featuring a young, silky-haired JT signing his first contract in a bar-mitzvah style suit, or let us know just how he much cherished his captain's armbands by displaying an impressive collection heaped in a twisted pile. Image by image, JT revealed himself as a frantic hashtagger littering the devices after every entry. #kidsfastasleep, #cupoftea, #jt, #cfc, #ktbffh, #backtraining, #kidshomeworkdone, #terry26.

A number of the photos appeared so surreal when they first emerged, they seemed almost identical to the multitude of images photoshopped and circulated by Terry's lampooning haters. When a "before and after" series of Terry solving a Rubik's cube was issued, I immediately assumed it was a fake, before clicking onto the Terry Instagram account to discover, with surprise, that the twin-shot was indeed a bona fide JT production. The image was accompanied by a proud boast, "Say no more. Complete." Terry was later forced to admit the two photos had been taken in reverse order.

It was perhaps not coincidental that all of this social media madness has been played out against a backdrop of uncertainty surrounding Terry's long-term future at Chelsea, the only club he has ever served.

Last Sunday, as Chelsea clung on to a 2-1 lead against a resurgent Arsenal at the stadium formerly known as Fortress Stamford Bridge, the cameras cut to the Chelsea bench to reveal the jarring sight of JT, the once indomitable defender turned benchwarmer.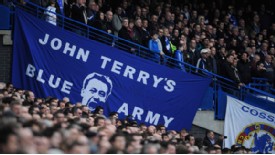 GettyImagesThe Chelsea fans will always be behind club captain John Terry
I had originally assumed there was an element of the dancing fool around Terry's Instagram account -- the more we clapped, or retweeted, the more he posted to break up his boredom. But was this digital "Captain, Leader, Rubik's cube solver" strategy a deliberate case of an iconic sports star embracing technology to replace the roar of the crowd? I consulted three social media gurus to solicit their opinion.

Thoughts of retirement were indeed the driver according to Jon Cohen, co-founder of creative marketing agency Cornerstone and Fader Magazine. "As Terry prepares to build a brand beyond sport once he steps away, he was using Instagram to broaden the facets of his life and interests that were on display," he explained. "From his perspective, whenever he posted a picture, he received an instant response on a massive level and felt like he still had an audience to perform in front of."

Such an approach can be a double-edged sword in the eyes of Ian Schafer, CEO of Deep Focus, the man behind the award-winning digital campaigns for "Mad Men." He warned: "There are some people who have improved their image with social media -- look at Kevin Durant's Twitter feed -- and others who use it to move from being a pro-sport athlete to become a social media star like Chad Johnson." Terry's Instagram felt different to Schafer. "His images often felt more narcissistic, like someone used to receiving attention all the time and doing whatever it takes to maintain it. Jose Canseco is probably the closest American parallel."

Others have a loftier read of Terry's motivations. According to Ross Martin, who runs MTV's marketing division, Scratch: "This is a man who was setting out to be a cultural engineer. John Terry has long been seen as a joke but he is changing himself from the butt of the joke to the writer of the joke." This approach implies Terry and his handlers have a sophisticated analysis of the modern world. "He has realized society has compressed the time period between success, failure and redemption and is working out how to do all three at once. John Terry should be applauded for being a world-class performance artist who has mastered social media after becoming a victim of it."

Martin does not believe Terry's sudden departure from Instagram signals an end to his social presence. "I would guess the shutting down of the account is a deprivation experiment. Terry is just reloading. He has experienced the power of introducing a new concept and having it go wide within a couple of hours. All he needs to do now is to work out what to do with that power. I predict the story will accelerate this year as Terry returns to scale and blows us away."

Schafer was less optimistic, suggesting the best Terry could hope for is a role on "Dancing with the Stars." "If he returns he will discover Instagram gives you a million filters," he explained, "but they have yet to make one for the single most important thing a man like John Terry needs. Common sense."

Roger Bennett is a columnist for ESPN FC and, with Michael Davies, is one of Grantland's Men In Blazers. Follow him on Twitter @rogbennett.