Valiant Bradford leave Villa in tatters
Vicar Paul Deo, in the end, was right. What's more, Bradford City didn't need to turn to religion, prayers or anything else supernatural to secure victory and that place at Wembley. Their admirable hard work, however, has led to one of the most enchanting stories of the season - and of the last few decades.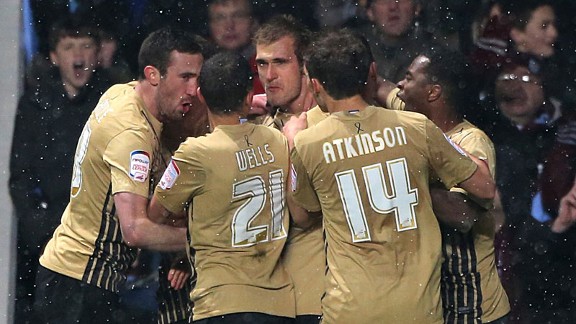 PA PhotosJames Hanson's header restored Bradford's two-goal advantage

By eliminating Aston Villa, Bradford have become the first side from the fourth tier of English football to reach the League Cup final - or the showpiece of any of the two major knock-outs - since Rochdale in 1962. They're also the first team from outside the top two divisions to do so since Villa themselves in 1971.

Whichever way you look at it, it's a remarkable story that English football hasn't seen for some time, particularly after a decade in which the trophies seemed to be dominated by a handful of elite teams. Fourth rate? Five star.

It shouldn't be forgotten that this represents a real wasted opportunity for Villa too. For a Premier League team to fail to eliminate a side three divisions below them over two legs is, ultimately, a damning indictment.

The general context of such upsets is that the elite sides play below themselves, the underdogs bring up their level and, somewhere in the middle, an upset is caused. It is to Bradford's ultimate credit that that wasn't really the case on Tuesday or at any point throughout this run.

To play four games against Premier League sides and still reach the final greatly eliminates the possibility of fluke. It is all the more remarkable that the first leg brought Bradford's only win since December 26.

You wouldn't have guessed it at Villa Park. They played with a conviction and confidence that confirmed goalkeeper Matt Duke's statement that they could "smell" the chance of a win before the game.

Other than the 20 minutes after Christian Benteke's admittedly Premier League-quality strike and the brief chaos following Andreas Weimann's, Bradford never really felt in trouble. It is even arguable that they were calmer and more composed than a callow Villa.

Indeed, it was really that period before half-time that illustrated the immaturity of Paul Lambert's team and why they were so susceptible to an admirably hard-edged side like Bradford City.

Buoyed by Benteke's goal, Villa played as if the next one was inevitable rather than actually attempting to score. Instead of making sure of the game, they showboated. That also summed up where Villa are as a team.

Hindered by Martin O'Neill's previous massive expenditure and forced to bring through an alarmingly young team, Lambert has still offered enough to suggest there is the base of a competitive and aesthetically compelling side. All it will take is perseverance, patience and more profound integration.

For the moment, though, and likely for the next two or three years without significant additions, they lack too many elements: from experience to mental fortitude. And, while Villa look to the future, Bradford stand tall. They certainly did that in the home side's box. And then some.

On 55 minutes, James Hanson again took advantage of Villa's immaturity and consequent disarray at set-pieces to thunder in a header with extreme prejudice.

As they had done so often in this cup run, Bradford picked out where they could pierce Villa, played the percentages and saw it all pay off.

Indeed, it was an illustration of how much they had rattled Villa and resolute their defence was that, for the next 35 minutes, the Premier League side barely created a chance.

There was no grand stand, no great siege. Other than a flashed ball across the box and another Benteke header, Villa were so lacking in confidence and creativity that Lambert was forced to go against his entire philosophy. The man that doesn't fit into his team, Darren Bent, was brought on while a series of balls were bashed forward.

That only played into Bradford's hands. Villa did score through a Shay Given punt and Weimann finish but that was born more of the away side's understandable tiredness rather than any attacking epiphany.

It is perhaps telling that all of the Premier League sides they have eliminated have been technical passing teams. Because, by then, Bradford had done their jobs.

They'd also made history and perfectly rounded off what has been a remarkable - and riotously exciting - League Cup season.