Chelsea stay 'relevant' in London derby vs. Arsenal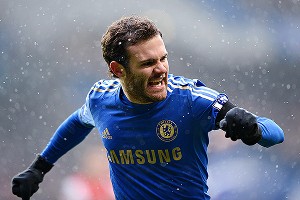 AP Photo/Darren WalshJuan Mata's goal demonstrated the gulf in class between Chelsea and Arsenal.
Chelsea versus Arsenal was billed as a battle for relevance. Not for the Premier League title race, mind you, as that's all about the two Manchester clubs, but a shot at finishing in a Champions League spot at the end of the season.

Rafa Benitez came into the match tied for the worst record in a manager's first 16 games in the Roman Abramovich era -- an average 56 winning percentage in all competitions, tied with Andre Villas-Boas -- while Arsene Wenger arrived at Stamford Bridge with only one bit of "good" news in the transfer window. Alas, signing Theo Walcott to a new contract is, at best, treading water for the Gunners.

In the end, amid snowy conditions and despite some nervy moments in the second half, Chelsea defeated Arsenal 2-1. Some thoughts:

See ya, Champions League
The Gunners have taken qualifying for the Champions League under Wenger for granted -- it's a fait accompli, no? -- but after Sunday's defeat, you really have to question whether they'll make it this time. In sixth place, they're seven points behind Tottenham in fourth, with Spurs' match against United upcoming.

In the first half, Chelsea's dominance was so comprehensive that it rendered Arsenal a punch line -- literally. "Think the arsenal players should make a snowman in Chelsea's box he'd be more dangerous than [Olivier] Giroud," comedian Jack Whitehall tweeted. The crowd got into the act, too, as Chelsea fans sung, "Arsene Wenger, we want you to stay."

Arsenal made more of a go in the second half, with a sublime Walcott finish (after squandering three other chances when he was caught offside), but the side's loss at the Bridge was a grim reminder to Arsenal fans that the players brought into the club these past couple of seasons are not performing at the level Wenger needs them to. Yes, Mikel Arteta didn't play. Yes, Abou Diaby was well off the pace. But to be so roundly outplayed ...

There was a bright spot: Jack Wilshere's play -- and, more notably, his heart. Even though in the first half he was caught in a game of monkey in the middle as the Chelsea players ran rings around everyone, the Englishman was a bulldog -- the beating heart of an otherwise leaderless Arsenal side. His requests to Wenger & Co. at the sideline for help in the first half were unnoticed or unwanted, but Wilshere made more of an imprint in the second half. But one player is not enough to get Arsenal into the Champions League for next season.

Gulf in class
You only had to see the touches -- and finishes -- of Olivier Giroud and Juan Mata in the first half to see the chasm in quality between the two sides. In the fifth minute, Walcott played Giroud into the box, with the Frenchman making a nice run off Gary Cahill to get one-on-one with Petr Cech. But Giroud contrived to shoot wide, Arsenal's best (and really only) chance of the first half squandered.

One minute later, a diagonal long ball over the top found Mata charging into the box. After a perfect first touch (something, frankly, Fernando Torres could learn from), the Spaniard put the ball into the back of the net.

One chance for Arsenal squandered. One chance for Chelsea taken.

Arsenal fans may gripe that the goal should have been pulled back after Ramires (who had an excellent game, winning balls in midfield) fouled Francis Coquelin. But referee Martin Atkinson didn't make the call, and Chelsea played on and punished their opponents.

What's more at issue is that Giroud, despite his decent physical play, is rather (how to put this) limited in front of goal. His last goals came in Arsenal's romp over Newcastle in December, and before that you have to go back to Arsenal's 5-2 win over Tottenham in November when the Frenchman tallied. Walcott might be rightfully ridiculed for his incessant desire to play up the middle, but at this point, he may be the more effective option for Wenger. Which, of course, speaks volumes.

See ya, Frankie
Chelsea's second goal, which came about after Wojciech Szczesny fouled Ramires in the box, was another Frank Lampard penalty kick. On a weekend when Ashley Cole got a contract extension, it was rather odd to see the Blues' most consistent goal scorer from the spot celebrate, still knowing that his future lies anywhere but Stamford Bridge. Abramovich made a heartfelt clap when Torres went off the pitch, but Lampard? Why the owner doesn't think he can play a role going forward, à la Paul Scholes at United, stretches credulity.

Now Chelsea sit in third on 45 points. It's not a comfortable position when you look at the way the Blues failed to put the game away Sunday -- if the three midfielders had Demba Ba up top in the first half, instead of Torres (whose best chance, under no pressure, was sliced wide and high), you figure Chelsea would have tacked on another goal or two.

As it was, they held on. Benitez might have thrown in the towel to win the league, but a Champions League spot for next season should be more than doable. Can Arsenal say the same? We'll find out as the Premier League now enters the business end of the season –- and whether the Gunners can stay ... relevant.