Resilient Holden unrestrained in comeback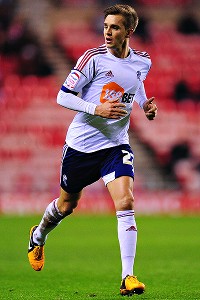 Stu Forster/Getty ImagesStuart Holden was active Jan. 15 in his second comeback from a knee injury in 22 months
"It was great just to be a part of it all again," Stuart Holden said last Tuesday after recording just under 20 minutes for Bolton in the FA Cup, something he described as a 'special moment'.

It had been 1 year, 3 months and 26 days since his last game - and almost 22 months since the one before that - but finally Holden was ready. Named on the bench for Bolton's Cup replay against Sunderland last Tuesday, it was fitting he would make his return at the home of the club for which his career in England began.

Holden never made a senior appearance for the Black Cats, but speak to those young teammates around him at the time and they will confirm it was a void of good fortune rather than talent which ended his time with the club.

On what was a cold evening in Sunderland, an early jog down the touchline with compatriot Tim Ream saw the pocket of Bolton fans in the upper tiers bellow out: "USA, USA." Their tacit version of support and acknowledgement has been consistent throughout his period on the sideline, along with his family - or 'support system' as he refers to them. Brother Euan, also a professional with Conference side Stockport County, was in the crowd Tuesday, camera at the ready, eagerly anticipating an important moment in Holden's career.

As he took to the field in the 74th minute, the game as a contest was arguably over with Bolton two goals up. Instead, it was time to evaluate what had been over a year's worth of rehabilitation from ACL surgery in Delaware. If there were nerves in his head, Holden gave his body an early opportunity to quell them. Throwing himself into a challenge with Sunderland midfielder Craig Gardner, he departed the scene with nothing more than grass stains on his socks.

That first action also served as a theme for his 19-minute cameo. Holden was constantly asking for the ball, wanting to be involved in everything Bolton were doing. When defender Zat Knight decided to hit it long down field instead of squaring it inside to Holden, he was promptly questioned by his midfielder before being encouraged to play the pass next time.

Of the two dozen or so touches he made, all were composed and assured. It should be noted Bolton manager Dougie Freedman had run the former Clemson and Houston Dynamo man through a reserve-team game prior to his call-up for the first team. A January fixture in the Manchester Senior Cup against Oldham Athletic served as the ideal New Year present for Holden.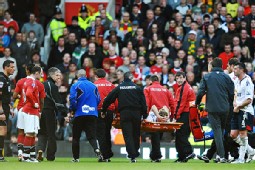 Laurence Griffiths/Getty ImagesHolden's knee problems began March 19, 2011, when he was stretchered off following a challenge by Manchester United's Jonny Evans. Evans received a red card
It was another milestone in his road to recovery from a knee injury first sustained in a challenge from Manchester United's Jonny Evans in March 2011, and required more surgery after his first comeback attempt that September.

Still, with patches of rust, his one giveaway was followed by a spirited chase back. Holden's main duty was to recycle possession and keep things tight as Bolton looked to run down the clock and progress to the fourth round of the FA Cup. As referee Kevin Friend concluded proceedings, celebrations from the Bolton bench and those on the field, followed closely by an embrace from each and everyone of his teammate. Marcos Alonso choosing to pick Holden up and bounce with him as if they had just won the Cup itself.

Before Holden would depart the pitch and enjoy a handshake with his coach, applause for those couple hundred or so Bolton fans that had made the trip even further up North. Holden has previously described the Trotters as a family club, and during a bleak period such as the one he has endured, family become necessity.

As I filed out of the Stadium of Light into the cold air, I passed the handful of buses that would transport the visiting fans home. As I politely eavesdropped, their conversations all centered around two things; the next round against Everton Jan. 26, and how great it was to see Holden back wearing the shirt again. "He's just a nice guy who always gives 100 percent, " said one fan. He was there at Villa Park 16 months ago when Holden's problems worsened.

After the game, a cascade of well wishes. Journalists, fans, even players, including Ashley Cole, all commended Holden on making it back to the pitch. Much of the work he undertook in those months will have gone unseen, with his YouTube webshorts series 'No Holden Back' documenting the solitary situation injured players find themselves in: "You miss the camaraderie. You miss all the inside jokes. But it feels too close when you're back," he told the New York Times in November.

However if you've seen Holden - or follow him on Twitter - you'll be aware of his chipper disposition. Always preferring to focus on the silver lining rather than the cloud, Freedman describes the 27-year-old as 'enthusiastic' and 'bubbly'. He added to that character reference after Tuesday's game, saying: "He's a battler and a winner. When he came on the field, I was so delighted. He's got a long way to go, but he knows that this club are fully behind him." Those who know him say he's keen to focus primarily on his soccer for the remaining few months of the season, not allowing for any distractions.

In an interview with the BBC last year, Holden said he hoped to make his second consecutive U.S. World Cup appearance in Brazil in 2014. Still, with some time until that day arrives, one hopes he can finally have the luck his hard work deserves.