Argentina's U-20s experience growing pains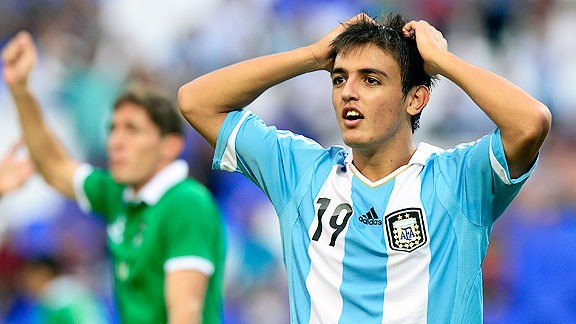 Daniel Garcia/AFP/Getty ImagesArgentina's failure at the South American U-20 Championship has some wondering what a post-Messi future holds for the Albicelestes.
Covering the past eight South American Under-20 Championships, I have been honoured to catch the early stages of many great careers. There is one, though, that stands out above all others.

Eight years ago, Lionel Messi was an unknown 17-year-old when he got called up by Argentina for the 2005 tournament, staged in Colombia. At the time, he had played just one friendly for Barcelona. Rumours hinted that he might be something special, but these were more hints than substance. It appeared that the main reason he had been selected was to ensure that Argentina, and not Spain, would be the beneficiaries if the rumours turned out to be true.

But it looked unlikely when he first took the field. He was a couple of years younger than the other players and came across more as the pigeon-toed runt of the litter than a future sporting superstar -- until he received the ball. Then all of us were aware that we were in the presence of something special.

The rest, as they say, is history. Or rather, it's history still in the making. Four consecutive FIFA World Player of the Year awards establish that we are living in the Messi era. Some, though, will not be satisfied unless he wins a World Cup. There will be immense pressure on him to do just that in Brazil next year.

If such a thing is possible, that pressure might just have increased as a direct result of events in his native Argentina in this year's version of the South American Under-20 Championship. This level of football is one in which Argentina have been remarkably successful in modern times. They were U-20 world champions in 1995, 1997, 2001, 2005 (with Messi making his name) and 2007.

More important than the titles was the stream of players groomed and graduated on their way to the senior side. Many of Messi's Argentina teammates are former U-20 internationals: goalkeeper Sergio Romero (2007), centre back Ezequiel Garay (2005), the midfield hub of Javier Mascherano (2003) and Fernando Gago (2005), the flying Angel di Maria (2007) and striker Sergio Aguero (2005 and 2007).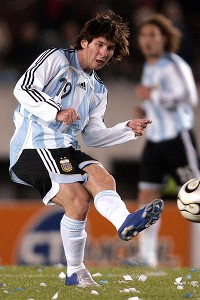 JUAN MABROMATA/AFP/Getty ImagesLionel Messi emerged as a star during the 2005 U-20 tournament and has dazzled ever since.
But the warning signs have been flashing for a while. When Argentina won the gold medal at the 2008 Olympics, coach Sergio Batista used that moment of triumph as an opportunity to complain about falling standards, something that struck Maxi Rodriguez, a world U-20 champion in 2001, when he returned to Argentine football last year after a decade in Europe.

"The level of play has fallen in the last 10 years," he said. "The matches are ugly, without flow. Players are running and battling, and aesthetic considerations are no longer a priority. There's so much fear of losing."

Today's young Argentine footballers are growing up in this type of environment, often pitched prematurely onto the first team through economic necessity. Score a couple of goals and they are transformed into instant heroes, suiting everyone's purposes -- the media can generate more interest, and when the youngster is quickly sold across the Atlantic, agents can make their commission and clubs can hope to pay off some of their debt.

With Batista in charge, Argentina's 2009 U-20 side failed to qualify for the World Youth Cup and defend the title they won on the two previous occasions. The 2011 side did a little better, reaching the quarterfinals.

Yet the hope was that this year's team would go further in Turkey, where the 2013 World Youth Cup is being played in June. They would surely have little trouble qualifying. Four teams make it through from the South American Under-20 Championship, and with Argentina hosting the tournament, booking a place was surely a formality.

The truth, though, has proved beyond Argentina's worst nightmare. Not only have the tournament hosts failed to qualify for the World Youth Cup, but they didn't even make it to the decisive second round. The field of 10 is divided into two groups of five with the top three teams from each group contesting the second round -- but Argentina had no chance of making the cut even before playing their fourth and final game.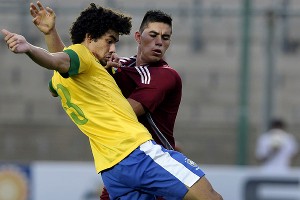 Alejandro Pagni/AFP/Getty ImagesArgentina fans could take solace from Brazil's young stars who also failed to escape the group stage, proving that the Selecao's future is also a concern.
First they went down 1-0 to Chile, which had one player sent off before halftime and another with 20 minutes to go. Then they lost 2-1 to Paraguay after a second-half turnaround when their opponents could easily have scored six. Then they gave away a foolish late penalty and could only draw 2-2 with a desperately limited Bolivia. Extraordinarily, with a game still to spare, Argentina were out, meaning that their 3-2 win over a largely reserve Colombia side was merely academic.

This is a dazzling failure from which it is hard to escape the conclusion that some players -- principally the attackers -- had been overhyped, while others -- especially the defenders -- were understrength.

It's true that no defeats at the youth level are ever definitive, as the priority is on long-term development rather than short-term results. But a third consecutive disappointing U-20 side is worrying indeed, bringing to mind an obvious fear. Once the Messi generation has moved on, who will come through to replace it? If Argentina are unable to win the World Cup with the undoubted best player on the planet, how long might they have to wait for title No. 3?

Yet there is one crumb of Argentine consolation from the U-20 Championship. Laboured and confused, Brazil pulled off the amazing feat of being even worse. A 2-0 loss to Peru in their final match meant that Brazil finished at the bottom of their group. They too are out of the fight for a slot in this year's World Youth Cup and won't be defending the title they won in Colombia two years ago.

Then again, that 2011 Brazil U-20 side groomed the likes of Neymar, Oscar and Lucas Moura, all key figures for the hosts of next year's World Cup. At the age of 20 or 21, they belong to a generation that should be able to look forward to playing in the next three World Cups.

Messi, meanwhile, might not have that long. For him -- and for Argentina -- the stakes will be high next year in Brazil.

Tim Vickery is an English football journalist who has lived in Brazil since 1994 and specializes in South American football.