Premier League's showcase showdown
Pep Guardiola to Bayern Munich. Raise your hand if you had that one in your sights six months ago. Similarly, raise your hand if you saw Chelsea putting four past Stoke City at the Britannia last weekend. It's probably dawning on Blues fans that they might be stuck with rotund Iberian Rafa Benitez for longer than they could possibly imagine -- a year? 18 months? -- unless Jose Mourinho pulls a new name out of his eponymous hat and becomes "The Resurrected One."

Since we're on the topic of Chelsea ...

Chelsea vs. Arsenal: Two major clubs sharing a city, constantly battling for honors and facing off on Sunday with non-existent title chases to fuel. You'd think that this would have all of the ingredients necessary for a testy and tempestuous rivalry, but this is almost always a markedly polite affair. Just look at last year's contest at the Bridge, during which John Terry went so far as to kindly fall over so that Robin van Persie could quietly meander toward Petr Cech's goal and score the winner in a highly entertaining 5-3 Arsenal win.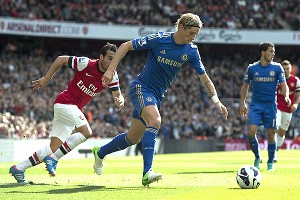 Adrian Dennis/AFP/Getty ImagesIn September, Fernando Torres scored in Chelsea's 2-1 win over Arsenal at the Emirates.
Equally, this match really shouldn't be particularly close. Chelsea is better in goal, the back four, the midfield and comparable to Arsenal up front. Chelsea's bench is vastly superior and the hosts are as capable as the visitors at controlling possession. Arsenal will continue to miss its highly influential midfielder, Mikel Arteta; Chelsea has no injuries of note unless you count Fernando Torres's badly sprained sense of self.

So why do we think this will be a tough task for the home team? Because it is the home team; if you don't understand why that's relevant, you must have missed the recent visits by QPR, Swansea and Southampton. In each contest Chelsea dominated the ball, the territory and the chances but failed to win, losing the first two and then letting the Saints come back to draw from a 2-0 deficit. You could sense the players bristling against the backdrop of fan dismay and overwhelming antipathy toward Rafa. Next to the utter loathing of the Blues' Spanish interloper, sour-faced former caretaker Avram Grant is worthy of a statue.

Beyond the emotion, there are the tactical battles in play, namely which center-back pairing Benitez chooses. The temptation would be to recall the talismanic captain, John Terry, but it would be a mistake. Arsenal is about pace, movement and more pace, no longer elements in Terry's oeuvre. Ashley Cole, meanwhile, has almost no chance of managing Theo Walcott down the right even if Walcott packed all $25 million of his new contract in large coinage around his waist. In almost every way, this is a uniquely tough task for a Chelsea side that is entirely more tentative and feeble at Stamford Bridge.

Then it's an Arsenal win, you say? Not exactly. Although Arsenal will have plenty of chances to score and Walcott will enjoy acres of space, we don't think that the Gunners will have many answers to whichever three midfield maestros Benitez decides to roll out. The twinned absences of Arteta and the suspended Laurent Koscielny deprive Arsenal of much of its defensive athleticism, and we can only imagine what Eden Hazard and Juan Mata will do to the ponderous Per Mertesacker-saurus.

This one feels a lot like last year's fixture, except that Terry won't fall over because he won't be playing and RVP won't be there to grab the gift -- he'll be too busy making Spurs miserable at White Hart Lanes.
Prediction: Chelsea 3, Arsenal 3

Tottenham vs. Manchester United: Do you remember the glorious talents of Gary Lineker and Paul Gascoigne, the two key players on the last Tottenham team to pull the league double over Manchester United, 23 years ago? United has traditionally owned Spurs in a way that is both impressive and humiliating, a dominance so utterly pronounced that it's been 11 years since Spurs has beaten the Red Devils at the Lane.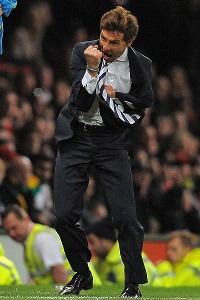 Andrew Yates/AFP/Getty ImagesHow sweet it was: AVB celebrated a 3-2 victory at Old Trafford in September.
Harry Redknapp, the worshipped, florid and avuncular savior of Spurs couldn't manage a single victory over the visitors in any competition during his four years at the helm. Yet current boss Andre Villas-Boas surpassed that total in one match earlier this season, foreshadowing a battle that ought to make neutrals giddy.

Neither team has much interest in stopping the other from scoring, meaning we're destined to see box-to-box thunderous action from start to finish. United has no marker who can thwart the dual outside talents of Gareth Bale and Aaron Lennon, and when Bale is interested, he might be the most dangerous player in the world not named Lionel Messi or Cristiano Ronaldo. We are hoping to see Chicharito as van Persie's strike mate, with Wayne Rooney tucked in behind them, but that's because we delight in a gluttony of goals.

More dangerous yet is that United can afford to lose. Sir Alex Ferguson's side has established itself as England's best and most consistent squad while enjoying a hefty seven-point lead over second-place Manchester City. Spurs need this win in the worst possible way, so heavy is the pain from last season's collapse into Europa misery within a fan base that remains oddly uncertain about AVB. More practically, Spurs sit in the last Champions League spot, a mere six points ahead of their personal bête noir, Arsenal, and the Gunners have a game looming in hand. Any stumble by Tottenham will lead to the usual internal insecurities, but a win -- oh my.

We think -– and want -– this to be the match of the season. As such, we're picking a scoreline that reflects our fondest wish.
Prediction: Spurs 4, United 3

Swansea City vs. Stoke City: Rarely do you find a contest so radically different in styles. Swansea is likely to have so much possession in such uninteresting places that if you played a drinking game where you had to take a shot every time the ball found its way into the other team's penalty area, you'd be stone sober all day.

The best we can hope for is an early Swansea goal that eventually forces Stoke out of its 73 men-behind-the-play philosophy -- sure to be 74 men in fear of reprising last weekend's 4-0 drubbing -- but we think that's a forlorn hope. We can taste the miasma of goal-lessness all over this one, but if you genuinely enjoy seeing what happens when tiki-taka meets granite wall, you'll be overjoyed watching this contest.
Prediction: Swansea 0, Stoke 0. Number of shots downed in drinking game: 0.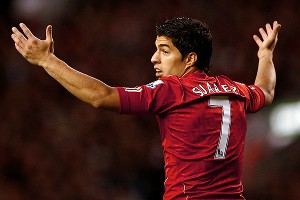 Scott Heavey/Getty ImagesLuis Suarez's admission of diving will add intrigue to Liverpool's clash with Norwich.
Liverpool vs. Norwich City: Liverpool is rising. Wait, no it's not. The lads in red are on the upswing, except when they aren't. Brendan Rodgers has it all sorted out, unless he gets it all wrong.

Such is the difficult reality for today's Liverpool supporter -- this year's the year, until it's not -- and while the Merseysiders should be brimming with hope given that they already clobbered Norwich City 5-2 at Carrow Road, you simply never can tell.

Daniel Sturridge's second-half performance against United was a powerful endorsement of Liverpool's decision to grab the young English striker -- it's clear that there is tremendous potential to be had from a Luis Suarez/Sturridge tandem. But the midfield continues to underperform, and although Steven Gerrard's heart and drive remain at Miracle In Istanbul levels, the stamina and physicality simply doesn't match. Stevie G. is at that career junction where he could rule a lesser roost away from Anfield and the Prem if that truth wasn't so painful to admit. Joe Allen has all of the insight of a Danielle Steel novel, with less pace. Raheem Sterling signed a new deal and disappeared as a player in the same week, while Brendan Rodgers' biggest masterstroke might be calculating his available transfer budget.

But all of that turmoil is acceptable because Norwich is in a bit of a mess. Grant Holt's nagging injuries continue to hold him back, and after a truly impressive run of results that saw the Canaries go nine unbeaten with wins over Arsenal, Spurs and Manchester United, the visitors have only collected a paltry four points from the past 21 available, seemingly unable to put the ball into the net. In spite of his various infirmities, Holt remains joint top goal scorer on 4, while Chris Hughton's side has shed all of its verve and vim from last year in favor of grim pragmatism.

Liverpool should win this, but it won't be that interesting unless Suarez embarrasses his paymasters with further antics.
Prediction: Liverpool 2, Norwich City 0

Paul Kanarek is a freelance soccer writer living in Los Angeles, the only city in America where MLS teams outnumber NFL teams 2-0. James Tyler is an editor for ESPNFC.