At 40, there's life left in Rivaldo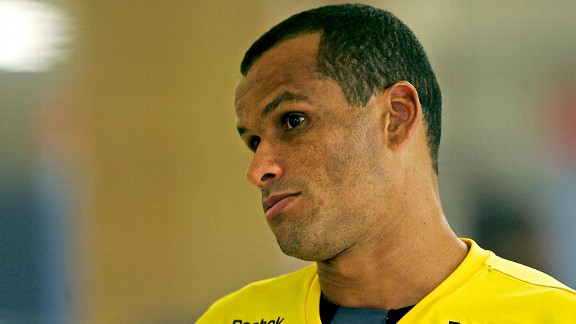 Eduardo Anizelli/LatinContent/Getty ImagesRivaldo has been an elusive and occasionally controversial figure in the past, but his choice to return shows there's life in the old dog yet.
Of the 'Three Rs' who lit up Brazil's 2002 World Cup campaign, two have hogged the headlines in recent months. A rejuvenated Ronaldinho Gaucho was elected the player of the year in the Brasileirao following a series of dynamic displays with Atletico Mineiro while Ronaldo Fenomeno has been busy in his retirement, promoting his sports marketing agency and enrolling in the Brazilian version of Celebrity Fat Club. (I'll save you from Googling it yourself.)

This week, though, the third R is back on the scene. At the ripe old age of 40, Rivaldo has signed a one-year deal with Sao Caetano, meaning that he will appear in the Campeonato Paulista -- the most prestigious of Brazil's state championships, although that isn't saying much these days -- and Brazil's second division.

This isn't his first homecoming. In late 2010 he left Uzbek outfit Bunyodkor to take up the pioneering mantle of player-president at Mogi Mirim, a regional side he had last represented in the early 90s. His visible desire and Peter Pan physique then saw him snapped up by Sao Paulo FC, for whom he enjoyed what most presumed to be a last hurrah in 2011. But he bucked expectations to spend 2012 in Angola, fitting evangelical and humanitarian activities around appearances for first division side Kabuscorp.

Surprisingly, the announcement of Rivaldo's return wasn't deemed particularly big news in the Brazilian media, which soon resumed its daily churn of transfer news and speculation. This relative lack of fanfare tells its own story. While the movements of his prestigious former colleagues are pored over and debated in almost pornographic detail, Rivaldo remains something of a man apart, flying under the Brazilian media radar.

It would be easy to ascribe this to a simple lack of popularity; in Europe, for instance, Rivaldo's image never truly recovered from the whole "Ah! My face!" debacle against Turkey in the 2002 World Cup. But anecdotal evidence highlights plenty of love among Brazilians for Rivaldo the player. You don't score 34 goals for your country and lift the Ballon d'Or without winning some hearts and minds, after all. Rather, it is Rivaldo the man -- and, by depressing modern extension, Rivaldo the brand -- whose star has never quite shone as brightly as those of Ronaldo and Ronaldinho.

This, of course, is hardly a criticism; a private, religious man, Rivaldo has always preferred to do his talking on the pitch. One senses that it is precisely his quiet determination that has allowed him to prolong his career. "Age means nothing," he told reporters last year when asked about his advancing years. "I've had the pleasure of playing every day for 20 years. That's how I like it."

Sao Caetano, a side whose fortunes have faded since some glory years in the early 2000s, certainly stand to benefit from that kind of commitment. If Rivaldo produces anything like the form he managed during his spell with Sao Paulo (seven goals in 18 starts in all competitions) his signing will go down as a smart piece of business.

The veteran won't be sticking around too long, however; he has always stated his desire to end his career in Recife, at his boyhood club. "My plan is to sign for Santa Cruz in January [2013], play in the club's centenary game on February 3 and keep playing until another milestone: April 19, when I turn 42 and will play my last match. If Santa agree, it will be the celebration I always dreamed of."

At 40 years of age, most footballers would be happy just to be fit enough to pick up a pay cheque. Rivaldo, in his typically stoic manner, still harbours grand ambitions.

There's life in the old dog yet.

Jack Lang is a football writer who focuses on the game in Brazil. He runs the blog Snap, Kaká and Pop! and has had articles published by The Guardian, FourFourTwo and When Saturday Comes among others. You can find him on Twitter at @snap_kaka_pop.