Is Neymar smart to stay in Brazil?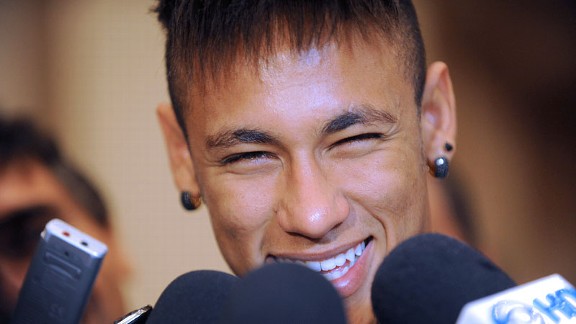 Miguel Rojo/Getty ImagesNeymar has made many people happy by deciding to stay in Brazil. But is he happy?
It's not the first time, but soon it will be the last.

The ludicrously coiffured Santos wunderkind Neymar has once again stated his intention to stay in Brazilian domestic football until World Cup 2014, and with only two transfer windows remaining before the planet's leading football showcase descends on South America, it shouldn't be something that he has to repeat too many more times.

There is little doubt that Neymar will stay with Santos -- as he has promised so regularly -- and it is because his presence in the Brasileirao has become so symbolic of the country's growth, as well as more dubious commercial interests, that he simply needs to remain.

The rise of the Brazilian league is inextricably linked to the country's burgeoning economy, meaning that Neymar is the smiling vanguard who reaches out to the world and tells us that things have changed. The competition used to be considered, like most of South American football is outside the continent, as an unimportant league that creates and sells young talents before gratefully welcoming them back later when the unforgiving European career machine has spat them out (like Elano, Jo, Adriano and Arsenal's Denilson).

Of course, it would occasionally provide the stereotypical Latin American moment of craziness -- like a massive brawl that ends with 12 men sent off -- that only served to cement the idea in people's minds of the league being underdeveloped and poor. As in neighbouring Argentina, the Brasileirao was a victim of the 'talent doughnut' phenomenon in which plenty of players were at the beginning or end of their careers but few at their peak, thus leaving that gaping hole.

Neymar is not the only player of the current generation to have stayed instead of already crossing the Atlantic -- Ganso, Casemiro, Dede and many others would have gone early in years past -- but as the most talented, he has understandably attracted the most attention. His resolve has been remarkable in dealing with monstrous pressure from all sides to leave or stay. Sponsors, clubs, agents, businessmen and former players -- even the Brazilian football federation (the CBF) -- have all leaned on the young man and the result, in his own words, is that he will stay until 2014: "Everyone is asking me this but I have a contract with Santos through 2014, I am happy in Brazil with my family and friends."

But to what extent is this decision -- which, in all honesty, is a commercial one -- going to affect Neymar's development?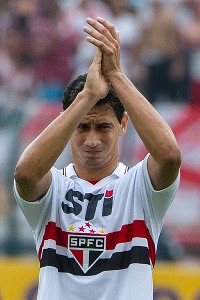 Yasuyoshi Chiba/AFP/Getty ImagesLike Neymar, Ganso opted to stick in Brazil as opposed to running off to Europe and his presence has helped improve the standard of the domestic league.
The quality of the Brazilian league has predictably improved in the last four to five years as a host of players still at their peak have returned to their homeland, yet Neymar remains the standout talent. As the league continues to improve with every passing transfer window the forward is getting to test himself against better and tougher opposition -- and is still excelling, finishing third in Brazilian league in scoring last season, but notching his 14 goals in just 17 games -- but it is important to also have the opportunity to play on a bigger stage.

In 2011 he was part of the Santos team that won the Copa Libertadores, gifting him a chance to impress at the Club World Club -- only for Barcelona to teach Santos a lesson. The 2012 season was a virtual wash; Santos spent the first half of the year neglecting domestic commitments in pursuit of replicating Pele and Os Santasticos' back-to-back Libertadores titles before the Olympics took three of their first-teamers away in mid-season. As a result they failed to qualify for the Copa Libertadores that begins in a few weeks, leaving Neymar with little in the way of meaningful and competitive football until May.

On an international level he will continue to be an integral part of the Selecao, of course, and fortunately 2013 sees an increase of meaningful fixtures for Brazil as opposed to the recent money-spinning trips to Gabon and the Middle East. Yet just two of those friendlies are before May, meaning that the 20-year-old will be, to all intents and purposes, wasting the next few months. Moreover, with no Copa Libertadores to stretch Neymar, even when football does resume domestically he will simply be playing at a level with which he is already entirely comfortable.

For the sake of balance, it is worth noting that some players have managed to shackle Neymar successfully, and he doesn't always get his own way. Velez Sarsfield's Gino Peruzzi was a young, unknown fullback until his brilliant man-marking job in the Copa Libertadores quarterfinal propelled him into the public consciousness -- he's now in the senior Argentina national team mix. Sao Paulo's Ivan Piris and a couple of others have also had games in which they've been able to contain Neymar's dazzling skills and flicks.

Moving to Europe would undeniably give him the important opportunity to test himself against better defenders week in, week out, but his mind is not for changing, and neither are the minds of those who have successfully convinced him to stay put at Santos.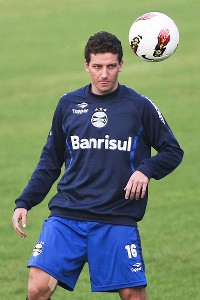 Nestor Silva/AFP/Getty ImagesElano's return to Brazil after many formative years abroad has also given Neymar some tougher competition, though it's not the same as what he'd find in Europe.
The Brazilian federation and a host of his endorsers have helped to baptise Neymar as the face of the World Cup and it would be seen as a failure on their part now if he were to make the move to Europe, yet at the same time the CBF could well have damaged the chances of achieving their ultimate goal: winning the Jules Rimet Trophy on home soil.

There are no advantages in limiting the Selecao players' experiences in such a way, except for commercial benefits, and in that you see the downside of the influx of money into Brazilian football that has otherwise brought so many upsides.

Similarly, on the other side of the coin there is a world of vested interests, with legendary striker Ronaldo repeatedly urging the player to move -- a deal that would coincidentally see the World Cup winner net a small fortune through his company 9ine and its deal with Neymar.

You can expect Neymar to sign a new deal with Santos before the tournament, although only to guarantee the club a big fee when he inevitably does leave, but it is difficult to shift the nagging feeling that the perfect time to leave the club was now. Yet how can we expect a young man -- one being heavily pressured from both sides by people with the wrong intentions -- to make the right choice in the centre of such a storm?

Now he only has one choice: Win the World Cup.

Ed Malyon is a freelance sports writer who has written for the Daily Mirror, the Guardian and FourFourTwo, among others. He can be contacted @eaamalyon or by whistling in F sharp on the night of a full moon.