What might City expect from Nastasic?
"I wish ..." Matija Nastasic said. The reporter from Il Corriere dello Sport had just revealed he'd been told that the 19-year-old Fiorentina center back was "the next Nemanja Vidic."

"My career has only just begun," Nastasic continued. "I still have a long way to go. I hope that within a few years' time I will be able to answer 'yes,' that I am his heir."

Manchester City supporters will no doubt hold the same aspiration once Nastasic completes his expected move to the Etihad in exchange for a reported fee of 12 million pounds (plus Stefan Savic) on Wednesday. If he realizes his considerable potential, City would have one less thing to envy rival Manchester United for in the future.

Nastasic was a revelation in Serie A last season. City's recruitment department was no doubt already aware of that fact, but if it wasn't, it wouldn't be of any surprise at all were it to emerge that he'd been recommended to manager Roberto Mancini by his trusted former teammate and assistant Sinisa Mihajlovic.

Signed from Partizan Belgrade like fellow Fio star Stevan Jovetic, Mihajlovic helped launch Nastasic at Fiorentina. He already considered the youngster "a very strong player" and liked his attitude so much so that even though his job was in jeopardy at the time, he promised him experience and used him as a second-half substitute on three occasions in the early part of the campaign.

"If I manage to stay, I will make him play," Mihajlovic said. Those were famous last words, as he was sacked the next day after a 1-0 defeat to Chievo. But that didn't mean the end of Nastasic's progress. Far from it. With fellow center back Cesare Natali suspended and Per Kroldrup injured, Fiorentina was short at the back for its next match, the visit of reigning champion AC Milan.

New coach Delio Rossi threw Nastasic in at the deep end. His job on his first start for Fiorentina was as daunting as they come, charged with marking Serie A's best player at the time, Zlatan Ibrahimovic. Unfazed, Nastasic handled his illustrious opponent much to the wonder of everyone watching, displaying a maturity beyond his years. Fiorentina kept a clean sheet in a 0-0 draw.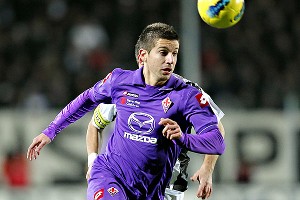 no_source / Gabriele Maltinti/Getty ImagesNastasic thrived amid a chaotic season at Fiorentina, with managerial changes and a relegation battle failing to ruffle his composed defending.

"A little star is born," La Gazzetta dello Sport wrote. In the same report, the pink paper noted that Fiorentina's current head of scouting Eduardo Macia had first tried to sign Nastasic four years earlier at Liverpool. His intuition proved right. Nastasic went on and quickly established himself in a league with a tradition for producing top defenders.

From the Milan game onward, Nastasic was among the first names on the team sheet at Fiorentina, making 21 starting appearances. Nastasic represented one of the few positives in what was a negative season, as the club finished 13th in Serie A.

While everyone else appeared to lose their heads -- including coach Rossi, who was fired in May with Fiorentina fighting to remain in Serie A after he appeared to strike his player Adem Ljajic after a sarcastic response to being substituted against Novara -- Nastasic managed to keep his wits about him and showed admirable composure. "I never let anxiety get to me," he told Il Corriere dello Sport. "I am a calm footballer. I try not to lose patience. Those are fundamental qualities in my position."

It's his unflappable nature, in addition to his strength in the tackle and in the air, that defines Nastasic. He doesn't panic. The step-up to full international level after representing Serbia's under-17, under-19 and under-21s did not seem to unnerve him. In his debut in a friendly with Cyprus in the spring, Nastasic made a crucial goal-line clearance, settled things down and ensured the team kept a clean sheet in a 0-0 draw. Now that Mihajlovic has the senior job, the expectation is he will become a regular for the team during qualifying for the 2014 World Cup, providing, of course, he is playing consistently at club level.

So where might Nastasic fit in at City? Would he be cover for Vincent Kompany and Joleon Lescott, or would he offer Mancini something more than a backup? One of the directions City has indicated it's headed in is the use of a back three.

"To add that other string to the bow," Mancini's assistant David Platt explained, "we had to have a good look at it from more of an offensive point of view, where we would have the wide center halves coming out and playing with the ball rather than staying narrow, and we are getting the wing backs high."

Nastasic slots into that way of thinking. He played on the left side of a three-man defense last season with Fiorentina and started the new campaign in that same position in a 2-1 win at home to Udinese this past weekend. Perhaps this role may await him at City, too. At the very least, he would give Mancini the option to continue his experiments with a 3-5-2 either as a first-choice system or as an alternative during the team's title defense.

Whether he's the next Vidic or not, only time will tell, but from what Nastasic has shown so far, City is soon to get its hands on a player of real promise.