Abramovich no help to Chelsea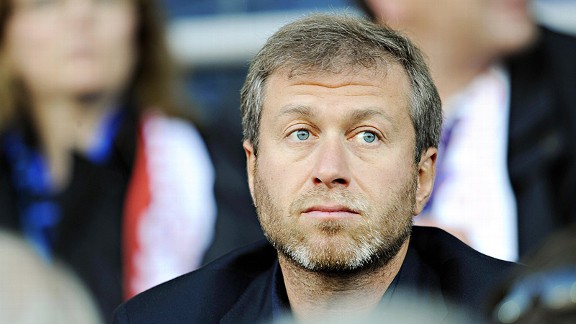 Martti Kainulainen/AFP/Getty ImagesRoman Abramovich's deep pockets have benefitted Chelsea, but has his excessive mismanagement of things worn too thin?
If Chelsea win any silverware this season, it will be despite owner Roman Abramovich.

The autocratic Russian billionaire presides over a club immersed in turmoil and mutiny despite the extravagant array of talent his club can put on the pitch.

Not content with a man who delivered the Champions League and FA Cup last season, Abramovich fires Roberto di Matteo and replaces him with a man most Chelsea fans loathe, Rafael Benitez. Of course, the supporters' distaste for Benitez is based on an almost childish contempt for a few remarks he made when trying to win mind games as boss of Liverpool. And it is not Benitez's fault he got the call. He needed a job and was not too proud to accept the title of "interim manager," probably reasoning that everyone is an "interim" manager for the trigger-happy owner.

Why did Abramovich appoint the last man Chelsea fans wanted?

I think the answer is that he had no idea that such a storm would break until Benitez stepped out for his Stamford Bridge debut to an embarrassing cacophony of booing. Or is it that Abramovich works to his own Rule 19, the one which is not in any book but which says: "I can do what the heck I like and never have to explain myself."

That is how he has run Chelsea for the past decade and, to be fair, it has coincided with the most successful era in the club's history, albeit on the back of lavish spending. That is why many Chelsea fans might shrug their shoulders and say: "Where would we be without him?"

But perhaps the shabby sacking of Di Matteo and the unfortunate selection of Benitez is proving to be a tipping point.

Some fans, too, were embarrassed by the John Terry affair and -- even worse -- the public relations disaster of trying to nail referee Mark Clattenburg for an alleged racist remark when an investigation concluded there was "no case to answer."

Now comes the mysterious treatment of two of the club's torch bearers, Frank Lampard and Ashley Cole. Both apparently were allowed to leave in the summer. Compare and contrast that with the reverence Manchester United have shown to Paul Scholes and Ryan Giggs in their advancing years, and the manner in which Liverpool look after Steven Gerrard and Jamie Carragher.

The fans can see every week that Lampard and Cole still have plenty to offer and are dumbfounded that Chelsea are showing them the exit door. It would be a classy gesture, by way of thanks, to offer both these men new two-year contracts -- not out of sentiment, but because they are worth it.

But classy gestures and Abramovich are apparent strangers.

It is all a great pity because the current Chelsea team is an exciting and attractive one, if prone to unscripted slipups like the autumn slump and recent home defeats to Queens Park Rangers and Swansea.

It is no coincidence that the players are doing their best work away from Stamford Bridge, where the atmosphere is close to toxic because of decisions taken at the top.

And "the top" at Chelsea means only one man -- Abramovich.

When and if he ever leaves, the club will miss his money, but surely not a style which is hardly designed to win friends and influence people.

Super Sunday taught us nothing new about the Premier League.

The two Manchester clubs won to continue their domination of the title race, and the suspicion that Robin Van Persie's superb finishing might be the difference in May is being reinforced by the week.

Over the 90 minutes, United were worth the win over a Liverpool side who may wish they had taken their bold second-half approach from the start. The big plus for Brendan Rodgers is that the Luis Suarez-Daniel Sturridge partnership looks distinctly promising.

The pressure then was on Manchester City to win at Arsenal because by the time they kicked off, they were 10 points adrift of United.

The early red card to Arsenal's Laurent Koscielny spoiled the match as a spectacle, but referee Mike Dean had no option as it was a foul and it did deny a goal-scoring opportunity. But the existing law needs to be changed by FIFA. Surely the award of the penalty restores the scoring opportunity, so the penalty should be sufficient punishment without a sending off. But what if the penalty is missed? No problem. The "scoring opportunity" might have been fluffed too.

City should be appealing the red card to Vincent Kompany, which was not two-footed and did not endanger an opponent. In fact, I am not even sure it was a foul.

Seven points is a big gap at the top, but a key stage of the race might come in February when United have the distraction of two massive Champions League dates with Real Madrid while City can concentrate on the league.

But frankly, I doubt United will throw away a huge lead for a second successive year.