Friday Four: A tricky trip to Old Trafford
It's a good thing that we don't have to predict any Capital One League Cup matches because only the most hallucinogenic of oracles could have foretold Bradford thumping Paul Lambert's Aston Villa. Mercifully, we get to tilt at the Premier League weekend windmill, and as always we try to go after the ones that are a little harder to figure out.

At least that's what we keep telling ourselves when our glorious efforts go up in smoke in the 93rd minute.

Manchester United vs. Liverpool: There's no bigger fixture on the EPL docket than when these two historical juggernauts lock horns. Winner of 37 league titles between the two of them -- hey Liverpool fans, were you aware that Manchester United has won one more of these than have your lads? -- these clubs famously represent the natural tensions that arise when you have two major industrial centers sitting 32 miles apart. For each side's respective fans, this is as intense and heated an affair as can possibly be envisioned but for the neutral, it's equally tasty fare.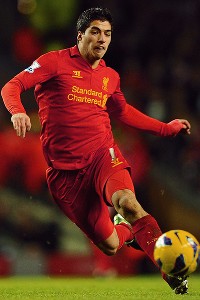 Laurence Griffiths/Getty ImagesLuis Suarez is having a stellar season for Liverpool, but will he be eclipsed by the majestic Robin van Persie on Sunday?
United is better, deeper and more confident. Liverpool's increasingly loathed Luis Suarez can legitimately be hailed as one of the top three strikers in all of English football, but even here Liverpool enjoys no clear-cut advantage given the ridiculously in-form Robin van Persie. Furthermore, the return of the real Nemanja Vidic has injected some long-absent nasty into the United back four, and while neither squad is enjoying the benefits of great or even consistent goal keeping -- rumors of David De Gea's demise are not that exaggerated -- each has sufficient talent between the sticks.

You might think that Wayne Rooney's absence through injury would have diminished United's attacking potency, but the recent Rooney-less 4-0 away thrashing of Wigan should put out that theory. In 21 EPL outings, United has scored three or more goals an astonishing 13 times. Liverpool hasn't exactly been deficient in that department either, managing the trick on six occasions, but what makes Saturday's match so very, very interesting is that the Brendan Rodgers-led Reds' scoring mojo is on the uptick, having hammered in 10 goals over their last four league contests.

You know that Steven Gerrard will play his best and you hope that Daniel Sturridge's skilled and speedy presence as wingman to Suarez will finally create the space that the Uruguayan is so frequently denied, but it won't be enough at Old Trafford. This year United is simply too strong, too deep and too good for a Liverpool group that is still trying to find its stride.

Manchester United 2, Liverpool 1

Stoke City vs. Chelsea: Put the stats aside for a second and just ask the obvious question: Which Chelsea side shows up? Do you get to see the high-powered luxury vehicle that slammed in 8 against Aston Villa, five against Southampton and came back from a goal down to beat Everton at Goodison Park? Or will the clown car show up -- you know, the yellow one with the giant nose as a hood ornament -- and repeat the QPR, West Ham and Swansea debacles?

While Chelsea has never lost an EPL match at Britannia Stadium, the Blues have rarely impressed there either. Unlike recent, more sturdy Blues teams with the powerful Didier Drogba leading the line, the current crop of scurrying kewpie doll ball magicians will resemble a gaggle of gnats hitting a giant windshield when they first take on the Ryan Shawcross/Robert Huth tandem.

But there's more in play than Stoke's muscularity. The Potters have put together a remarkable home run of results for a team that rarely scores and lacks finesse. The last time that Tony Pulis failed to take a point or three from an EPL home contest was Feb. 4, 2012, a streak of 17 games.

It will be illuminating to see whether Rafa Benitez keeps faith with his mercurial/mediocre Spanish frontman, Fernando Torres, now that he has the rampant Demba Ba in the fold. Recent form, exemplified by Ba's stellar effort in the 5-1 Southampton win and Torres' own floundering efforts against both QPR and Swansea, would argue for the inclusion of the ex-Magpie. But Benitez has made a sub-specialty out of managing his emotionally fragile No. 9; as such, we won't be surprised to see Fernand-no at the start. We will, however, be astonished if he's still on the field 70 minutes later.

Last year, the corresponding fixture ended up with the standard Stoke scoreline, 0-0. But we're relentless optimists, so we think that this year's tie will actually involve goal scoring.

Stoke City 1, Chelsea 1

Arsenal vs. Manchester City: It's become a perverse sport this season to see who can most eloquently denounce Arsene Wenger and his brittle-but-beautiful Arsenal side, but regardless of how you view the Frenchman's penchant for youth and odd transfer buys, once again his team is relevant. It's not a title-winning squad -- when is it ever? -- but that's been de rigeur for Arsenal ever since the boys-who-want-new-toys club started collecting Premiership teams. What he has put together is a group that understands the Arsenal way, is improving monthly (although remains erratic from week to week) and is beginning to get a sense of itself.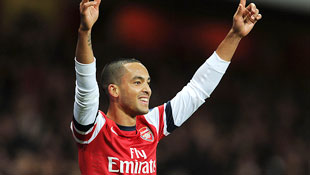 David Price/Arsenal FC via Getty ImagesA popular target for derision among Arsenal fans and neutrals alike, few can argue against Theo Walcott's worth this season.
Abusing Theo Walcott is another beloved past time of the punditerati, but his danger is real and his belief that he should be operating in the center of the pitch (with a richly improved contract) has been backed by his play. When we watch Walcott hurling himself directly at defenders, we see panic and uncertainty arise that hasn't been around since Michael Owen, the late-90s edition. Theo's 8 EPL strikes lead the Gunners in scoring, a stat even more remarkable when you consider that he's only started nine of Arsenal's 20 league fixtures to date with seven sub appearances. While it's fun to mock the Wenger/Walcott mutual admiration society, they are right and we are wrong.

Manchester City, meanwhile, is just in a shambles. Manager Roberto Mancini has that haunted look that is now known as the "Chelsea Syndrome" and while his team continues to work hard, whatever magic was in the Sky Blue air last year has been sucked clean as City continues to labor.

You could argue that it is the mark of a good team to play poorly and still win. If that's a true statement, then Manchester City is a great squad. But the collapse of Mario Balotelli -- he's only a threat to the tabloids or the local fire department -- and David Silva's disturbing inconsistency have robbed Mancini's men of their dynamic identity. Even the twin fire-breathers, Yaya Toure and Vincent Kompany, have been oddly muted.

On the surface, City's size and firepower should swamp the more diminutive Gunner group. The defending champions bring all of the might of Stoke mixed with formidable scoring talent but for some ineffable reason, Wenger's pixies consistently perform well against Manchester City despite being pathologically incapable of handling Stoke City. Equally weird is that these two offensively oriented teams simply struggle to score against each other.

We see an Arsenal victory in a low-scoring affair decided by a typical Walcott sprint-and-shoot goal.

Arsenal 1, Manchester City 0

Aston Villa vs. Southampton: Quick quiz -- name Southampton's starting midfield. Okay, that was unfair. Name a starting Southampton player. If you struggled, you're not alone as hardly anyone realizes how well (comparatively speaking) the Saints have been playing. In its past 10 league matches, Southampton has earned 14 points, an achievement made even more cogent when you learn that over the same time period, Chelsea has managed 15.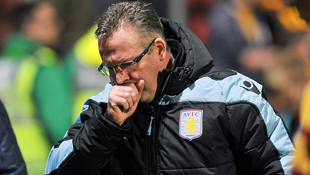 Paul Ellis/AFP/Getty ImagesPaul Lambert could never have imagined it would be this tough at Aston Villa. Hosting a confident Southampton side won't help that sinking feeling.
Yet it didn't start out this way. Southampton dominated Manchester City at the Etihad in the opening game of the season only to lose in the 80th minute. Two contests later, Nigel Adkins' side took it chapter and verse to the other Manchester before becoming another member of the Alex Ferguson Broken Hearts Club as a late RVP double (87th and 92nd minutes) turned three points into zero. When Arsenal followed by crushing Southampton 6-1, the long slide back to the Championship was clearly inevitable.

And then a lifeline in the form of Aston Villa arrived at St. Mary's; 90 minutes and two Rickie Lambert goals later, Southampton had its first points of the new season and more importantly, the belief that it belonged in the English top flight.

For Villa, Paul Lambert could not have known that what appeared to be a blip on the screen of his plucky young side's strong start was a harbinger of the humiliation to come. Aston Villa has been shipping goals faster than Harry Redknapp complains about the talent at QPR. If you thought that the 8-0 squeaker against Chelsea was the campaign's nadir, apparently you missed that latest tussle against League 2 side, Bradford City, in the first leg of the Capital One Cup semifinal. When a top-flight team contrives to yield three goals to men who also moonlight as the butcher, the baker and the candlestick maker, all is not well in the house that ex-Norwich pragmatism built.

When a team oozing with confidence plays a side shorn of it, the result is almost always foretold.

Aston Villa 1, Southampton 2

Paul Kanarek is a freelance soccer writer living in Los Angeles, the only city in America where MLS teams outnumber NFL teams 2-0. James Tyler is an editor for ESPNFC.