The real cost of being a fan in the Premier League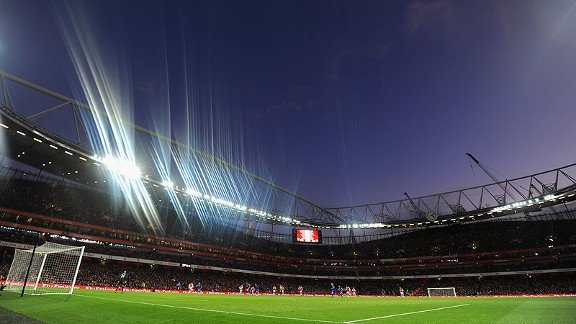 Michael Regan/Getty ImagesThe protest of Manchester City fans over ticket prices isn't about petty club rivalries -- it's about your right to watch your team play.
Arsenal's 62 pound ticket fiasco is the story that has split English football. How annoying. If it had happened in the Bundesliga instead, it would be the story that united German football. That's the difference between us and them. They stand up for their rights. We turn on each other and then drop our trousers for the highest bidder.

In defence of Arsenal, they are hardly the only club to charge stupid money for a ticket. Chelsea's prices, we now discover, can be very similar. Indeed, Chelsea's fans have themselves been charged very similar amounts. The media, including this keyboard-slapping charlatan, are culpable. They should have been on this story years ago. They weren't. They failed you. But they're on it now because this is the first time that someone's prices have actually been rejected by a large portion of travelling supporters. This is the first time the story has made the mainstream news headlines. In the long battle between match-going fans and the clubs, a weak point has finally been identified.

-Curtis: Arsenal are just the ticket

This isn't a partisan issue. This isn't about Arsenal. This is about the breakdown of the supply-and-demand argument and this should be the moment when football fans of all colours unite and lock down their wallets.

But it isn't. Instead, we've seen the 21st-century response to the criticism of your football club or your football club's player, which is to disregard entirely the question of right and wrong, burst into tears and howl, "But THEY always do it and you never criticise THEM!"

Instead, we've seen snide remarks that this is the cost of buying your way to the top, or the nonsensical implied link between the wealth of a club and the wealth of its fans.

"Good news, love! City won the league, so Mr. Coggins has decided to double my wages! Sad about Trevor though; Blackburn Rovers went down so he'll be working in the post room on 200 pounds a week for the foreseeable future."

The Manchester City fans who were asked to pay 62 pounds for a ticket at Arsenal are the same Manchester City fans who paid rather less than that for a ticket to the 1-1 draw at Rotherham in 2002. They haven't won the lottery in the 10 years since. Sheikh Mansour only gave the club money, he didn't share it around.

Along with the 77.30 pounds that the train tickets would cost, if you'd bought them on Thursday, that's almost 140 pounds for the day. And that's if you don't buy food or drink. At this rate, the only people who'll be able to afford to watch Premier League football will be Premier League footballers.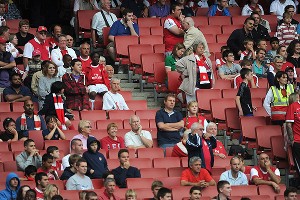 Michael Regan/Getty ImagesThe scene at the Emirates this weekend could look a lot like this.
They must be laughing their heads off at this in Germany. In 2010, Borussia Dortmund fans started the Kein Zwanni campaign against 20 euro (16 pound) tickets and boycotted the local derby with Schalke, preferring to gather outside to listen on the radio. Last year, some fans bought the tickets and then stormed out after the first whistle. Far from attracting the derision of other supporters, there was open dialogue and solidarity across the league. Dortmund's stance was applauded and since then clubs all over Germany have been forced to enter into talks with supporters.

Some Arsenal fans have made the argument this week that they don't care how much the away fans are charged, they want money to strengthen their team. They ask how their team is expected to compete against Manchester City's spending without raising ticket prices. You can have a degree of sympathy with their position, but it's a short-term view. If Arsenal get away with it, everyone will try and get away with it. The Arsenal fans supporting a 62 pound ticket for others might find themselves paying a similar fee on a regular basis before too long. Not forgetting, of course, that their lack of sympathy will be remembered the next time that Ivan Gazidis cranks up his season ticket prices.

There is only way to stop this in its tracks and that's to do precisely what almost a thousand City fans did this week and announce that enough is enough. The tickets are expensive because people keep buying them. So stop buying them.

The media are watching now. There has never been a better time for coordinated action across the league. But there has never been a worse time for blindly backing your club regardless of the repercussions.

This isn't about Arsenal. This isn't about Manchester City. This is about fighting for the right to watch your club play football. Unless, of course, you'd rather just make silly jokes.

Iain Macintosh is the UK Football Correspondent for The New Paper in Singapore and the co-author of "Football Manager Stole My Life" from @backpagepress. You can follow him on Twitter at @iainmacintosh.