The Premier League's forgotten marksman
In November, Robin Van Persie scored in Manchester United's 2-1 win over Arsenal. It made headlines not just because he had found the net against his former club, but also because it meant he was one of two players to have scored against every single one of the 20 current Premier League teams.

So who was the other?

The answer took me by surprise. Not as much as the fact that this particular player finished as the fourth leading goal scorer in the league last year, despite playing for a club that was relegated. Or the fact that, despite being still just 29 at the end of the 2011-12 season, he moved to Guangzhou R&F in China for just over US $1.5 million, the value of his release clause.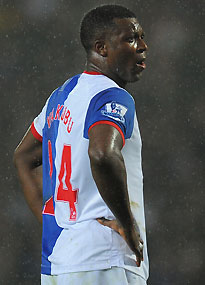 GettyImagesYakubu: Scored his last Premier League goal against Chelsea in May 2012
Yes, I'm talking about Yakubu Aiyegbeni. He's now the answer to a trivia question and it's a good one because few players have been forgotten by the mainstream as quickly as he has.

His case also illustrates how the transfer market can work in mysterious ways. Van Persie is nine months younger. He scored nearly twice many goals as Yakubu last season. But he moved for more than 20 times as much and was pursued by half a dozen top teams around Europe. Meanwhile, nobody showed much interest in "the Yak."

This was despite the fact that, after Blackburn's relegation, he clearly said he didn't want to play in the Championship and was looking for a move. And he had a release clause in his contract, so there was no haggling on price.

Obviously he got a big payday at Guangzhou R&F -- around $7 million a season for three years, according to reports. And obviously, you tend to get a bit cynical when he tells you that it was all about "the challenge" of a new league and the "warmth and sincerity" of the Chinese people.

But it's not as if Yakubu would have earned substantially less had he found a club in a major European league. This is a guy who reached double figures in league goals in all but two of the past 11 years (and in one of those seasons, he missed seven months due to injury). Yet according to Yakubu, Guangzhou R&F were the only club to show genuine interest.

Why?

The answer may have to do with our prejudices. Yakubu's body type is such that he doesn't look much like an athlete. He also has -- rightly or wrongly -- a reputation for being lazy and not doing much off the ball. You can see why scouts would look at him and -- between the body type and the perceived work ethic -- conclude he wasn't worth the money.

Yet he has scored 96 Premier League goals. To put it in context, only three players younger than him have scored more: Darren Bent, Van Persie and Wayne Rooney. The latter two spent most of their careers at far better teams that score many more goals. A Moneyball devotee would suggest that, because goal scoring is so important, Yakubu's numbers, juxtaposed with his age, fee and salary would make signing him a no-brainer.

A traditionalist, who relies on the so-called "eye test," would be a lot more hesitant, precisely because he lacks the "tools" we so often associate with top players. A bit like some of the guys Billy Beane signed for the Oakland A's.

Personally, I'm somewhere in the middle. Yakubu's limitations are as evident as his record. But I can't help feeling that he got something of a raw deal. Nicolas Anelka and Didier Drogba also made big-money moves to China, of course, but their situations were a bit different. They're a bit older and, more importantly, they've played for big clubs throughout their careers. With a little nous, a number of teams could have put together a package (especially given the low fee) that Yakubu would have found more attractive than a move to China. And he could have helped someone this very season, whether in the Premier League or elsewhere.

The guys who get paid to make the big decisions at football clubs obviously felt differently. It's not as if he has torn up the Chinese league, but he nevertheless showed that the scoring touch is still there, notching nine goals in 14 games. I can't vouch for the quality of the Chinese league, but it's more than Drogba and Anelka scored, and presumably they were playing against the same standard of opposition.

At the very least, it's remarkable how a guy who has scored so much in the Premier League could disappear from people's radar screens so quickly.

Gabriele Marcotti is a London-based journalist and broadcaster who covers world soccer. He is the author of three books, the world soccer columnist for The Times of London and a correspondent for the Italian daily Corriere dello Sport. You can catch him on ESPN Press Pass and read him here twice a week. Follow him on Twitter: @marcotti.