Universal appreciation for Lampard long overdue
There has always been something about Frank Lampard. Few footballers can divide opinion like him. For all his medals, goals and achievements, he has still spent a career being compared unfavourably to others.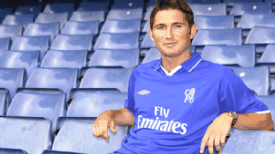 PA PhotosFew could have predicted when Frank Lampard arrived at Chelsea that he would establish himself as one of their greatest ever players
The 1996 video that ESPNFC podcast presenter Dan Mason released to the world last week revealed that for one night only, he was considered not as good as Scott Canham, the learned opinion of one well-lubricated West Ham punter. Back then, it was Rio Ferdinand who was the "new Bobby Moore". Lampard meanwhile had 'Junior' added to his name.

His place in West Ham's team was seen as nepotism on the part of his uncle, Harry Redknapp, whose assistant happened to be brother-in-law Frank Lampard Sr, an Upton Park legend with 660 appearances for the club. The floppy-fringed attacking midfielder could do little right in the eyes of some Hammers fans, even when showing off an ability to score goals from midfield, and running his chubby legs off for the cause.

"Right to the very top," is what Uncle Harry predicted while a clearly embarrassed Lampard Jr looked on and an unconvinced audience murmured. After all, Joe Cole, three years younger, was always going to be better than him. And cousin Jamie, of Liverpool fame, had been and done it already.

Uncle Harry was nearly bang on too. In 2005, Frank Lampard, with Dad now having to put with being called "Senior", was voted the second-best player in both the Ballon d'Or and FIFA World Player of the Year. Only a high-peak Ronaldinho could talk down to him.

However, back in third in the Ballon d'Or, there was someone else. Steven Gerrard embodied everything that an English midfielder should be. He made driving runs, scored vital goals, led by example, exerted boundless energy, and had the majesty of winning in Istanbul to his name. Lampard could not match that flourish. He never scored goals quite like Stevie did.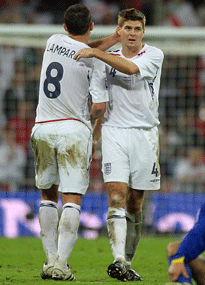 PA PhotosSteven Gerrard and Frank Lampard provoked a decade of debate about their ability to play together for England
Someone at Chelsea seemed to agree, even if Jose Mourinho always spoke of Frank in the highest terms. They spent two summers trying to sign Gerrard. He was but a last-minute change of heart away from making the King's Road his footballing home. Had he done so, Lampard would surely have been the player forced to make adjustments to accommodate the new star.

By that time, one of English football's longest running and most ultimately futile debates had begun in earnest. Could Gerrard and Lampard play together for England? And if not, why not and then who must be dropped? The answer to that almost always leaned towards Lampard. Gerrard was the special one, the passion player who would drive England to glory.

Lampard's presence had already offended another camp. At Euro 2004, Sven Goran Eriksson had decided that to shoe-horn the Gerrard/Lampard axis he would play Paul Scholes on the left wing.

Even nine years ago, Scholes was no-one's idea of a fleet-footed runner of channels. Lampard the arriviste had supplanted the most singular English midfield talent of the last 20 years. Scholes took his leave of international football with Lampard handed blame, even though it was Eriksson's cowardice of selection that caused the problem.

What is it about Lampard that invited such suspicion? Why was he not cherished by those outside Stamford Bridge? Well, Lampard is a curiosity in English football. He is not the street footballer that Gerrard, Scholes, Cole or Wayne Rooney all represent, reason being that he has probably rarely played street football. Frank Sr sent him to an Essex public school, an educational world away from most of his footballing peers; none of his team-mates are likely to have an A* GCSE in Latin. Lampard is also blessed with a 150-plus IQ, in the top 0.1% of anyone, let alone footballers, which may rule out his being on the wavelength of Ashley Cole, though John Terry was said to be in the top three of the Chelsea players measured when they were tested in 2009.

Lampard's intelligence, both learned and innate, is reflected in his play, and therein lay more reasons for his not being taken to purists' hearts. English football trusts natural ability above all else. Self-made players who worked on their game to reach the top like Kevin Keegan were always regarded as lesser mortals to George Best, even if the latter's gifts were drained in the same manner he regularly demolished goblets of white wine.

When Chelsea won the Champions League, they did so through a grit and tactical intelligence that was embodied by none other than Lampard. As his previous triathlete energy levels were diminishing, he redrew his play. He retained an effectiveness to so far escape Gerrard, who until recently looked rather lost amid Brendan Rodgers' philosophies. When England exited Euro 2012 in their usual manner, passed to death by Andrea Pirlo, it was apparent that the new Lampard - missing through injury - might have been the player they missed most.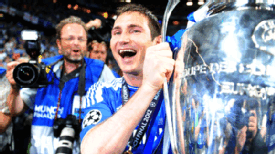 GettyImagesA career of hard graft culminated in last season's Champions League triumph
At 34, Lampard has become appreciated like never before. The previously and perhaps understandably chippy interviewee now speaks with candour, with the air of one who has indeed been right to the top. Certain Manchester United fans would even be happy for him to replace Scholes in their soon-to-be vacant midfield elder statesman role.

An increasing distance from Terry may have helped the public image, but Lampard has become a credit to his club, just as its top-brass become eager to disassociate from him. Such is the chaotic way of Chelsea, the club he will leave this summer at the latest. He may not have possessed the gifts of Peter Osgood or Gianfranco Zola or been able to sign off with quite the same glory as Didier Drogba could in Munich, but 12 years of perpetual achievement in the club's richest years must grant him the title of Chelsea's finest ever player.

When Lampard does take his leave of Stamford Bridge, an imminent departure that leaves most true Blues aghast, he should do so being compared unfavourably to nobody.